Abstract
Background
Revision shoulder arthroplasty has become increasingly common as primary arthroplasty has become more widespread.
Questions/Purposes
We sought to answer two questions: What are the risks factors for revision shoulder arthroplasty? What are the complications associated with revision shoulder arthroplasty?
Methods
A retrospective search of a national insurance database from the years 2013 to 2016 was undertaken for billing codes of patients undergoing revision shoulder arthroplasty. The odds ratios for revision of various patient demographic characteristics and comorbidities were determined. The incidences of various complications within 90 days of revision were determined.
Results
A total of 824 cases of revision shoulder arthroplasty were found. Eighty-seven patients (10.5%) had infections prior to revision and 133 patients (16.1%) had dislocations prior to revision. Of the risk factors examined, smoking status was associated with the highest odds ratio for revision (8.1). Additionally, depression, Charlson Comorbidity Index (CCI), male gender, renal failure, and diabetes were significant risks factors for revision. The most common complication of revision shoulder arthroplasty was found to be surgical site infection, affecting 10.9% of patients. In the time period studied, 89 patients underwent more than one revision shoulder arthroplasty.
Conclusion
Despite limitations inherent in database studies, this data may have utility for surgeons in pre-operative counseling of patients on their risk.
This is a preview of subscription content, log in to check access.
Access options
Buy single article
Instant access to the full article PDF.
US$ 39.95
Price includes VAT for USA
Subscribe to journal
Immediate online access to all issues from 2019. Subscription will auto renew annually.
US$ 99
This is the net price. Taxes to be calculated in checkout.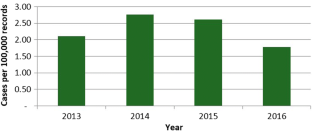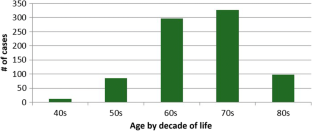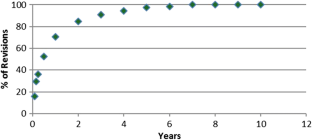 References
1.

Bansal A, Khatib ON, Zuckerman JD. Revision total joint arthroplasty: the epidemiology of 63,140 cases in New York State. J Arthroplasty. 2014;29(1):23–27.

2.

Boddapati V, Fu MC, Schairer WW, Gulotta LV, Dines DM, Dines JS. Revision total shoulder arthroplasty is associated with increased thirty-day postoperative complications and wound infections relative to primary total shoulder arthroplasty. HSS J. 2018;14(1)23–28.

3.

Bohsali KI, Bois AJ, Wirth MA. Complications of shoulder arthroplasty. J Bone Joint Surg Am. 2017;99(3):256–269.

4.

Charlson ME, Pompei P, Ales KL, MacKenzie CR. A new method of classifying prognostic comorbidity in longitudinal studies: development and validation. J Chronic Dis. 1987;40(5):373–383.

5.

Coste JS, Reig S, Trojani C, Berg M, Walch G, Boileau P. The management of infection in arthroplasty of the shoulder. J Bone Joint Surg Br. 2004;86(1):65–69.

6.

Day JS, Lau E, Ong KL, Williams GR, Ramsey ML, Kurtz SM. Prevalence and projections of total shoulder and elbow arthroplasty in the United States to 2015. J Shoulder Elbow Surg. 2010;19(8), 1115–1120.

7.

Hollatz MF, Stang A. Nationwide shoulder arthroplasty rates and revision burden in Germany: analysis of the national hospitalization data 2005 to 2006. J Shoulder Elbow Surg. 2014;23(11):e267–274.

8.

Kumar S, Sperling JW, Haidukewych GH, Cofield RH. Periprosthetic humeral fractures after shoulder arthroplasty. J Bone Joint Surg Am. 2004;86-A(4):680–689.

9.

Leong NL, Cohen JR, Lord E, Wang JC, McAllister DR, Petrigliano FA. Demographic trends and complication rates in arthroscopic elbow surgery. Arthroscopy. 2015;31(10):1928–1932.

10.

Matsen FA, Li N, Gao H, Yuan S, Russ SM, Sampson PD. Factors affecting length of stay, readmission, and revision after shoulder arthroplasty: a population-based study. J Bone Joint Surg Am. 2015;97(15):1255–1263.

11.

Miller BS, Joseph TA, Noonan TJ, Horan MP, Hawkins RJ. Rupture of the subscapularis tendon after shoulder arthroplasty: diagnosis, treatment, and outcome. J Shoulder Elbow Surg. 2005;14(5):492–496.

12.

Moeckel BH, Altchek DW, Warren RF, Wickiewicz TL, Dines DM. Instability of the shoulder after arthroplasty. J Bone Joint Surg Am. 1993;75(4):492–497.

13.

Montgomery SR, Foster BD, Ngo SS, et al. Trends in the surgical treatment of articular cartilage defects of the knee in the United States. Knee Surg Sports Traumatol Arthrosc. 2014;22(9):2070–2075.

14.

Padegimas EM, Maltenfort M, Ramsey ML, Williams GR, Parvizi J, Namdari S. Periprosthetic shoulder infection in the United States: incidence and economic burden. J Shoulder Elbow Surg. 2015;24(5):741–746.

15.

Raiss P, Bruckner T, Rickert M, Walch G. Longitudinal observational study of total shoulder replacements with cement: fifteen to twenty-year follow-up. J Bone Joint Surg Am. 2014;96(3):198–205.

16.

Sanchez-Sotelo J, Sperling JW, Rowland CM, Cofield RH. Instability after shoulder arthroplasty: results of surgical treatment. J Bone Joint Surg Am. 2003;85-A(4):622–631.

17.

Schwartz BE, Savin DD, Youderian AR, Mossad D, Goldberg BA. National trends and perioperative outcomes in primary and revision total shoulder arthroplasty: Trends in total shoulder arthroplasty. Int Orthop. 2015;39(2):271–276.

18.

Sperling JW, Kozak TK, Hanssen AD, Cofield RH. Infection after shoulder arthroplasty. Clin Orthop Relat Res. 2001;(382):206–216.

19.

Wiater BP, Baker EA, Salisbury MR, Koueiter DM, Baker KC, Nolan BM, Wiater JM. Elucidating trends in revision reverse total shoulder arthroplasty procedures: a retrieval study evaluating clinical, radiographic, and functional outcomes data. J Shoulder Elbow Surg. 2015;24(12):1915–1925.

20.

Yeranosian MG, Petrigliano FA, Terrell RD, Wang JC, McAllister DR. Incidence of postoperative infections requiring reoperation after arthroscopic knee surgery. Arthroscopy. 2013;29(8):1355–361.

21.

Yeranosian MG, Arshi A, Terrell RD, Wang JC, McAllister DR, Petrigliano FA. Incidence of acute postoperative infections requiring reoperation after arthroscopic shoulder surgery. Am J Sports Med. 2014;42(2):437–441.

22.

Young AA, Walch G, Pape G, Gohlke F, Favard L. Secondary rotator cuff dysfunction following total shoulder arthroplasty for primary glenohumeral osteoarthritis: results of a multicenter study with more than five years of follow-up. J Bone Joint Surg Am. 2012;94(8):685–693.
Ethics declarations
Conflict of Interest
Natalie L. Leong, MD, Shelby Sumner, MPH, and Ani Gowd, BS, declare that they have no conflicts of interest. Anthony A. Romeo, MD, reports personal fees from AANA and MLB; grants and personal fees from Arthrex; grants from Aesculap/B. Braun, Histogenics, Medipost, NuTech, OrthoSpace, Smith & Nephew, and Zimmer; royalties and personal fees from Saunders/Mosby-Elsevier; board membership, royalties, and financial support from SLACK Incorporated; board membership in AOSSM, ASES, Atreon Orthopaedics, Orthopedics Today, SAGE, and Wolters Kluwer Health-Lippincott Williams & Wilkins, outside the submitted work. Gregory P. Nicholson, MD, reports personal fees from Tornier, Innomed, Arthrosurface, and Wright Medical, and board membership from American Shoulder and Elbow Society, outside the submitted work. Nikhil N. Verma, MD, reports personal fees from MLB; grants from OrthoSpace, Mitek, Arthrex, Arthrosurface, Inc, DJ Orthopedics, Ossur, Athletico, ConMed Linvatec, and Miomed; publishing royalties and editorial board membership from Arthroscopy; stock or stock options from Cymedica and Omeros; stock or stock options and personal fees from Minivasive; grants, personal fees, and royalties from Smith & Nephew; personal fees and publishing royalties from Vindico Medical-Orthopedics Hyperguide; board membership in Arthroscopy Association Learning Center Committee, AOSSM, ASES, Journal of Knee Surgery, and SLACK Incorporated, all outside the submitted work.
Human/Animal Rights
All procedures followed were in accordance with the ethical standards of the responsible committee on human experimentation (institutional and national) and with the Helsinki Declaration of 1975, as revised in 2013.
Informed Consent
Informed consent was waived from all patients for being included in this study.
Required Author Forms
Disclosure forms provided by the authors are available with the online version of this article.
Additional information
Publisher's Note
Springer Nature remains neutral with regard to jurisdictional claims in published maps and institutional affiliations.
Level of Evidence: Level IV: prognostic, retrospective study
Electronic Supplementary Material
About this article
Cite this article
Leong, N.L., Sumner, S., Gowd, A. et al. Risk Factors and Complications for Revision Shoulder Arthroplasty. HSS Jrnl 16, 9–14 (2020). https://doi.org/10.1007/s11420-019-09673-3
Received:

Accepted:

Published:

Issue Date:
Keywords
revision shoulder arthroplasty

database study

complication rate

risk factors

demographic trends

comorbidities