Abstract
Background
Supporters of medical liability reform contend that caps on non-economic damages will decrease defensive medicine.
Questions/Purposes
We examined whether removal of caps on non-economic damages affect one type of defensive medical practice, early imaging for new-onset low back pain.
Patients and Methods
Using administrative claims data, we retrospectively studied adult patients evaluated for new-onset low back pain from 2007 to 2012. We included patients from two states that had caps on non-economic damages struck down in 2010 (n = 462,604) and patients from adjacent states (n = 781,963). Using a difference-in-differences approach, we evaluated the impact of non-economic damage caps on early imaging while adjusting for physician specialty, patient characteristics, and year- and state-level fixed effects.
Results
There was no association between non-economic damage caps and early imaging for low back pain among all providers. Removal of a non-economic damage cap was also not associated with a significant change in early imaging within the two cap-removal states. Subgroup analysis by physician specialty demonstrated significantly increased use of early imaging for low back pain by orthopedic or neurological surgeons in the first 12 months following cap removal in one state (but this difference did not persist beyond 12 months). In the other cap-removal state, early imaging increased among orthopedic and neurological surgeons more than 12 months after cap removal.
Conclusion
We found no association between caps on non-economic damages and early imaging for low back pain among all physicians. However, our subgroup analysis suggests that physician specialties may respond to non-economic damage cap policies differently.
This is a preview of subscription content, log in to check access.
Access options
Buy single article
Instant access to the full article PDF.
US$ 39.95
Price includes VAT for USA
Subscribe to journal
Immediate online access to all issues from 2019. Subscription will auto renew annually.
US$ 99
This is the net price. Taxes to be calculated in checkout.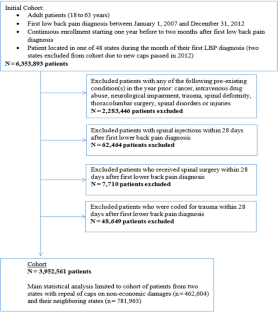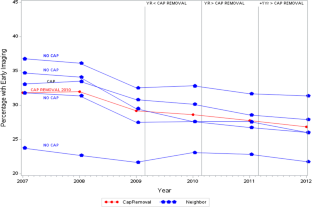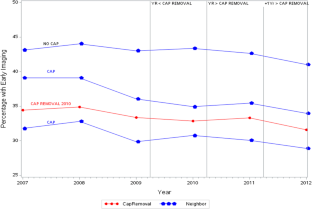 References
1.

Agency for Healthcare Quality and Research. National Quality Measures Clearinghouse. 2016. Available at https://www.qualitymeasures.ahrq.gov/.

2.

Avraham R, Schanzenbach M. The impact of tort reform on intensity of treatment: evidence from heart patients. J Health Econ. 2015;39:273–288.

3.

Bigos S, Bowyer OR, Braen G, et al. Acute low back problems in adults. P. H. S. Agency for Health Care Policy and Research, U.S. Department of Health and Human Services. Rockville, MD. 1994. AHCPR Publication No. 95–0642.

4.

Carrier E R, Reschovsky JD, Mello MM, Mayrell RC, Katz D. (2010). Physicians' fears of malpractice lawsuits are not assuaged by tort reforms. Health Aff (Millwood). 29(9):1585–1592.

5.

Carrier ER, Reschovsky JD, Katz DA, Mello MM. High physician concern about malpractice risk predicts more aggressive diagnostic testing in office-based practice. Health Aff (Millwood). 2013;32(8):1383–1391.

6.

Choosing Wisely. Imaging for low back pain. 2012. Available at: http://www.choosingwisely.org/clinician-lists/american-academy-family-physicians-imaging-low-back-pain/.

7.

Choosing Wisely. Lumbar spine imaging in the ED. 2014. Available at: http://www.choosingwisely.org/clinician-lists/acep-lumbar-spine-imaging-in-the-ed/.

8.

Chou R, Qaseem A, Snow V, Casey D, Cross JT Jr., Shekelle P, et al. Diagnosis and treatment of low back pain: a joint clinical practice guideline from the American College of Physicians and the American Pain Society. Ann Intern Med. 2007;147(7): 478–491.

9.

Currie J, MacLeod WB. First do no harm? Tort reform and birth outcomes. Q J Econ. 2008;123(2):795–830.

10.

Din RS, Yan SC, Cote DJ, Acosta MA, Smith TR. Defensive medicine in US spine neurosurgery. Spine (Phila Pa 1976). 2017;42(3):177–185.

11.

Gidwani R, Sinnott P, Avoundjian T, Lo J, Asch SM, Barnett PG. Inappropriate ordering of lumbar spine magnetic resonance imaging: are providers Choosing Wisely? Am J Manag Care. 2016;22(2): e68–76.

12.

Heggeness MH. AAOS endorses back pain guidelines. AAOS Now. Sept 2010. Available at: https://www.aaos.org/AAOSNow/2010/Sep/cover/cover1/?ssopc=1. Accessed 27 July 2017.

13.

Hermer LD, Brody H. Defensive medicine, cost containment, and reform. J Gen Intern Med. 2010;25(5):470–473.

14.

Hong AS, Ross-Degnan D, Zhang F, Wharam JF. Clinician-level predictors for ordering low-value imaging. JAMA Intern Med. 2017;177(11):1577–1585.

15.

Kachalia A, Little A, Isavoran M, Crider LM, Smith J. Greatest impact of safe harbor rule may be to improve patient safety, not reduce liability claims paid by physicians. Health Aff (Millwood). 2014;33(1):59–66.

16.

Kessler DP, McClellan M. Do doctors practice defensive medicine? Q J Econ. 1996;111(2):353–390.

17.

Klingman D, Localio A R, Sugarman J, Wagner J L, Polishuk P T, Wolfe L, et al. Measuring defensive medicine using clinical scenario surveys. J Health Polit Policy Law. 1996;21(2):185–217.

18.

Mafi JN, Russell K, Bortz BA, Dachary M, Hazel WA Jr., Fendrick AM. Low-cost, high-volume health services contribute the most to unnecessary health spending. Health Aff (Millwood). 2017;36(10):1701–1704.

19.

Malani A, Reif J. Accounting of anticipation effects: an application to medical malpractice tort reform. John M. Olin Program in Law and Economics Working Paper no. 578, 2011. University of Chicago Law School. Chicago Unbound. Available at http://chicagounbound.uchicago.edu/law_and_economics/28/. Accessed 27 July 2017.

20.

Massachusetts Medical Society. Investigation of defensive medicine in Massachusetts. 2008: 1–19. Available at http://www.massmed.org/defensivemedicine/. Accessed 27 July 2017.

21.

Matsa DA. Does malpractice liability keep the doctor away? Evidence from tort reform damage caps. J Leg Stud. 2007;36(S2): S143–S182.

22.

Mello MM, Chandra A, Gawande AA, Studdert DM. National costs of the medical liability system. Health Aff (Millwood). 2010;29(9):1569–1577.

23.

Nahed BV, Babu MA, Smith TR, Heary RF. Malpractice liability and defensive medicine: a national survey of neurosurgeons. PLoS One. 2012;7(6):e39237.

24.

Nelson LJ 3rd, Morrisey MA, Kilgore ML. Damages caps in medical malpractice cases. Milbank Q. 2007;85(2):259–286.

25.

Pronovost P, Needham D, Berenholtz S, et al. An intervention to decrease catheter-related bloodstream infections in the ICU. N Engl J Med. 2006;355(26):2725–2732.

26.

Ryan, P. A better way: our vision for a confident America. 2017. Available at http://abetterway.speaker.gov/. Accessed 27 July 2017.

27.

Smith TR, Habib A, Rosenow JM, Nahed BV, Babu MA, Cybulski G, et al. Defensive medicine in neurosurgery: does state-level liability risk matter? Neurosurgery. 2015;76(2):105–113.

28.

Studdert DM, Mello MM, Sage WM, et al. Defensive medicine among high-risk specialist physicians in a volatile malpractice environment. JAMA. 2005;293(21):2609–2617.

29.

Tan A, Zhou J, Kuo YF, Goodwin JS. Variation among primary care physicians in the use of imaging for older patients with acute low back pain. J Gen Intern Med. 2016;31(2):156–163.

30.

Thomas JW, Ziller EC, Thayer DA. Low costs of defensive medicine, small savings from tort reform. Health Aff (Millwood) 2010;29(9):1578–1584.

31.

US Congress. Empowering Patients First Act: HR 3400, 111th US Congress; HR 3000, 112th Congress; HR 2300, 113th Congress. 2017. Available at: https://www.congress.gov/bill/114th-congress/house-bill/2300. Accessed 27 July 2017.

32.

US Congress. Protecting Access to Care Act of 2017. 2017. Available at https://www.congress.gov/bill/115th-congress/house-bill/1215. Accessed 27 July 2017.
Disclaimer
This article is the authors' responsibility and does not necessarily represent the official views of the NCATS, the AHRQ, the NCI, or the NIH.
Ethics declarations
Conflict of Interest
Michael F. Pesko, PhD, and Elizabeth Sepper, JD, declare that they have no conflicts of interest. Christopher J. Dy, MD, MPH, reports support from grant number UL1 TR000448, Sub award KL2 TR000450, from the National Institutes of Health (NIH) National Center for Advancing Translational Sciences (NCATS), and from the NIH Roadmap for Medical Research, during the conduct of the study. Margaret A. Olsen, PhD, MPH, reports grants and personal fees from Pfizer and grants from Sanofi Pasteur, outside the submitted work. Matthew Keller, MS, and Margaret A. Olsen, PhD, MPH, report partial support from the Center for Administrative Data Research at the Washington University Institute of Clinical and Translational Sciences, grant number UL1 TR000448 from NCATS, grant number R24 HS19455 from the Agency for Healthcare Research and Quality (AHRQ), and grant number KM1CA156708 from the National Cancer Institute (NCI) at the NIH.
Human/Animal Rights
N/A
Informed Consent
N/A
Required Author Forms
Disclosure forms provided by the authors are available with the online version of this article.
Additional information
Level of Evidence: Level III: retrospective, prognostic study
Electronic Supplementary Materials
About this article
Cite this article
Dy, C.J., Pesko, M.F., Keller, M. et al. Removal of Non-economic Damage Caps Is Not Associated with Reductions in Early Imaging for Low Back Pain. HSS Jrnl 16, 54–61 (2020). https://doi.org/10.1007/s11420-018-9650-4
Received:

Accepted:

Published:

Issue Date:
Keywords
defensive medicine

tort reform

malpractice

low back pain

early imaging