Abstract
Background
General anesthesia with neuromuscular blockade may facilitate total shoulder arthroplasty but appears to increase risk of cerebral oxygen desaturation. Cerebral desaturation is undesirable and is a proxy for risk of stroke.
Purposes/Questions
This study tested the hypothesis that cerebral oxygen desaturation occurs frequently during general anesthesia with neuromuscular blockade and positive-pressure ventilation but does not occur with spontaneous ventilation. Correlations were sought among cerebral oxygen saturation, blood pressure, and cardiac index.
Methods
We designed a prospective, observational, cohort study to measure cerebral oxygenation in 25 patients during general anesthesia, both with and without positive-pressure ventilation. Patients undergoing elective shoulder arthroplasty in the sitting position received an arterial catheter, near-infrared spectroscopic measurement of cerebral oxygenation, and non-invasive cardiac output measurement. Moderate hypotension was allowed. Blood pressure was supported as needed with ephedrine or low-dose epinephrine (but avoiding phenylephrine). Hypercapnia (45 to 55 mmHg) was targeted during positive-pressure ventilation.
Results
No cerebral oxygen desaturations occurred, regardless of ventilation mode. Under positive-pressure ventilation, the median (interquartile range: Q1, Q3) cerebral oxygenation was 110% of baseline (104, 113), the mean arterial pressure was 62% of baseline (59, 69), and the cardiac index was 82% of baseline (71, 104). Cerebral oxygenation did not correlate with blood pressure or cardiac index but had moderate correlation with end-tidal carbon dioxide. No strokes occurred.
Conclusions
There were no signs of inadequate brain perfusion during general anesthesia using paralytic agents. Positive-pressure ventilation with moderate hypotension in the sitting position does not endanger patients, in the context of moderate hypercapnia and hemodynamic support using ephedrine or epinephrine.
This is a preview of subscription content, log in to check access.
Access options
Buy single article
Instant access to the full article PDF.
US$ 39.95
Price includes VAT for USA
Subscribe to journal
Immediate online access to all issues from 2019. Subscription will auto renew annually.
US$ 99
This is the net price. Taxes to be calculated in checkout.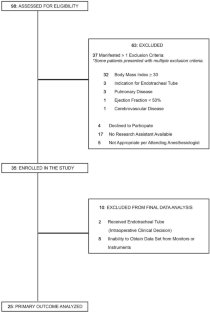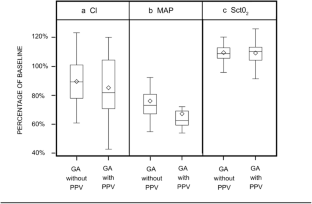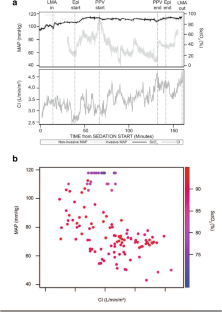 References
1.

Aguirre J, Borgeat A, Trachsel T, Cobo Del Prado I, De Andres J, Buhler P. Cerebral oxygenation in patients undergoing shoulder surgery in beach chair position: comparing general to regional anesthesia and the impact on neurobehavioral outcome. Rev Esp Anestesiol Reanim. 2014;61(2):64–72.

2.

Bijker JB, Persoon S, Peelen LM, et al. Intraoperative hypotension and perioperative ischemic stroke after general surgery. Anesthesiology. 2012;116(3):658–664.

3.

Cote R, Battista RN, Wolfson C, Boucher J, Adam J, Hachinski V. The Canadian Neurological Scale: validation and reliability assessment. Neurology. 1989;39(5): 638–643.

4.

Drummond JC. Stroke and intraoperative hypotension: to sleep, perchance to stroke—ay, there's the rub. Anesth Analg. 2016;123(4):814–815

5.

Friedman DJ, Parnes NZ, Zimmer Z, Higgins LD, Warner JP. Prevalence of cerebrovascular events during shoulder surgery and association with patient position. Orthopedics. 2009;32:256.

6.

Gillespie R, Shishani Y, Streit J, et al. The safety of controlled hypotension for shoulder arthroscopy in the beach-chair position. J Bone Joint Surg Am. 2012;94:1284–1290.

7.

Koh JL, Levin SD, Chehab EL, Murphy GS. Cerebral oxygenation in the beach chair position: a prospective study on the effect of general anesthesia compared with regional anesthesia and sedation. J Shoulder Elbow Surg. 2013;22(10):1325–1331.

8.

Laflam A, Joshi B, Brady K, Yenokyan G, Brown C, Everett A, et al. Shoulder surgery in the beach chair position is associated with diminished cerebral autoregulation but no differences in postoperative cognition or brain injury biomarker levels compared with supine positioning: The Anesthesia Patient Safety Foundation Beach Chair Study. Anesth Analg. 2015;120(1):176–185.

9.

Lee JH, Min KT, Chun YM, Kim EJ, Choi SH. Effects of beach-chair position and induced hypotension on cerebral oxygen saturation in patients undergoing arthroscopic shoulder surgery. Arthroscopy 2011;27(7):889–894.

10.

Mazzon D, Danelli G, Poole D, Marchini C, Bianchin C. Beach chair position, general anesthesia and deliberated hypotension during shoulder surgery: a dangerous combination!. Minerva Anestesiol. 2009;75(5):281–282.

11.

McCulloch TJ, Liyanagama K, Petchell J. Relative hypotension in the beach-chair position: effects on middle cerebral artery blood velocity. Anaesth Intensive Care. 2010;38(3):486–491.

12.

Meng L, Cannesson M, Alexander BS, et al. Effect of phenylephrine and ephedrine bolus treatment on cerebral oxygenation in anaesthetized patients. Br J Anaesth. 2011;107(2):209–217.

13.

Murphy GS, Szokol JW, Avram MJ, et al. Effect of ventilation on cerebral oxygenation in patients undergoing surgery in the beach chair position: a randomized controlled trial. Br J Anaesth. 2014;113:618–627.

14.

Murphy GS, Szokol JW, Marymont JH, et al. Cerebral oxygen desaturation events assessed by near-infrared spectroscopy during shoulder arthroscopy in the beach chair and lateral decubitus positions. Anesth Analg. 2010;111(2):496–505.

15.

Ono M, Zheng Y, Joshi B, Sigl JC, Hogue CW. Validation of a stand-alone near infrared spectroscopy system for monitoring cerebral autoregulation during cardiac surgery. Anesth Analg. 2013;116(1):198–204.

16.

Paul JE, Ling E, Lalonde C, Thabane L. Deliberate hypotension in orthopedic surgery reduces blood loss and transfusion requirements: a meta-analysis of randomized controlled trials. Can J Anaesth. 2007;54(10):799–810.

17.

Picton P, Dering A, Alexander A, et al. Influence of ventilation strategies and anesthetic techniques on regional cerebral oximetry in the beach chair position. Anesthesiology. 2015;123(4):765–774.

18.

Pin-on P, Schroeder D, Munis J. The hemodynamic management of 5177 neurosurgical and orthopedic patients who underwent surgery in the sitting or "beach chair" position without incidence of adverse neurologic events. Anesth Analg. 2013;116(6):1317–1324.

19.

Pohl A, Cullen DJ. Cerebral ischemia during shoulder surgery in the upright position: a case series. J Clin Anesth. 2005;17:463–469.

20.

Porter JM, Pidgeon C, Cunningham AJ. The sitting position in neurosurgery: a critical appraisal. Br J Anaesth. 1999;82(1):117–128.

21.

Salazar D, Sears BW, Andre J, Tonino P, Marra G. Cerebral desaturation during shoulder arthroscopy: a prospective observational study. Clin Orthop Relat Res. 2013;471:4027–4034.

22.

So J, Shin WJ, Shim JH. A cardiovascular collapse occurred in the beach chair position for shoulder arthroscopy under general anesthesia—a case report. Korean J Anesthesiol. 2013;64(3):265–267.

23.

Soeding PF, Hoy S, Hoy G, Evans M, Royse CF. Effect of phenylephrine on the haemodynamic state and cerebral oxygen saturation during anesthesia in the upright position. Br J Anaesth. 2013;111(2):229–234.

24.

Triplet JJ, Lonetta CM, Levy JC, Everding NG, Moor MA. Cerebral desaturation events in the beach chair position: correlation of noninvasive blood pressure and estimated temporal mean arterial pressure. J Shoulder Elbow Surg. 2015;34:135–137.

25.

Ya Deau JT. CORR Insights: hypotensive epidural anesthesia reduces blood loss in pelvic and sacral bone tumor resections. Clin Orthop Relat Res. 2017;475(3):641–642.

26.

Ya Deau JT, Casciano M, Liu SS, et al. Stroke, regional anesthesia in the sitting position, and hypotension: a review of 4169 ambulatory surgery patients. Reg Anesth Pain Med. 2011;123(4):765–774.

27.

Ya Deau JT, Liu SS, Bang H, et al. Cerebral oximetry desaturation during shoulder surgery performed in a sitting position under regional anesthesia. Can J Anaesth. 2011;58(11):986–992.
Acknowledgments
We thank George Birch for his assistance with manuscript writing, editing, submission, and revision.
Funding
This study was funded by the Department of Anesthesiology—Research and Education Fund, Hospital for Special Surgery (New York, NY). The REDCap electronic data capture tools were funded by the Clinical and Translational Science Center Grant, National Center for Advancing Translational Science, National Institutes of Health (#UL1TR000457). CAS Medical Systems, Inc. (Branford, CT, USA) provided FORE-SIGHT cerebral oximetry monitors at no cost and probes at research cost for the study. Cheetah Medical, Inc. (Vancouver, WA, USA) provided NICOM hemodynamic monitor and probes at research cost.
Ethics declarations
Conflict of Interest
Richard L. Kahn, MD, Yi Lin, MD, PhD, Enrique A. Goytizolo, MD, Michael A. Gordon, MD, Yuliya Gadulov, MD, Sean Garvin, MD, Kara Fields, MS, Amanda Goon, BA, and Isabel Armendi, BSc, declare that they have no conflicts of interest. Jacques T. YaDeau, MD, PhD, reports receiving grants and personal fees from Mallinckrodt, outside the submitted work. David M. Dines, MD, and Edward V. Craig, MD, MPH, both report receiving royalties and other fees from Zimmer Biomet, during the conduct of this study.
Human/Animal Rights
All procedures followed were in accordance with the ethical standards of the responsible committee on human experimentation (institutional and national) and with the Helsinki Declaration of 1975, as revised in 2013.
Informed Consent
Informed consent was obtained from all patients included in this study.
Required Author Forms
Disclosure forms provided by the authors are available with the online version of this article.
Additional information
Level of Evidence: Level II
Electronic Supplementary Material
About this article
Cite this article
YaDeau, J.T., Kahn, R.L., Lin, Y. et al. Cerebral Oxygenation in the Sitting Position Is Not Compromised During Spontaneous or Positive-Pressure Ventilation. HSS Jrnl 15, 167–175 (2019). https://doi.org/10.1007/s11420-018-9642-4
Received:

Accepted:

Published:

Issue Date:
Keywords
cerebral oxygenation

shoulder arthroplasty

positive-pressure ventilation