Abstract
Background
Carpal tunnel release (CTR) has traditionally been performed through an open approach, although in recent years endoscopic CTR has gained in popularity.
Questions/Purposes
We sought to assess whether a difference exists between the rates of nerve repair surgery following open versus endoscopic CTR in New York State (NYS).
Methods
Patients undergoing endoscopic and open CTR from 1997 to 2013 were identified from the Statewide Planning and Research Cooperative System (SPARCS) database from the NYS Department of Health using Current Procedural Terminology, 4th Revision (CPT-4) codes 29848 and 64721, respectively. The primary outcome measure was subsequent nerve repair surgery (as identified using CPT-4 codes 64831–64837, 64856, 64857, 64859, 64872, 64874, and 64876). Other variables analyzed included patient age, sex, payer, and surgery year.
Results
There were 294,616 CTRs performed in NYS from 1997 to 2013. While the incidence of open CTR remained higher than endoscopic CTR, the proportion of endoscopic CTR steadily increased, from 16% (2984/19,089) in 2007 to 25% (5594/22,271) in 2013. For the 134,143 patients having a single CTR, the rate of subsequent nerve repair was significantly higher following endoscopic CTR (0.09%) compared to open CTR (0.04%). The Cox model showed that factors significantly associated with a higher risk of subsequent nerve repair surgery were endoscopic CTR and younger age.
Conclusions
Endoscopic CTR has been increasingly performed in NYS and associated with a higher rate of subsequent nerve repair. This rate likely underestimates the incidence of nerve injuries because it only captures those patients who had subsequent surgery. While this catastrophic complication remains rare, further investigation is warranted, given the rise of endoscopic CTR in the setting of equivalent outcomes, but favorable reimbursement, versus open CTR.
This is a preview of subscription content, log in to check access.
Access options
Buy single article
Instant access to the full article PDF.
US$ 39.95
Price includes VAT for USA
Subscribe to journal
Immediate online access to all issues from 2019. Subscription will auto renew annually.
US$ 99
This is the net price. Taxes to be calculated in checkout.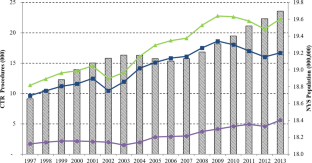 References
1.

Beck JD, Deegan JH, Rhoades D, Klena JC. Results of endoscopic carpal tunnel release relative to surgeon experience with the Agee technique. J Hand Surg Am. 2011;36:61–64.

2.

Fajardo M, Kim SH, Szabo RM. Incidence of carpal tunnel release: trends and implications within the United States ambulatory care setting. J Hand Surg Am. 2012;37:1599–1605.

3.

Rowland EB, Kleinert JM. Endoscopic carpal-tunnel release in cadavera. An investigation of the results of twelve surgeons with this training model. J Bone Joint Surg Am. 1994;76:266–268.

4.

Sayegh ET, Strauch RJ. Open versus endoscopic carpal tunnel release: a meta-analysis of randomized controlled trials. Clin Orthop Relat Res. 2015;473:1120–1132.

5.

Schwartz JT, Waters PM, Simmons BP. Endoscopic carpal tunnel release: a cadaveric study. Arthroscopy. 1993;9:209–213.

6.

Vasiliadis HS, Nikolakopoulou A, Shrier I, Lunn MP, Brassington R, Scholten RJ, Salanti G. Endoscopic and open release similarly safe for the treatment of carpal tunnel syndrome: a systematic review and meta-analysis. PLoS One. 2015;10:e0143683.

7.

Vasiliadis HS, Georgoulas P, Shrier I, Salanti G, Scholten RJ. Endoscopic release for carpal tunnel syndrome. Cochrane Database Syst Rev. 2014;1:CD008265.

8.

Zuo D, Zhou Z, Wang H, Liao Y, Zheng L, Hua Y, Cai Z. Endoscopic versus open carpal tunnel release for idiopathic carpal tunnel syndrome: a meta-analysis of randomized controlled trials. J Orthop Surg Res. 2015;10:12,014-0148-6.
Ethics declarations
Conflict of Interest
Samir K. Trehan, MD, Stephen Lyman, PhD, Yile Ge, MS, Huong T. Do, MA, and Aaron Daluiski, MD, declare that they have no conflicts of interest. Research reported in this publication was supported by the National Center for Advancing Translational Sciences (NCATS) (grant number UL1-RR024996).
Human/Animal Rights
All procedures followed were in accordance with the ethical standards of the responsible committee on human experimentation (institutional and national) and with the Helsinki Declaration of 1975, as revised in 2013.
Informed Consent
Informed consent was waived from all patients for being included in this study.
Required Author Forms
Disclosure forms provided by the authors are available with the online version of this article.
Additional information
Level of Evidence: Level III, Prognostic Study
Electronic supplementary material
About this article
Cite this article
Trehan, S.K., Lyman, S., Ge, Y. et al. Incidence of Nerve Repair Following Endoscopic Carpal Tunnel Release Is Higher Compared to Open Release in New York State. HSS Jrnl 15, 143–146 (2019). https://doi.org/10.1007/s11420-018-9637-1
Received:

Accepted:

Published:

Issue Date:
Keywords
carpal tunnel release

nerve injury

carpal tunnel syndrome

median nerve

nerve repair