Abstract
Background
Carbon-fiber-reinforced (CFR) polymer has produced great excitement in the orthopedic community as a material that will reduce bone healing times and provide improved image quality. Osteotomy stabilized with an intramedullary (IM) nail has become a common technique to address post-traumatic malalignment of the lower extremity.
Purposes/Questions
The following questions were asked: (1) Did CFR polymer nails provide a rapid healing time after long bone osteotomy, shortening, or fracture? (2) Did the CFR polymer nails produce unexpected complications?
Methods
A retrospective review was conducted in patients who received CFR polymer IM nails for various indications, from April 2016 to January 2017 in a deformity and trauma practice, using patient charts and radiographs. The primary outcomes were time to union and incidence of complications including nonunion, hardware failure, neurovascular injury, venous thromboembolism, and infection.
Results
Twelve patients who received CFR polymer IM nails in 16 limbs for various indications were included in our analysis. Patients were followed for an average of 16.9 months. Eleven limbs underwent realignment and were corrected an average of 23° through a diaphyseal osteotomy. Three limbs underwent limb-shortening surgery, an average of 25 mm, through an open, excisional osteotomy of the femoral diaphysis. Two diaphyseal, closed tibia fractures underwent routine IM nailing. The average time to union was 107.6 days, which included all limbs that united (11/16, 69%). Nonunion occurred in 5/16 (31%) of limbs. Complications recorded included nonunion and hardware failure, most of which resulted in unplanned surgery.
Conclusions
The use of the CFR polymer IM nail was associated with loss of fixation and nonunion after surgeries that have traditionally healed uneventfully. The increased elasticity of the CFR polymer allows for more motion at the osteotomy/fracture interface than the stiffer titanium counterparts, exposing long-bone osteotomies to delayed union and nonunion, a finding seen with CFR polymer plates. The overwhelmingly poor early results of this device applied to a long-bone deformity practice have led these authors to abandon the use of this implant.
This is a preview of subscription content, log in to check access.
Access options
Buy single article
Instant access to the full article PDF.
US$ 39.95
Price includes VAT for USA
Subscribe to journal
Immediate online access to all issues from 2019. Subscription will auto renew annually.
US$ 99
This is the net price. Taxes to be calculated in checkout.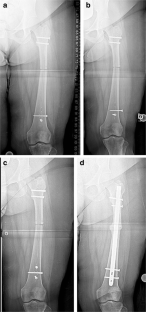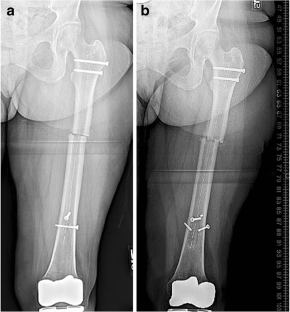 References
1.

Akamatsu Y, Koshino T, Saito T, Wada J. Changes in osteosclerosis of the osteoarthritic knee after high tibial osteotomy. Clin Orthop Relat Res. 1997; 334:207–214.

2.

Barker KL, Simpson AH. Recovery of function after closed femoral shortening. J Bone Joint Surg Br. 2004;86(8):1182–1186.

3.

Blair VP, Schoenecker PL, Sheridan JJ, Capelli AM. Closed shortening of the femur. J Bone Joint Surg. 1989;71–A(10):1440–1447.

4.

Bruce WD, Stevens PM. Surgical correction of miserable malalignment syndrome. J Pediatr Orthop. 2004;24(4):392–396.

5.

Chapman ME, Duwelius PJ, Bray TJ, Gordon JE. Closed intramedullary femoral osteotomy. Shortening and derotation procedures. Clin Orthop Relat Res. 1993;287:245–251.

6.

Cotic M, Vogt S, Hinterwimmer S, Feucht MJ, Slotta-Huspenina J, Schuster T, Imhoff AB. A matched-pair comparison of two different locking plates for valgus-producing medial open-wedge high tibial osteotomy: peek–carbon composite plate versus titanium plate. Knee Surg Sports Traumatol Arthrosc. 2015;23:2032–2040.

7.

Coventry MB, Ilstrup DM, Wallrichs SL. Proximal tibial osteotomy. A critical long-term study of eighty-seven cases. J Bone Joint Surg Am. 1993;75(2):196–201.

8.

Duan X, Al-Qwbani M, Zeng Y, Zhang W, Xiang Z. Intramedullary nailing for tibial shaft fractures in adults. Cochrane Database Syst Rev. 2012;1:CD008241. https://doi.org/10.1002/14651858.CD008241.pub2.

9.

Eyres KS, Douglas DL, Bell MJ. Closed intramedullary osteotomy for the correction of deformities of the femur. J R Coll Surg Edinb. 1993;38(5):302–306.

10.

Fragomen AT, Mc Coy Jr TH, Fragomen FR. A preliminary comparison suggests poor performance of carbon fiber reinforced versus titanium plates in distal femoral osteotomy. HSS J. 2018;14(3):258–265.

11.

Grelsamer RP. Unicompartmental osteoarthrosis of the knee. J Bone Joint Surg Am. 1995;77(2):278–292.

12.

Hak DJ, Mauffrey C, Seligson D, Lindeque B. Use of carbon fiber reinforced composite implants in orthopedic surgery. Orthopedics 2014;37(12):825–830.

13.

Iorio R, Healy WL. Unicompartmental arthritis of the knee. J Bone Joint Surg Am. 2003;85–A(7):1351–1364.

14.

Katthagen JC, Schwarze M, Warnhoff M, Voigt C, Hurschler C, Lill H. Influence of plate material and screw design on stiffness and ultimate load of locked plating in osteoporotic proximal humeral fractures. Injury 2016;47:617–624.

15.

Kaze AD, Maas S, Waldmann D, Zilian A, Dueck K, Pape D. Biomechanical properties of five different currently used implants for open-wedge high tibial osteotomy. J Experimental Orthop. 2015;2:14:1–17.

16.

Kim KI, Thaller PH, Ramteke A, Lee SH, Lee S-H. Corrective tibial osteotomy in young adults using an intramedullary nail. Knee Surg Rel Res. 2014;26(2):88–96.

17.

Pemberton DJ, McKibbin B, Savage R, Tayton K, Stuart D. The use of carbon-fibre reinforced plates for problem fractures: results of preliminary trials. J Bone Joint Surg Br. 1992;74:88–92.

18.

Schliemann B, Hartensuer R, Koch T, Theisen C, Raschke MJ, Kosters C, Weimann A. Treatment of proximal humerus fractures with a CFR-PEEK plate: 2-year results of a prospective study and comparison to fixation with a conventional locking plate. J Shoulder Elbow Surg. 2015;24:1282–1288.

19.

Stevens PM, Gililland JM, Anderson LA, Mickelson JB, Nielson J, Klatt JW. Success of torsional correction surgery after failed surgeries for patellofemoral pain and instability. Strategies Trauma Limb Reconstr. 2014;9:5–12.

20.

Stotts AK, Stevens PM. Tibial rotational osteotomy with intramedullary nail fixation. Strategies Trauma Limb Reconstr. 2009; 4:129–133.
Ethics declarations
Conflict of Interest
Jason Teplensky, BS, declares that he has no conflicts of interest. Austin T. Fragomen, MD, reports being a paid consultant for Smith & Nephew, NuVasive, Synthes, and Globus. S. Robert Rozbruch, MD, reports being a paid consultant for Smith & Nephew, Stryker, and NuVasive.
Human/Animal Rights
All procedures followed were in accordance with the ethical standards of the responsible committee on human experimentation (institutional and national) and with the Helsinki Declaration of 1975, as revised in 2013.
Informed Consent
Informed consent was waived from all patients for being included in this study.
Required Author Forms
Disclosure forms provided by the authors are available with the online version of this article.
Additional information
Level of Evidence: Therapeutic Study: Level IV
About this article
Cite this article
Fragomen, A.T., Teplensky, J. & Robert Rozbruch, S. Carbon-Fiber-Reinforced Polymer Intramedullary Nails Perform Poorly in Long-Bone Surgery. HSS Jrnl 15, 109–114 (2019). https://doi.org/10.1007/s11420-018-9634-4
Received:

Accepted:

Published:

Issue Date:
Keywords
polymer

carbon fiber reinforced

deformity

nonunion

intramedullary nailing