Abstract
Background
Much of current clinical orthopedics traces its origin to basic science investigation of cellular and biochemical pathways, tissue engineering, and biomechanics of bone and joint physiology in animal and cadaveric models.
Questions/Purposes
We sought to describe research trends in highly cited basic science studies in orthopedics.
Methods
By searching Web of Science, we identified the 100 most cited basic science orthopedics articles and focused on author position and degree (PhD, MD, or MD/PhD), topic, type of study, country, institution, and citation trends.
Results
These articles were published from 1970 to 2008 (citation range, 330 to 2111), with the majority from the USA (78). While there was no correlation between years since publication and total citations, more recent articles had higher citation rates. There were 38 unique first authors represented, with Caplan, Harris, Mankin, Noyes, and Warren as primary authors or co-authors of four articles each. Twelve journals published these 100 articles, with the majority in Journal of Bone and Joint Surgery (46) and Clinical Orthopaedics and Related Research (18). Frequent topics included biomechanics (31), healing/regeneration (21), and cellular/molecular biology (13). The Hospital for Special Surgery/Cornell University (10) published the most, followed by the Hospital for Joint Diseases/New York University (6), and University of Pittsburgh (6). No difference was observed in total citations and average citation rate by author degree. Eight articles were contributed from privately owned institutions or industry, with the rest from academic hospitals.
Conclusion
This review may aid those seeking insight into landmark studies and future direction of basic science research in orthopedics.
This is a preview of subscription content, log in to check access.
Access options
Buy single article
Instant access to the full article PDF.
US$ 39.95
Price includes VAT for USA
Subscribe to journal
Immediate online access to all issues from 2019. Subscription will auto renew annually.
US$ 99
This is the net price. Taxes to be calculated in checkout.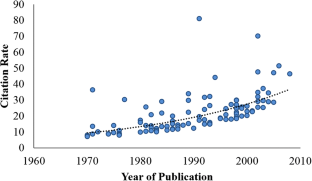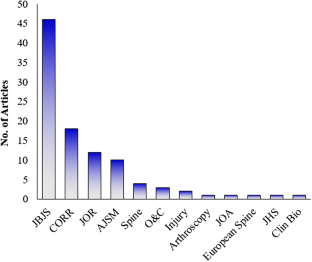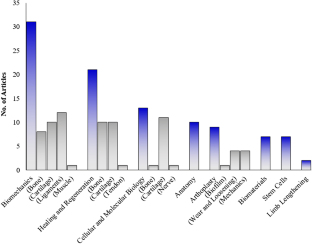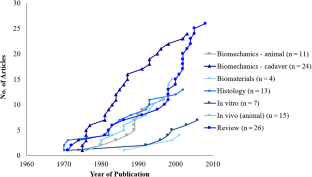 References
1.

Bhandari M, Busse J, Devereaux PJ, et al. Factors associated with citation rates in the orthopedic literature. Can J Surg. 2007;50(2):119–123.

2.

Cassar Gheiti AJ, Downey RE, Byrne DP, Molony DC, Mulhall KJ. The 25 most cited articles in arthroscopic orthopaedic surgery. Arthroscopy. 2012;28(4):548–564.

3.

Kavanagh RG, Kelly JC, Kelly PM, Moore DP. The 100 classic papers of pediatric orthopaedic surgery: a bibliometric analysis. J Bone Joint Surg Am. 2013;95(18):e134.

4.

Kelly JC, Glynn RW, O'Briain DE, Felle P, McCabe JP. The 100 classic papers of orthopaedic surgery: a bibliometric analysis. J Bone Joint Surg Br. 2010;92(10):1338–1343.

5.

Keswani SG, Moles CM, Morowitz M, et al. Basic science committee of the society of university surgeons. the future of basic science in academic surgery: identifying barriers to success for surgeon-scientists. Ann Surg. 2017;265(6):1053–1059.

6.

Lefaivre KA, Shadgan B, O'Brien, PJ. 100 most cited articles in orthopaedic surgery. Clin Orthop Relat Res. 2011; 469(5): 1487–1497.

7.

Lu C, Buckley JM, Colnot C, Marcucio R, Miclau T. Basic research in orthopedic surgery: current trends and future directions. Indian J Orthop. 2009;43(4):318–323.

8.

Mehlman CT, Wenger DR. The top 25 at 25: citation classics in the Journal of Pediatric Orthopaedics. J Pediatr Orthop. 2006;26(5):691–694.

9.

Namdari S, Baldwin K, Kovatch K, Huffman GR, Glaser D. Fifty most cited articles in orthopedic shoulder surgery. J Shoulder Elbow Surg. 2012;21(12):1796–1802.

10.

Nayar SK, Dein EJ, Spiker AM, Bernard JA, Zikria BA. The Top 100 cited articles in clinical orthopedic sports medicine. Am J Orthop (Belle Mead NJ). 2015;44(8):E252–261.

11.

Rodeo SA, Lebaschi A, Carballo C, Zong J, Khilnani T, Cunningham ME, Lane J, Maher S. What's new in orthopaedic research. J Bone Joint Surg Am. 2015;97(23):1972–1978.

12.

Rodeo SA, Sugiguchi F, Fortier LA, Cunningham ME, Maher S. What's new in orthopaedic research. J Bone Joint Surg Am. 2014;96(23):2015–2019.

13.

Rodeo SA, Ma R, Moran C, Fortier L, Frawley RJ, Cunningham M, Maher S. What's new in orthopaedic research. J Bone Joint Surg Am. 2012;94(24):2289–2295.
Ethics declarations
Conflict of Interest
Suresh K. Nayar, MD, Eric J. Dein, MD, Johnathan A. Bernard, MD, MPH, Bashir A. Zikria, MD, MSc, and Andrea M. Spiker, MD, declare that they have no conflicts of interest.
Human/Animal Rights
n/a
Informed Consent
n/a.
Required Author Forms:
Disclosure forms provided by the authors are available with the online version of this article.
Electronic Supplementary Material
About this article
Cite this article
Nayar, S.K., Dein, E.J., Bernard, J.A. et al. Basic Science Research Trends in Orthopedic Surgery: An Analysis of the Top 100 Cited Articles. HSS Jrnl 14, 333–337 (2018). https://doi.org/10.1007/s11420-018-9625-5
Received:

Accepted:

Published:

Issue Date:
Keywords
basic science

bibliometric analysis

citation analysis

orthopedics