Abstract
Background
As the use of biologic therapies for the management of knee pathology continues to expand, it is more likely that patients will turn to the Internet to gather information on this topic. Given the lack of scientific consensus on the use of biologics, care providers must understand what information is available online.
Questions/Purposes
The purpose of this study was to evaluate the quality of websites that patients may use to educate themselves on knee biologics.
Methods
Websites were identified using search terms relevant to multiple biologic therapies available for knee pathology. Websites were scored based on an author-derived grading rubric, with a total of 25 possible points relating to the role of knee biologics in the diagnosis, evaluation, and treatment of knee pathology. Websites were categorized based on the source (e.g., physician-operated website vs. industry-related website). Reading level was assessed with the Flesch-Kincaid readability test.
Results
The initial search yielded 375 results, with 96 websites meeting final inclusion criteria. Mean website score was poor, at 6.01 of the 25 possible points (24.0%). Physician websites were the most common, with 60% of the articles identified. Industry-related websites scored the lowest (mean, 3.2 ± 0.97) while hospital-related websites scored the highest (mean, 8.3 ± 2.93). Overall, websites published from hospitals or orthopedic professional societies had significantly higher scores than other websites. The search term "knee PRP" yielded higher-quality results than "knee platelet rich plasma." Similarly, "knee BMAC" led to better results than "knee bone marrow aspirate concentrate." The average reading level was 11.4.
Conclusion
Many online resources are available for patients seeking information about knee biologic therapies, but the quality of websites identified was very poor. Patients should be counseled that the information available online for knee biologic therapy is unreliable. Surgeons should play an increased role in providing resources to patients and educating them on biologic options.
This is a preview of subscription content, log in to check access.
Access options
Buy single article
Instant access to the full article PDF.
US$ 39.95
Price includes VAT for USA
Subscribe to journal
Immediate online access to all issues from 2019. Subscription will auto renew annually.
US$ 99
This is the net price. Taxes to be calculated in checkout.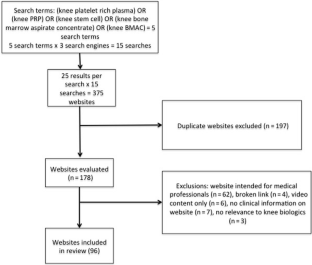 References
1.

Beitzel K, Allen D, Apostolakos J, Russell RP, McCarthy MB, Gallo GJ, Cote MP, Mazzocca AD. US definitions, current use, and FDA stance on use of platelet-rich plasma in sports medicine. J Knee Surg. 2015;28:29–34.

2.

Dy CJ, Taylor SA, Patel RM, Kitay A, Roberts TR, Daluiski A. The effect of search term on the quality and accuracy of online information regarding distal radius fractures. J Hand Surg Am 2012;37:1881–1887.

3.

Eysenbach G, Köhler C. How do consumers search for and appraise health information on the world wide web? Qualitative study using focus groups, usability tests, and in-depth interviews. BMJ. 2002;324:573–577.

4.

Fabricant PD, Dy CJ, Patel RM, Blanco JS, Doyle SM. Internet search term affects the quality and accuracy of online information about developmental hip dysplasia. J Pediatr Orthop. 2013;33:361–365.

5.

Garcia GH, Taylor SA, Dy CJ, Christ A, Patel RM, Dines JS. Online resources for shoulder instability: what are patients reading? J Bone Joint Surg Am. 2014;96:e177.

6.

Ghodasra JH, Wang D, Jayakar RG, Jensen AR, Yamaguchi KT, Hegde VV, Jones KJ. The assessment of quality, accuracy, and readability of online educational resources for platelet-rich plasma (PRP). Arthroscopy. 2018;34(1):272–278.

7.

Johnson CC, Garcia GH, Liu JN, Stepan JG, Patel RM, Dines JS. Internet resources for Tommy John injuries: what are patients reading? J Shoulder Elbow Surg. 2016;25:e386–e393.

8.

LaPrade RF, Dragoo JL, Koh JL, Murray IR, Geeslin AG, Chu CR. AAOS Research symposium updates and consensus: biologic treatment of orthopaedic injuries. J Am Acad Orthop Surg. 2016;24:e62–78.

9.

LaPrade RF, Geeslin AG, Murray IR, Musahl V, Zlotnicki JP, Petrigliano F, Mann BJ. Biologic treatments for sports injuries II think tank—current concepts, future research, and barriers to advancement, Part 1: biologics overview, ligament injury, tendinopathy. Am J Sports Med. 2016;44:3270–3283.

10.

Mlynarek RA, Kuhn AW, Bedi A. Platelet-rich plasma (PRP) in orthopedic sports medicine. Am J Orthop (Belle Mead NJ). 2016;45(5):290–326.

11.

Murray IR, Geeslin AG, Goudie EB, Petrigliano FA, LaPrade RF. Minimum information for studies evaluating biologics in orthopaedics (MIBO): platelet-rich plasma and mesenchymal stem cells. J Bone Joint Surg Am. 2017;99:809–819.

12.

Schairer WW, Kahlenberg CA, Sculco PK, Nwachukwu BU. What is the quality of online resources about pain control after total knee arthroplasty? J Arthroplasty. 2017;32(12):3616–3620.e1..

13.

Weiss BD. Health literacy and patient safety: help patients understand. American Medical Association Foundation. Chicago, IL; 2007.

14.

Wolfstadt JI, Cole BJ, Ogilvie-Harris DJ, Viswanathan S, Chahal J. Current concepts: the role of mesenchymal stem cells in the management of knee osteoarthritis. Sports Health. 2015;7:38–44.
Ethics declarations
Conflict of Interest
Benedict U. Nwachukwu, MD, MBA, Ryan C. Rauck, MD, Cynthia A. Kahlenberg, MD, Chukwuma Nwachukwu, BS, William W. Schairer, MD, Riley J. Williams III, MD, David W. Altchek, MD, and Answorth A. Allen, MD, declare that they have no conflicts of interest.
Human/Animal Rights
N/A
Informed Consent
N/A
Required Author Forms
Disclosure forms provided by the authors are available with the online version of this article.
Additional information
This investigation was performed at the Hospital for Special Surgery.
About this article
Cite this article
Nwachukwu, B.U., Rauck, R.C., Kahlenberg, C.A. et al. The Quality of Online Resources Available to Patients Interested in Knee Biologic Therapies Is Poor. HSS Jrnl 14, 322–327 (2018). https://doi.org/10.1007/s11420-018-9621-9
Received:

Accepted:

Published:

Issue Date:
Keywords
biologics

knee

PRP

platelet-rich plasma

online resources