Abstract
Background
A greater emphasis on providing high-value orthopaedic interventions has resulted in increased health economic reporting. The contingent-valuation method (CVM) is used to determine consumer valuation of the benefits provided by healthcare interventions. CVM is an important value-based health economic tool that is underutilized in orthopaedic surgery.
Questions/Purposes
The purpose of this study was to (1) identify previously published CVM studies in the orthopaedic literature, (2) assess the methodologies used for CVM research, and (3) understand how CVM has been used in the orthopaedic cost–benefit analysis framework.
Methods
A systematic review of the literature using the MEDLINE database was performed to compile CVM studies. Search terms incorporated the phrase willingness to pay (WTP) or willingness to accept (WTA) in combination with orthopaedic clinical key terms. Study methodology was appraised using previously defined empirical and conceptual criteria for CVM studies.
Results
Of the 160 studies retrieved, 22 (13.8%) met our inclusion criteria. The economics of joint arthroplasty (n = 6, 27.3%) and non-operative osteoarthritis care (n = 4, 18.2%) were the most common topics. Most studies used CVM for pricing and/or demand forecasting (n = 16, 72.7%); very few studies used CVM for program evaluation (n = 6). WTP was used in all included studies, and one study used both WTP and WTA. Otherwise, there was little consistency among included studies in terms of CVM methodology. Open-ended questioning was used by only ten studies (45.5%), a significant number of studies did not perform a sensitivity analysis (n = 9, 40.9%), and none of the studies accounted for the risk preference of subjects. Only two of the included studies applied CVM within a cost–benefit analysis framework.
Conclusion
CVM is not commonly reported in orthopaedic surgery and is seldom used in the context of cost–benefit analysis. There is wide variability in the methods used to perform CVM. We propose that CVM is an appropriate and underappreciated method for understanding the value of orthopaedic interventions. Increased attention should be paid to consumer valuations for orthopaedic interventions.
This is a preview of subscription content, log in to check access.
Access options
Buy single article
Instant access to the full article PDF.
US$ 39.95
Price includes VAT for USA
Subscribe to journal
Immediate online access to all issues from 2019. Subscription will auto renew annually.
US$ 99
This is the net price. Taxes to be calculated in checkout.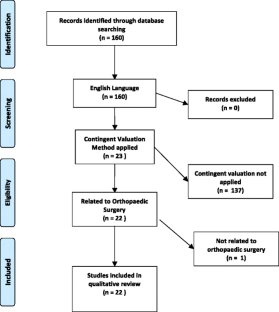 References
1.

Cost-benefit and other analysis requirements in the rulemaking process 2014. Congressional Research Service. Available at https://fas.org/sgp/crs/misc/R41974.pdf. Accessed July 4, 2017.

2.

Alolabi B, Bajammal S, Shirali J, Karanicolas PJ, Gafni A, Bhandari M. Treatment of displaced femoral neck fractures in the elderly: a cost-benefit analysis. J Orthop Trauma. 2009;23:442–446.

3.

Arrow K, Solow R, Portney PR, Leamer EE, Radner R, Schuman H. Report of the NOAA Panel on Contingent Valuation. 1993. Available at: https://sites.google.com/site/economiayambiente/PanelNOAA.pdf. Accessed July 4, 2017.

4.

Birch S, Donaldson C. Valuing the benefits and costs of health care programmes: where's the "extra" in extra-welfarism? Soc Sci Med. 2003;56:1121–1133.

5.

Bozic KJ, Chiu V, Slover JD, Immerman I, Kahn JG. Patient preferences and willingness to pay for arthroplasty surgery in patients with osteoarthritis of the hip. J Arthroplasty. 2012;27:503–506.e502.

6.

Byrne MM, O'Malley KJ, Suarez-Almazor ME. Ethnic differences in health preferences: analysis using willingness-to-pay. J Rheumatol. 2004;31:1811–1818.

7.

Chang K. Comorbidities, quality of life and patients' willingness to pay for a cure for type 2 diabetes in Taiwan. Public Health. 2010;124:284–294.

8.

Cross MJ, March LM, Lapsley HM, Tribe KL, Brnabic AJ, Courtenay BG, Brooks PM. Determinants of willingness to pay for hip and knee joint replacement surgery for osteoarthritis. Rheumatology (Oxford). 2000;39:1242–1248.

9.

de Bekker-Grob EW, Essink-Bot ML, Meerding WJ, Pols HA, Koes BW, Steyerberg EW. Patients' preferences for osteoporosis drug treatment: a discrete choice experiment. Osteoporos Int. 2008;19:1029–1037.

10.

Deogaonkar R, Hutubessy R, van der Putten I, Evers S, Jit M. Systematic review of studies evaluating the broader economic impact of vaccination in low and middle income countries. BMC Public Health. 2012;12:878.

11.

Diener A, O'Brien B, Gafni A. Health care contingent valuation studies: a review and classification of the literature. Health Economics. 1998;7:313–326.

12.

Ethgen O, Tancredi A, Lejeune E, Kvasz A, Zegels B, Reginster JY. Do utility values and willingness to pay suitably reflect health outcome in hip and knee osteoarthritis? A comparative analysis with the WOMAC Index. J Rheumatol. 2003;30:2452–2459.

13.

Gyldmark M, Morrison GC. Demand for health care in Denmark: results of a national sample survey using contingent valuation. Soc Sci Med. 2001;53:1023–1036.

14.

Haefeli M, Elfering A, McIntosh E, Gray A, Sukthankar A, Boos N. A cost-benefit analysis using contingent valuation techniques: a feasibility study in spinal surgery. Value Health. 2008;11:575–588.

15.

Haines TP, McPhail S. Patient preference for falls prevention in hospitals revealed through willingness-to-pay, contingent valuation survey. J Eval Clin Pract. 2011;17:304–310.

16.

Hall MP, Chiang-Colvin AS, Bosco JA, 3rd. Willingness to pay for anterior cruciate ligament reconstruction. Bulletin of the Hospital for Joint Disease. 2013;71:218–221.

17.

Hamid KS, Nwachukwu BU, Bozic KJ. Decisions and Incisions: A Value-Driven Practice Framework for Academic Surgeons. J Bone Joint Surg Am. 2017;99:e50.

18.

Harris AH, Youd J, Buchbinder R. A comparison of directly elicited and pre-scored preference-based measures of quality of life: the case of adhesive capsulitis. Qual Life Res. 2013;22:2963–2971.

19.

Hendry GJ, Turner DE, Gardner-Medwin J, Lorgelly PK, Woodburn J. An exploration of parents' preferences for foot care in juvenile idiopathic arthritis: a possible role for the discrete choice experiment. J Foot Ankle Res. 2014;7:10.

20.

Johannesson M. Economic evaluation of hypertension treatment. Int J Technol Assess Health Care. 1992;8:506–523.

21.

Jones-Lee MW, Hammerton M, Philips PR. The value of safety: results of a national sample survey. Econ J. 1985;95:49–72.

22.

Joy SM, Little E, Maruthur NM, Purnell TS, Bridges JF. Patient preferences for the treatment of type 2 diabetes: a scoping review. PharmacoEconomics. 2013;31:877–892.

23.

Jutkowitz E, Gitlin LN, Pizzi LT. Evaluating willingness-to-pay thresholds for dementia caregiving interventions: application to the tailored activity program. Value Health. 2010;13:720–725.

24.

King JT, Jr., Moossy JJ, Tsevat J, Roberts MS. Multimodal assessment after surgery for cervical spondylotic myelopathy. J Neurosurg Spine. 2005;2:526–534.

25.

King JT, Jr., Tsevat J, Roberts MS. Positive association between current health and health values for hypothetical disease states. Med Decis Making. 2004;24:367–378.

26.

Lansky D, Nwachukwu BU, Bozic KJ. Using financial incentives to improve value in orthopaedics. Clin Orthop Relat Res.2012;470:1027–1037.

27.

Lavernia CJ, Contreras JS, Parvizi J, Sharkey PF, Barrack R, Rossi MD. Do patient expectations about arthroplasty at initial presentation for hip or knee pain differ by sex and ethnicity? Clin Orthop Relat Res.2012;470:2843–2853.

28.

Maitra C, Hodge A, Jimenez Soto E. A scoping review of cost benefit analysis in reproductive, maternal, newborn and child health: What we know and what are the gaps? Health Policy Plan. 2016;31:1530–1547.

29.

Mitchell RC, Carson RT. Using surveys to value public goods: the contingent valuation method. Washington, DC: Resources for the Future; 1989.

30.

Moher D, Liberati A, Tetzlaff J, Altman DG. Preferred reporting items for systematic reviews and meta-analyses: the PRISMA statement. J Clin Epidemiol. 2009;62:1006–1012.

31.

Nwachukwu BU, Bozic KJ, Schairer WW, Bernstein JL, Jevsevar DS, Marx RG, Padgett DE. Current status of cost utility analyses in total joint arthroplasty: a systematic review. Clin Orthop Relat Res. 2015;473:1815–1827.

32.

Nwachukwu BU, Hamid KS, Bozic KJ. Measuring value in orthopaedic surgery. JBJS Reviews. 2013;1.

33.

Nwachukwu BU, Schairer WW, Bernstein JL, Dodwell ER, Marx RG, Allen AA. Cost-effectiveness analyses in orthopaedic sports medicine: a systematic review. Am J Sports Med. 2015;43:1530–1537.

34.

Nwachukwu BU, Schairer WW, O'Dea E, McCormick F, Lane JM. The quality of cost-utility analyses in orthopedic trauma. Orthopedics. 2015;38:e673–680.

35.

Nwachukwu BU, Schairer WW, Shifflett GD, Kellner DB, Sama AA. Cost-utility analyses in spine care: a qualitative and systematic review. Spine. 2015;40:31–40.

36.

O'Brien B, Viramontes JL. Willingness to pay: a valid and reliable measure of health state preference? Med Decis Making. 1994;14:289–297.

37.

Ofman JJ, Sullivan SD, Neumann PJ, Chiou CF, Henning JM, Wade SW, Hay JW. Examining the value and quality of health economic analyses: implications of utilizing the QHES. J Manag Care Pharm. 2003;9:53–61.

38.

Olsen JA, Donaldson C. Helicopters, hearts and hips: using willingness to pay to set priorities for public sector health care programmes. Soc Sci Med. 1998;46:1–12.

39.

Pereira MJ, Coombes BK, Bisset LM, Vicenzino B, Connelly L. Estimating the monetary value of relief of tennis elbow: a contingent valuation study of willingness-to-pay. Value Health. 2015;18:A654.

40.

Poder TG, He J. Willingness to pay and the sensitivity of willingness to pay for interdisciplinary musculoskeletal clinics: a contingent valuation study in Quebec, Canada. Int J Health Econ Manag. 2016;16:337–361.

41.

Posnett J, Dixit S, Oppenheimer B, Kili S, Mehin N. Patient preference and willingness to pay for knee osteoarthritis treatments. Patient Prefer Adherence. 2015;9:733–744.

42.

Saltzman BM, Cvetanovich GL, Nwachukwu BU, Mall NA, Bush-Joseph CA, Bach BR, Jr. Economic Analyses in Anterior Cruciate Ligament Reconstruction: A Qualitative and Systematic Review. Am J Sports Med. 2016;44:1329–1335.

43.

Sanders GD, Neumann PJ, Basu A, Brock DW, Feeny D, Krahn M, Kuntz KM, Meltzer DO, Owens DK, Prosser LA, Salomon JA, Sculpher MJ, Trikalinos TA, Russell LB, Siegel JE, Ganiats TG. Recommendations for conduct, methodological practices, and reporting of cost-effectiveness analyses: second panel on cost-effectiveness in health and medicine. JAMA. 2016;316:1093–1103.

44.

Schiffner R, Schiffner-Rohe J, Gerstenhauer M, Hofstadter F, Landthaler M, Stolz W. Willingness to pay and time trade-off: sensitive to changes of quality of life in psoriasis patients? Br J Dermatol. 2003;148:1153–1160.

45.

Schwartz AJ, Fraser JF, Shannon AM, Jackson NT, Raghu TS. Patient perception of value in bundled payments for total joint arthroplasty. J Arthroplasty. 2016;31:2696–2699.

46.

von Arx LB, Kjeer T. The patient perspective of diabetes care: a systematic review of stated preference research. Patient. 2014;7:283–300.

47.

Werner P, Vered I. Women's willingness to pay out-of-pocket for drug treatment for osteoporosis before and after the enactment of regulations providing public funding: evidence from a natural experiment in Israel. Osteoporos Int. 2002;13:228–234.

48.

Xie F, Thumboo J, Fong KY, Lo NN, Yeo SJ, Yang KY, Li SC. A study on indirect and intangible costs for patients with knee osteoarthritis in Singapore. Value Health. 2008;11 Suppl 1:S84–90.

49.

Yasunaga H, Ide H, Imamura T, Ohe K. Analysis of factors affecting willingness to pay for cardiovascular disease-related medical services. Int Heart J. 2006;47:273–286.

50.

Yeung RY, Smith RD. Can we use contingent valuation to assess the demand for childhood immunisation in developing countries?: a systematic review of the literature. Appl Health Econ Health Policy. 2005;4:165–173.
Ethics declarations
Conflict of Interest
Benedict U. Nwachukwu, MD, MBA, Claire D. Eliasberg, MD, Kamran S. Hamid, MD, MPH, Michael C. Fu, MD, MHS, Bernard R. Bach, MD, and Answorth A. Allen, MD, declare that they have no conflicts of interest. Todd J. Albert, MD, reports royalties from DePuy Synthes and Facet Link; investment interest in Biomerix, Crosstrees Medical, Gentis, International Orthopaedic Alliance, InVivo Therapeutics, Invuity, Paradigm Spine, Pulse Equity, and Spinicity; stock options in Vital 5; personal fees from Zimmer Biomet and Lineum Cervical System and Polaris Spinal System; and medical advisory board membership at United Healthcare, outside the submitted work.
Human/Animal Rights
N/A
Informed Consent
N/A
Required Author Forms:
Disclosure forms provided by the authors are available with the online version of this article.
Additional information
This investigation was performed at the Hospital for Special Surgery.
Electronic Supplementary Material
About this article
Cite this article
Nwachukwu, B.U., Eliasberg, C.D., Hamid, K.S. et al. Contingent Valuation Studies in Orthopaedic Surgery: A Health Economic Review. HSS Jrnl 14, 314–321 (2018). https://doi.org/10.1007/s11420-018-9610-z
Received:

Accepted:

Published:

Issue Date:
Keywords
contingent valuation method

cost–benefit analysis

cost-effectiveness analysis

willingness to pay