Abstract
Background
Highly crosslinked ultrahigh-molecular-weight polyethylene (XLPE) shows reduced wear in total hip arthroplasty compared to direct compression-molded polyethylene (compPE); however, minimal research evaluating polyethylene damage in XLPE tibial inserts in total knee arthroplasty exists.
Questions/Purposes
We evaluated damage and material properties in retrieved XLPE components at midterm (≥ 2.5 years) follow-up.
Methods
We identified 19 XLPE tibial inserts with ≥ 30 months in vivo using our institutional review board–approved implant retrieval system; 19 compPE retrieved inserts were matched based on age at index surgery, body mass index, sex, and length of implantation. Articular surface damage was assessed using a subjective grading system. Swell ratio testing and Fourier-transform infrared spectroscopy were used to measure crosslink density (XLPE) and oxidation (XLPE, compPE), respectively, at loaded and unloaded surface and subsurface regions.
Results
CompPE inserts had higher overall damage than XLPE inserts, specifically at the post of posterior-stabilized inserts. The XLPE inserts had lower crosslink density at the loaded surface (0.159 mol/dm3) than either unloaded region (0.183 mol/dm3). CompPE peak oxidation index (OI) was greater than XLPE peak OI in the loaded and unloaded surface regions (1.67 vs. 0.61 and 1.38 vs. 0.46, respectively).
Conclusions
Surface damage and oxidation are reduced in XLPE inserts compared to compPE at midterm follow-up. Peak OI greater than 1.0 in the compPE group suggests that mechanical-property degradation had occurred, a likely cause for increased damage. Longer-term retrievals will determine whether these trends continue. Based on midterm results, XLPE shows an advantage over compression molded PE in total knee arthroplasty.
This is a preview of subscription content, log in to check access.
Access options
Buy single article
Instant access to the full article PDF.
US$ 39.95
Price includes VAT for USA
Subscribe to journal
Immediate online access to all issues from 2019. Subscription will auto renew annually.
US$ 99
This is the net price. Taxes to be calculated in checkout.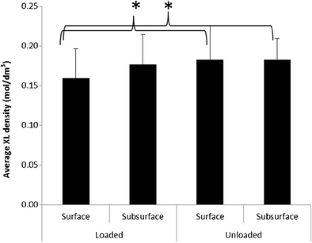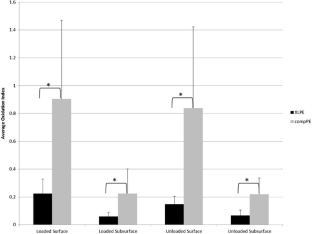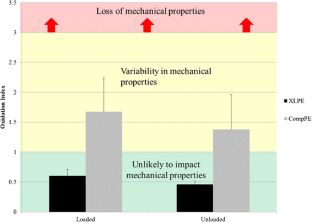 References
1.

ASTM International. D2765–11 standard test methods for determination of gel content and swell ratio of crosslinked ethylene plastics. West Conshohocken: ASTM; 2006.

2.

ASTM International. F2214–02 standard test method for in situ determination of network parameters of crosslinked ultra-high molecular weight polyethylene (UHMWPE). West Conshohocken: ASTM; 2008.

3.

ASTM International. F2102–13 standard guide for evaluating the extent of oxidation in polyethylene fabricated forms intended for surgical implants. West Conshohocken: ASTM; 2013.

4.

Beksaç B, Salas A, González Della Valle A, Salvati EA. Wear is reduced in THA performed with highly cross-linked polyethylene. Clin Orthop Relat Res. 2009;467(7):1765–1772.

5.

Bookman JS, Kaye ID, Chen KK, Jaffe FF, Schwarzkopf R. 10-year follow-up wear analysis of marathon highly crosslinked polyethylene in primary total hip arthroplasty. J Arthroplasty. 2017;32(8):2587–2589.

6.

Currier BH, Currier JH, Mayor MB, Lyford KA, Van Citters DW, Collier JP. In vivo oxidation of gamma-barrier-sterilized ultra-high-molecular-weight polyethylene bearings. J Arthroplasty. 2007;22(5):721–731.

7.

Currier BH, Van Citters DW, Currier JH, Carlson EM, Tibbo ME, and Collier JP. In vivo oxidation in retrieved highly crosslinked tibial inserts. J Biomed Mater Res. 2013;101B:441–448.

8.

Hambright DS, Watters TS, Kaufman AM, Lachiewicz MP, Bolognesi MP. Fracture of highly cross-linked all-polyethylene patella after total knee arthroplasty. J Knee Surg. 2010;23(4):237.

9.

Hanna SA, Somerville L, McCalden RW, Naudie DD, MacDonald SJ. Highly cross-linked polyethylene decreases the rate of revision of total hip arthroplasty compared with conventional polyethylene at 13 years' follow-up. Bone Joint J. 2016;98-B(1):28–32.

10.

Harris WH. Wear and periprosthetic osteolysis: the problem. Clin Orthop Relat Res. 2001; 393:66–70.

11.

Hood RW, Wright TM, Burstein AH. Retrieval analysis of total knee prostheses: a method and its application to 48 total condylar prostheses. J Biomed Mater Res. 1983;17:829–842.

12.

Jung KA, Lee SC, Hwang SH, Kim SM. Fracture of a second-generation highly cross-linked UHMWPE tibial post in a posterior-stabilized Scorpio knee system. Orthopedics 2008;31(11):1137.

13.

Kurtz SM. UHMWPE Biomaterials Handbook. 2nd ed. London, UK: Elsevier; 2009.

14.

Lachiewicz PF, Geyer MR. The use of highly cross-linked polyethylene in total knee arthroplasty. J Am Acad Orthop Surg. 2011;19:143.

15.

Liu T, Esposito CI, Elpers M, Wright TM. Surface damage is not reduced with highly crosslinked polyethylene tibial inserts at short-term. Clin Orthop Relat Res. 2016; 474(1):107–116.

16.

Liu T, Esposito CI, Burket JC, Wright TM. Crosslink density is reduced and oxidation is increased in retrieved highly crosslinked polyethylene TKA tibial inserts. Clin Orthop Relat Res. 2017;475(1):128–136.

17.

Meneghini RM, Lovro LR, Smits SA, Ireland PH. Highly cross-linked versus conventional polyethylene in posterior-stabilized total knee arthroplasty at a mean 5-year follow-up. J Arthroplasty. 2015;30(10):1736–1739.

18.

Muratoglu OK, Wannomae KK, Rowell SL, Micheli BR, Malchau H. Ex vivo stability loss of irradiated and melted ultra-high molecular weight polyethylene. J Bone Joint Surg Am. 2010;92:2809–2816.

19.

Orishimo KF, Claus AM, Sychterz CJ, Engh CA. Relationship between polyethylene wear and osteolysis in hips with a second-generation porous-coated cementless cup after seven years of follow-up. J Bone Joint Surg Am. 2003;85-A(6):1095–1099.

20.

Sakellariou VI, Sculco P, Poultsides L, Wright T, Sculco TP. Highly cross-linked polyethylene may not have an advantage in total knee arthroplasty. HSS J. 2013;9:264–269.
Acknowledgements
We thank Christina Esposito, PhD, at Hospital for Special Surgery, for her role in helping to complete data collection for this research.
Ethics declarations
Conflict of Interest
Alexandra Stavrakis, MD, and Lydia Weitzler, MS, declare that they have no conflicts of interest. Timothy Wright, PhD, reports receiving royalties from and owning stock in Exactech and having a research contract with Stryker, both related to this work; he also reports owning stock in OrthoBond, having a research contract with Lima, and acting as education committee member for the Knee Society, outside the current work. Douglas E. Padgett, MD, reports acting as a paid consultant to DJO Global and a board or committee member for the Hip Society and the Journal of Arthroplasty, outside the current work.
Human/Animal Rights
All procedures followed were in accordance with the ethical standards of the responsible committee on human experimentation (institutional and national) and with the Helsinki Declaration of 1975, as revised in 2013.
Informed Consent
N/A
Required Author Forms
Disclosure forms provided by the authors are available with the online version of this article.
Electronic supplementary material
About this article
Cite this article
Stavrakis, A., Weitzler, L., Wright, T. et al. Less Midterm Damage and Oxidation Are Seen in Retrieved Highly Crosslinked Ultrahigh-Molecular-Weight Polyethylene Tibial Inserts than in Direct Compression Molded Polyethylene Inserts. HSS Jrnl 14, 159–165 (2018). https://doi.org/10.1007/s11420-018-9608-6
Received:

Accepted:

Published:

Issue Date:
Keywords
Crosslink density

Oxidation analysis

Polyethylene degradation

Surface damage

Total knee arthroplasty