Abstract
Background
Aseptic loosening, caused by wear and osteolysis, is the most frequent reason for hip replacement revision in the UK. To prevent aseptic loosening, an acetabular component with vitamin E added to irradiated highly cross-linked polyethylene (HXLPE) was developed to reduce oxidative degradation.
Questions/Purposes
A prior study of the vitamin E–blended HXLPE acetabular component after 2 years of follow-up reported no adverse reactions or abnormal mechanical behavior. To further examine this hypothesis of reducing wear and osteolysis, we sought to evaluate outcomes after 6-year follow-up.
Methods
A cohort of 95 of the 112 initial patients (84.2%) completed the 6 years of follow-up after receiving a vitamin E–blended HXLPE acetabular component. Evaluation was performed in terms of clinical (visual analog scale [VAS] score, VAS score with weight-bearing, VAS score for satisfaction, and Harris Hip Score) and radiological (inclination, polar gap, radiolucencies, migration, and 2-D linear femoral head penetration rate) assessment.
Results
The mean VAS score for patient satisfaction was 8.75 and the mean Harris Hip Score was 91.8. There were two revisions because of deep infections and one because of a peri-prosthetic femoral fracture. Two acetabular components migrated initially; however, delayed acetabular stabilization occurred. Both patients had good clinical scores at 72 months. The mean femoral head penetration rate was 0.036 mm/year.
Conclusions
This prospective cohort study has shown no adverse reactions concerning the vitamin E additive, promising wear rates, no signs of osteolysis, a 100% survival rate for aseptic loosening, and an all-cause survivorship percentage of 97.4% at 6 years of follow-up.
This is a preview of subscription content, log in to check access.
Access options
Buy single article
Instant access to the full article PDF.
US$ 39.95
Price includes VAT for USA
Subscribe to journal
Immediate online access to all issues from 2019. Subscription will auto renew annually.
US$ 99
This is the net price. Taxes to be calculated in checkout.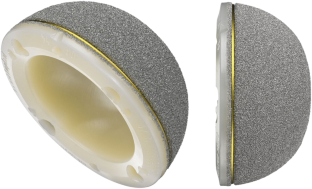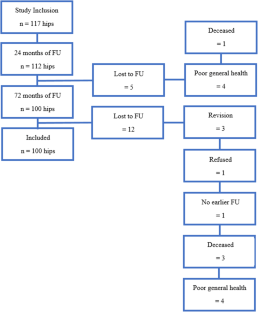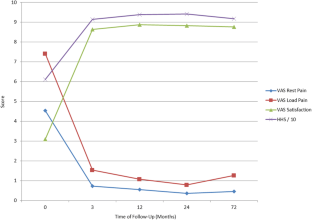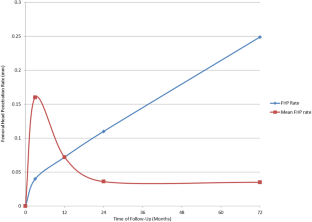 References
1.

Bracco P, Brunella V, Zanetti M, Luda M, Costa L. Stabilisation of ultra-high molecular weight polyethylene with vitamin E. Polymer Degradation and Stability. 2007;92(12):2155–2162.

2.

Bracco P, Bellare A, Bistolfi A, Affatato S. Ultra-high molecular weight polyethylene: influence of the chemical, physical and mechanical properties on the wear behavior. a review. Materials (Basel). 2017;10(7). E791.

3.

Brokelman RBG, Haverkamp D, van Loon C, Hol A, van Kampen A, Veth R. The validation of the visual analogue scale for patient satisfaction after total hip arthroplasty. Eur Orthop Traumatol. 2012;3:101–105.

4.

Callary S, Solomon L, Holubowycz O, Campbell D, Munn Z, Howie D. Wear of highly crosslinked polyethylene acetabular components. Acta Orthop. 2015;86:159–168.

5.

Dumbleton J, Manley M, Edidin A. A literature review of the association between wear rate and osteolysis in total hip arthroplasty. J Arthroplasty. 2002;17:649–661.

6.

Gasser B. Biomechanical principles and studies. In: Hip-joint surgery: the RM cup—long-term experience with an elastic monobloc acetabular implant. Horne G [ed]. Hamburg, Germany: Einhorn-Presse-Verlag. 2008.

7.

Geerdink CH, Grimm B, Vencken W, Heyligers IC, Tonino AJ. The determination of linear and angular penetration of the femoral head into the acetabular component as an assessment of wear in total hip replacement: a comparison of four computer-assisted methods. J Bone Joint Surg Br. 2008;90:839–846.

8.

Halma J, Señaris J, Delfosse D, Lerf R, Oberbach T, van Gaalen S, de Gast A. Edge loading does not increase wear rates of ceramic-on-ceramic and metal-on-polyethylene articulations. J Biomed Mater Res Part B Appl Biomater. 2014;102:1627–1638.

9.

Halma J, Eshuis R, Vogely HC, van Gaalen S, de Gast A. An uncemented iso-elastic monoblock acetabular component: preliminary results. J Arthroplasty. 2015;30:615–621.

10.

Harris WH. Traumatic arthritis of the hip after dislocation and acetabular fractures: treatment by mold arthroplasty. An end-result study using a new method of result evaluation. J Bone Joint Surg Am. 1969;51:737–755.

11.

Ihle M, Mai S, Pfluger D, Siebert W. The results of the titanium-coated RM acetabular component at 20 years: a long-term follow-up of an uncemented primary total hip replacement. J Bone Joint Surg Br. 2008;90:1284–1290.

12.

Jiang Y, Jia T, Wooley P, Yang S. Current research in the pathogenesis of aseptic implant loosening associated with particulate wear debris. Acta Orthop Belg. 2013;79:1–9.

13.

Kurtz S, Gawel H, Patel J. History and systematic review of wear and osteolysis outcomes for first-generation highly crosslinked polyethylene. Clin Orthop Relat Res. 2011;469:2262–2277.

14.

Meneghini RM, Ford K, McCollough C, Hanssen A, Lewallen D. Bone remodeling around porous metal cementless acetabular components. J Arthroplasty. 2010;25:741–747.

15.

National Joint Registry for England, Wales, Northern Ireland, and the Isle of Man. 12th annual report. 2015. Available from http://www.njrcentre.org.uk/njrcentre/NJR-12th-Annual-Report

16.

Nebergall AK, Greene ME, Laursen MB, Nielsen PT, Malchau H, Troelsen A. Vitamin E diffused highly cross-linked polyethylene in total hip arthroplasty at five years: a randomised controlled trial using radiostereometric analysis. Bone Joint J. 2017;99-B:577–584.

17.

Pakvis D, Biemond L, van Hellemondt G, Spruit M. A cementless elastic monoblock socket in young patients: a ten to 18-year clinical and radiological follow-up. Int Orthop. 2011;35:1445–1451.

18.

Stihsen C, Pabinger C, Radl R, Rehak P, Windhager R. Migration of the Duraloc cup after 5 years. Int Orthop. 2008;32:791–794.

19.

Wyatt M, Weidner J, Pfluger D, Beck M. The RM Pressfit vitamys: 5-year Swiss experience of the first 100 cups. Hip Int. 2017;27(4):368–372.

20.

Yousif E, Haddad R. Photodegradation and photostabilization of polymers, especially polystyrene: review. Springerplus. 2013;2:398.
Funding
This study is funded by the Clinical Orthopedic Research Foundation, Diakonessenhuis Zeist.
Ethics declarations
Conflict of Interest
T.E. Snijders, MD, J.J. Halma, MD, J.R.A. Massier, S.M. van Gaalen, MD, PhD, and A. de Gast, MD, PhD, declare that they have no conflict of interest.
Human/Animal Rights
All procedures followed were in accordance with the ethical standards of the responsible committee on human experimentation (institutional and national) and with the Helsinki Declaration of 1975, as revised in 2013.
Informed Consent
Informed consent was obtained from all patients for being included in this study.
Required Author Forms
Disclosure forms provided by the authors are available with the online version of this article.
Additional information
Level of Evidence: Level IV, Therapeutic Study
Electronic supplementary material
About this article
Cite this article
Snijders, T.E., Halma, J.J., Massier, J.R.A. et al. The Survivorship of the Uncemented Iso-Elastic Monoblock Acetabular Component at a Mean of 6-Year Follow-up. HSS Jrnl 16, 15–22 (2020). https://doi.org/10.1007/s11420-018-09658-8
Received:

Accepted:

Published:

Issue Date:
Keywords
vitamin E

polyethylene

iso-elastic

monoblock cup

femoral head penetration

total hip arthroplasty