Abstract
Background
Infants previously treated for developmental dysplasia of the hips (DDH) are routinely imaged with ultrasound initially and reimaged with an anteroposterior (AP) pelvis X-ray at 6 months of age to assess for dysplasia. It has become convention to transition from ultrasound to AP X-ray at 6 months of age, but no study has demonstrated that ultrasound is inadequate at this age.
Question/Purpose
The purpose of this study was to confirm that ultrasound for the 6-month DDH evaluation is a feasible alternative to the standard X-ray.
Patients and Methods
Thirty-one 5- to 7-month-old infants undergoing AP pelvis X-ray related to previous Pavlik harness treatment for DDH or to a history of breech presentation were prospectively enrolled. All patients were imaged with an AP pelvis X-ray and bilateral hip ultrasounds. Three senior orthopedic surgeons unfamiliar with the patient histories evaluated both types of imaging for standard measures of hip dysplasia, including acetabular index (AI), alpha angle, and bony rim percent coverage of the femoral head. Pearson correlation coefficients were calculated for the X-ray and ultrasound measures.
Results
Good quality ultrasound images were obtained in all patients, despite the presence of the ossific nucleus in 66% of the hips. All three reviewers correctly diagnosed the one dislocated hip via both X-ray and ultrasound. There were no false negatives on ultrasound, and none of the patients with negative ultrasounds required treatment during the mean 26 months of follow up. An increased AI on X-ray was correlated with lower percent coverage of the femoral head on ultrasound.
Conclusions
Ultrasound is a technically feasible DDH imaging modality that can be used as an alternative to X-ray for 6-month-olds.
This is a preview of subscription content, log in to check access.
Access options
Buy single article
Instant access to the full article PDF.
US$ 39.95
Price includes VAT for USA
Subscribe to journal
Immediate online access to all issues from 2019. Subscription will auto renew annually.
US$ 99
This is the net price. Taxes to be calculated in checkout.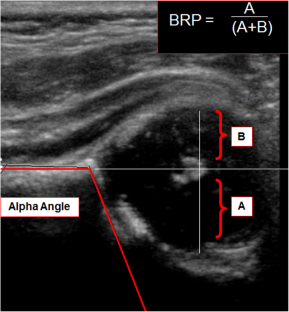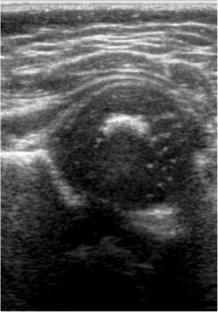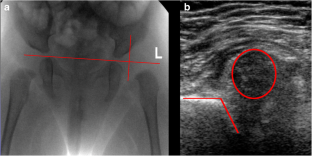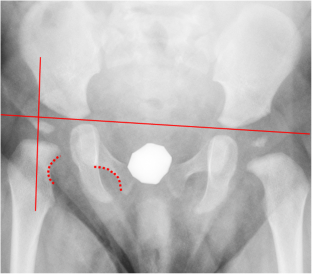 References
1.

American Academy of Pediatrics. Clinical practice guideline: early detection of developmental dysplasia of the hip. Pediatrics. 2000;105(4):896–905.

2.

Delaney LR, Karmazyn B. Developmental dysplasia of the hip: Background and the utility of ultrasound. Semin Ultrasound CT MR. 2011;2:151–156.

3.

Dornacher D, Cakir B, Reichel H, Nelitz M. Early radiological outcome of ultrasound monitoring in infants with developmental dysplasia of the hips. J Pediatr Orthop B. 2010;19(1):27–31.

4.

Graf R. Fundamentals of sonographic diagnosis of infant hip dysplasia. J Pediatr Orthop. 1984;6:735–740.

5.

Guille JT, Pizzutillo PD, MacEwen GD. Development dysplasia of the hip from birth to six months. J Am Acad Orthop Surg. 2000;4:232–242.

6.

Gwynne Jones DP, Vane AG, Coulter G, Herbison P, Dunbar JD. Ultrasound measurements in the management of unstable hips treated with the Pavlik harness: reliability and correlation with outcome. J Pediatr Orthop. 2006;6:818–822.

7.

Harris WH. Etiology of osteoarthritis of the hip. Clin Orthop Relat Res. 1986;213:20–33.

8.

Imrie M, Scott V, Stearns P, Bastrom T, Mubarak SJ. Is ultrasound screening for DDH in babies born breech sufficient? J Child Orthop. 2010;4(1):3–8.

9.

Nimityongskul P, Hudgens RA, Anderson LD, Melhem RE, Green AE Jr, Saleeb SF. Ultrasonography in the management of developmental dysplasia of the hip (DDH). J Pediatr Orthop. 1995;6:741–746.

10.

Rosendahl K, Aslaksen A, Lie RT, Markestad T. Reliability of ultrasound in the early diagnosis of developmental dysplasia of the hip. Pediatr Radiol. 1995;3:219–224.

11.

Sarkissian EJ, Sankar WN, Zhu X, Wu CH, Flynn JM. Radiographic follow-up of DDH in infants: are X-rays necessary after a normalized ultrasound? J Pediatr Orthop. 2015;35(6):551–555.

12.

Tonnis D. Normal values of the hip joint for the evaluation of X-rays in children and adults. Clin Orthop Relat Res. 1976;119:39–47.

13.

Tucci JJ, Kumar SJ, Guille JT, Rubbo ER. Late acetabular dysplasia following early successful Pavlik harness treatment of congenital dislocation of the hip. J Pediatr Orthop. 1991;11(4):502–505.

14.

Weintroub S, Green I, Terdiman R, Weissman SL. Growth and development of congenitally dislocated hips reduced in early infancy. J Bone Joint Surg Am. 1979;61(1):125–130.

15.

Wientroub S, Grill F. Ultrasonography in developmental dysplasia of the hip. J Bone Joint Surg Am. 2000;7:1004–1018.

16.

Zieger M, Schulz RD. Ultrasonography of the infant hip. Part III: clinical application. Pediatr Radiol. 1987;3:226–232.
Acknowledgements
The authors wish to thank Dr. John Blanco and Dr. David Scher for contributing their patients to this study.
Funding
Huong Do, MA, declares that research reported in this publication was financially supported by the National Center for Advancing Translational Sciences of the National Institute of Health (no. UL1-RR024996).
Ethics declarations
Conflict of Interest
Alison Kitay, MD, Roger F. Widmann, MD, Shevaun M. Doyle, MD, Huong T. Do, MA, and Daniel W. Green, MD, declare that they have no conflicts of interest.
Human/Animal Rights
All procedures followed were in accordance with the ethical standards of the responsible committee on human experimentation (institutional and national) and with the Helsinki Declaration of 1975, as revised in 2013.
Informed Consent
Informed consent was obtained from parents of patients included in this study.
Required Author Forms:
Disclosure forms provided by the authors are available with the online version of this article.
Additional information
Publisher's Note
Springer Nature remains neutral with regard to jurisdictional claims in published maps and institutional affiliations.
Level of Evidence: Level II: Diagnostic Study
Electronic Supplementary Materials
About this article
Cite this article
Kitay, A., Widmann, R.F., Doyle, S.M. et al. Ultrasound Is an Alternative to X-ray for Diagnosing Developmental Dysplasia of the Hips in 6-Month-Old Children. HSS Jrnl 15, 153–158 (2019). https://doi.org/10.1007/s11420-018-09657-9
Received:

Accepted:

Published:

Issue Date:
Keywords
developmental dysplasia of the hip

DDH

ultrasound

pediatrics