Abstract
Background
The incidence of neurologic complications from foot and ankle surgery utilizing regional anesthesia is not well established.
Questions/Purposes
The purpose of this study was to prospectively determine the incidence of neurologic and peripheral nerve block (PNB) site complications on a busy foot and ankle service that utilizes ankle blocks (ABs) and popliteal blocks (POPs).
Patients and Methods
This prospective observational study included patients undergoing foot and ankle surgery with ABs or POPs. Block choice was determined by surgeon's preference. Patients were assessed for complications during postoperative visits at 2, 6, and 12 weeks. The relation of each complication to the block was scored by a surgeon and anesthesiologist.
Results
From October 2012 to October 2014, 2516 patients underwent 2704 surgeries. There were 195 complications (7.2%) considered neurologic or at the PNB site. The incidence of serious complications was 0.7%. A higher complication rate was reported for POPs (8.8%) than for ABs (2.5%). However, when analysis was limited to forefoot surgery, this difference was not significant. Dexamethasone use was associated with increased complications for POPs. Only 5 of the 195 total complications, and 2 of 20 serious complications, were deemed to have been likely caused by the block by both the surgeon and anesthesiologist reviewer.
Conclusions
The incidences of neurologic or block-related complications and serious complications were 7.2 and 0.7%, respectively, most without a clear surgical vs. nerve block etiology. The higher complication rate for POPs using perineural dexamethasone should be interpreted cautiously in light of the lack of randomization and likely confounders.
This is a preview of subscription content, log in to check access.
Access options
Buy single article
Instant access to the full article PDF.
US$ 39.95
Price includes VAT for USA
Subscribe to journal
Immediate online access to all issues from 2019. Subscription will auto renew annually.
US$ 99
This is the net price. Taxes to be calculated in checkout.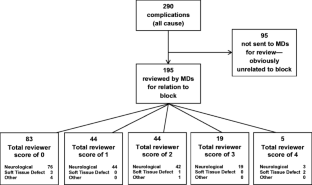 References
1.

An K, Elkassabany NM, Liu J. Dexamethasone as adjuvant to bupivacaine prolongs the duration of thermal antinociception and prevents bupivacaine-induced rebound hyperalgesia via regional mechanism in a mouse sciatic nerve block model. PLoS One. 2015;10(4):e0123459. https://doi.org/10.1371/journal.pone.0123459. eCollection 2015.

2.

Anderson JG, Bohay DR, Maskill JD et al. Complications after popliteal block for foot and ankle surgery. Foot Ankle Int. 2015;36:1138–43.

3.

Barrington MJ, Watts SA, Gledhill SR et al. Preliminary results of the australasian regional anaesthesia collaboration: A prospective audit of more than 7000 peripheral nerve and plexus blocks for neurologic and other complications. Reg Anesth Pain Med. 2009;34:534–41.

4.

Beller J, Trockel U, Lukoschek M. [Peroneal nerve palsy after total knee arthroplasty under continuous epidural anaesthesia]. Orthopade. 2008;37:475–80.

5.

Borgeat A, Blumenthal S, Lambert M, Theodorou P, Vienne P. The feasibility and complications of the continuous popliteal nerve block: A 1001-case survey. Anesth Analg. 2006;103:229–33, table of contents.

6.

Chin KJ, Wong NW, Macfarlane AJ, Chan VW. Ultrasound-guided versus anatomic landmark-guided ankle blocks: A 6-year retrospective review. Reg Anesth Pain Med. 2011; 36(6):611–8. https://doi.org/10.1097/AAP.0b013e31822b1291.

7.

Cooper J, Benirschke S, Sangeorzan B, Bernards C, Edwards W. Sciatic nerve blockade improves early postoperative analgesia after open repair of calcaneus fractures. J Orthop Trauma. 2004;18:197–201.

8.

Fredrickson MJ, Kilfoyle DH. Neurological complication analysis of 1000 ultrasound guided peripheral nerve blocks for elective orthopaedic surgery: A prospective study. Anaesthesia. 2009;64:836–44.

9.

Gartke K, Portner O, Taljaard M. Neuropathic symptoms following continuous popliteal block after foot and ankle surgery. Foot Ankle Int. 2012;33:267–74.

10.

Hamilton PD, Pearce CJ, Pinney SJ, Calder JD. Sciatic nerve blockade: A survey of orthopaedic foot and ankle specialists in north america and the united kingdom. Foot Ankle Int. 2009;30:1196–201.

11.

Herr MJ, Keyarash AB, Muir JJ, Kile TA, Claridge RJ. Lateral trans-biceps popliteal block for elective foot and ankle surgery performed after induction of general anesthesia. Foot Ankle Int. 2006;27(9):667–671.

12.

Jacob AK, Mantilla CB, Sviggum HP, Schroeder DR, Pagnano MW, Hebl JR. Perioperative nerve injury after total hip arthroplasty: Regional anesthesia risk during a 20-year cohort study. Anesthesiology. 2011;115:1172–8.

13.

Jacob AK, Mantilla CB, Sviggum HP, Schroeder DR, Pagnano MW, Hebl JR. Perioperative nerve injury after total knee arthroplasty: Regional anesthesia risk during a 20-year cohort study. Anesthesiology. 2011;114:311–7 6;27:667–71.

14.

Liu SS. Evidence basis for ultrasound-guided block characteristics onset, quality, and duration. Reg Anesth Pain Med. 2016;41:205–20.

15.

Ma R, Wang X, Lu C, Li C, Cheng Y, Ding G, Liu L, Ding Z. Dexamethasone attenuated bupivacaine-induced neuron injury in vitro through a threonine-serine protein kinase B-dependent mechanism. Neuroscience. 2010;167(2):329–42. https://doi.org/10.1016/j.neuroscience.2009.12.049.

16.

Neal JM. Ultrasound-guided regional anesthesia and patient safety: Update of an evidence-based analysis. Reg Anesth Pain Med. 2016;41:195–204.

17.

Orebaugh SL, Williams BA, Vallejo M, Kentor ML. Adverse outcomes associated with stimulator-based peripheral nerve blocks with versus without ultrasound visualization. Reg Anesth Pain Med. 2009;34:251–5.

18.

Provenzano DA, Viscusi ER, Adams SB, Jr., Kerner MB, Torjman MC, Abidi NA. Safety and efficacy of the popliteal fossa nerve block when utilized for foot and ankle surgery. Foot Ankle Int. 2002;23:394–9.

19.

Sharrock NE, Waller JF, Fierro LE. Midtarsal block for surgery of the forefoot. Br J Anaesth. 1986;58(1):37–40.

20.

Sviggum HP, Jacob AK, Mantilla CB, Schroeder DR, Sperling JW, Hebl JR. Perioperative nerve injury after total shoulder arthroplasty: Assessment of risk after regional anesthesia. Reg Anesth Pain Med. 2012;37:490–4.

21.

Veljkovic A, Dwyer T, Lau JT, Abbas KZ, Salat P, Brull R. Neurological complications related to elective orthopedic surgery: Part 3: Common foot and ankle procedures. Reg Anesth Pain Med. 2015;40:455–66.

22.

Welch MB, Brummett CM, Welch TD et al. Perioperative peripheral nerve injuries: A retrospective study of 380,680 cases during a 10-year period at a single institution. Anesthesiology. 2009;111:490–7.

23.

YaDeau JT, LaSala VR, Paroli L et al. Clonidine and analgesic duration after popliteal fossa nerve blockade: Randomized, double-blind, placebo-controlled study. Anesth Analg. 2008;106:1916–20.

24.

YaDeau JT, Paroli L, Fields KG et al. Addition of dexamethasone and buprenorphine to bupivacaine sciatic nerve block: A randomized controlled trial. Reg Anesth Pain Med. 2015;40:321–9.
Acknowledgements
This work was presented at the American Orthopaedic Foot and Ankle Society Annual Meeting in July 2016 and the Society for Ambulatory Anesthesia Annual Meeting in May 2017. Thank you to Aaron Schweitzer for aiding in the preparation of this manuscript.
Funding
This work was supported by the Research and Education Fund of the Department of Anesthesiology at Hospital for Special Surgery. REDCap use was supported by the National Center for Advancing Translational Science of the National Institute of Health (UL1TR000457).
Ethics declarations
Conflict of Interest
Richard L. Kahn, MD, Scott J. Ellis, MD, Jennifer Cheng, PhD, Jodie Curren, MPA, BSN, Kara G. Fields, MS, and Matthew M. Roberts, MD, declare that they have no conflicts of interest. Jacques T. YaDeau, MD, PhD, reports receiving funds from Mallinckrodt Pharmaceuticals for a study outside this work.
Human/Animal Rights
All procedures followed were in accordance with the ethical standards of the responsible committee on human experimentation (institutional and national) and with the Helsinki Declaration of 1975, as revised in 2013.
Informed Consent
Informed consent was obtained from all patients for being included in this study.
Required Author Forms
Disclosure forms provided by the authors are available with the online version of this article.
Additional information
Level of Evidence: Therapeutic Study: Level III
Electronic supplementary material
About this article
Cite this article
Kahn, R.L., Ellis, S.J., Cheng, J. et al. The Incidence of Complications Is Low Following Foot and Ankle Surgery for Which Peripheral Nerve Blocks Are Used for Postoperative Pain Management. HSS Jrnl 14, 134–142 (2018). https://doi.org/10.1007/s11420-017-9588-y
Received:

Accepted:

Published:

Issue Date:
Keywords
regional anesthesia

complications

peripheral nerve block

foot and ankle surgery

ankle block

popliteal block

neurologic complications