Abstract
Background
Carbon fiber-reinforced (CFR) polymer implants have theoretical advantages over titanium plates.
Questions/Purposes
The aim of the present study was to assess our early outcomes with CFR plates in lateral opening-wedge distal femoral osteotomy to correct valgus lower limb malalignment. We asked the following: (1) Did the CFR polymer implant change time to union when compared with the titanium implant? (2) Did the incidence of displacement of medial cortical fractures differ between the implants? (3) Did the incidence of complications differ between the two techniques, and did other factors, such as bone graft material used, affect healing?
Methods
A retrospective review of 16 limbs treated with an opening-wedge distal femoral osteotomy for genu valgum using either titanium (n = 10) or CFR plates (n = 6) was performed. Patient and clinical covariates as well as the primary outcome of time to union and secondary outcome of fracture displacement were collected and analyzed.
Results
Those treated with CFR plates had longer times to union than did those in the titanium-treated group (median, 121.5 vs 81.5 days, respectively). The incidence of fracture displacement was higher in the CFR plate-treated group (CFR, n = 5/6; titanium, n = 1/10). Although the CFR plate-treated group had a 33% nonunion incidence while the titanium group had no nonunions, the study lacked the power to show significance. Bone graft material used did not affect outcome. Complication rates were higher in the CFR plate-treated patients.
Conclusion
The CFR plate was associated with a longer time to unite and higher fracture displacement rate than the titanium plate. As this is a retrospective case series, further research is required to confirm these results and clarify best practices in plating of distal femoral osteotomy for deformity correction.
This is a preview of subscription content, log in to check access.
Access options
Buy single article
Instant access to the full article PDF.
US$ 39.95
Price includes VAT for USA
Subscribe to journal
Immediate online access to all issues from 2019. Subscription will auto renew annually.
US$ 99
This is the net price. Taxes to be calculated in checkout.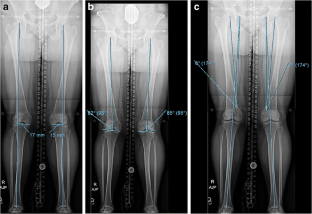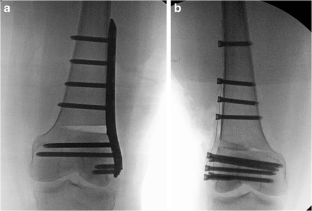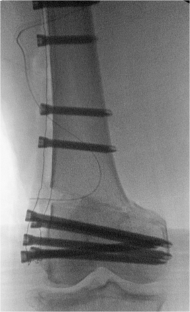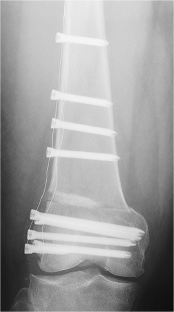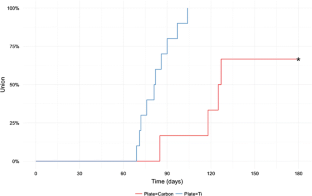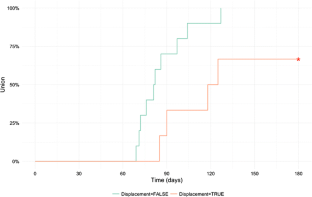 References
1.

Brinkman JM, Freiling D, Lobenhoffer P, Staubli AE, van Heerwaarden RJ. Supracondylar femur osteotomies around the knee: patient selection, planning, operative techniques, stability of fixation, and bone healing. Orthopade. 2014;43 Suppl 1:S1–10. https://doi.org/10.1007/s00132-014-3007-6.

2.

Cotic M, Vogt S, Hinterwimmer S, Feucht MJ, Slotta-Huspenina J, Schuster T, Imhoff AB. A matched-pair comparison of two different locking plates for valgus-producing medial open-wedge high tibial osteotomy: PEEK–carbon composite plate versus titanium plate. Knee Surg Sports Traumatol Arthrosc. 2015; 23(7):2032–40. https://doi.org/10.1007/s00167-014-2914-8.

3.

de Carvalho LH Jr, Temponi EF, Soares LF, Gonçalves MB, Costa LP. Physical activity after distal femur osteotomy for the treatment of lateral compartment knee osteoarthritis. Knee Surg Sports Traumatol Arthrosc. 2014;22:1607–11. https://doi.org/10.1007/s00167-012-2316-8.

4.

Eidelman M, Keren Y, Norman D. Correction of distal femoral valgus deformities in adolescents and young adults using minimally invasive fixator-assisted locking plating (FALP). J Pediatr Orthop B. 2012;21:558–62.

5.

Fabricant PD, Camara JM, Rozbruch SR. Femoral deformity planning: intentional placement of the apex of deformity. Orthopedics. 2013;36:e533–7. https://doi.org/10.3928/01477447-20130426-11.

6.

Heary RF, Kheterpal A, Mammis A, Kumar S. Stackable carbon fiber cages for thoracolumbar interbody fusion after corpectomy: long-term outcome analysis. Neurosurgery. 2011;68:810–8; discussion 818-9.

7.

Higgins TF, Pittman G, Hines J, Bachus KN. Biomechanical analysis of distal femur fracture fixation: fixed-angle screw-plate construct versus condylar blade plate. J Orthop Trauma. 2007;21:43–6.

8.

Jacobi M, Wahl P, Bouaicha S, Jakob RP, Gautier E. Distal femoral varus osteotomy: problems associated with the lateral open-wedge technique. Arch Orthop Trauma Surg. 2011;131:725–8.

9.

Katthagen JC, Schwarze M, Warnhoff M, Voigt C, Hurschler C, Lill H. Influence of plate material and screw design on stiffness and ultimate load of locked plating in osteoporotic proximal humeral fractures. Injury. 2016;47:617–624.

10.

Kaze AD, Maas S, Waldmann D, Zilian A, Dueck K, Pape D. Biomechanical properties of five different currently used implants for open-wedge high tibial osteotomy. J Exp Orthop. 2015;2:14:1–17.

11.

Kurtz SM, Devine JN. PEEK biomaterials in trauma, orthopedic, and spinal implants. Biomaterials. 2007;28:4845–4869.

12.

Madelaine A, Lording T, Villa V, Lustig S, Servien E, Neyret P. The effect of lateral opening wedge distal femoral osteotomy on leg length. Knee Surg Sports Traumatol Arthrosc. 2016;24(3):847–54.

13.

Nawas HT, Vansadia DV, Heltsley JR, Suri M, Montgomery S, Jones DG. Factors affecting the union of opening wedge high tibial osteotomy using a titanium wedge plate. Ochsner Journal. 2016;6:464–470.

14.

Özcan Ç, Sökücü S, Beng K, Çetinkaya E, Demir B, Kabukçuoğlu YS. Prospective comparative study of two methods for fixation after distal femur corrective osteotomy for valgus deformity; retrograde intramedullary nailing versus less invasive stabilization system plating. Int Orthop. 2016;40:2121–2126.

15.

Rutz E, Thomas S, Slongo T, Brunner R. Osteotomy of the distal femur. Surgical technique using the LCP Pediatric Condylar Plate 90°. Oper Orthop Traumatol. 2015;27:221–36.

16.

Saithna A, Kundra R, Getgood A, Spalding T. Opening wedge distal femoral varus osteotomy for lateral compartment osteoarthritis in the valgus knee. Knee. 2014;21(1):172–5.

17.

Schliemann B, Hartensuer R, Koch T, Theisen C, Raschke MJ, Kösters C, Weimann A. Treatment of proximal humerus fractures with a CFR-PEEK plate: 2-year results of a prospective study and comparison to fixation with a conventional locking plate. J Shoulder Elbow Surg 2015;24:1282–1288.

18.

Schliemann B, Seifert R, Theisen C, Gehweiler D, Wähnert D, Schulze M, Raschke MJ, Weimann A. PEEK versus titanium locking plates for proximal humerus fracture fixation: a comparative biomechanical study in two and three-part fractures. Arch Orthop Trauma Surg. 2017;137:63–71.

19.

Shono Y, McAfee PC, Cunningham BW, Brantigan JW. A biomechanical analysis of decompression and reconstruction methods in the cervical spine. Emphasis on a carbon-fiber-composite cage. J Bone Joint Surg Am. 1993;75:1674–84.

20.

Tarallo L, Mugnai R, Adani R, Zambianchi F, Catani F. A new volar plate made of carbon-fiber-reinforced polyetheretherketone for distal radius fracture: analysis of 40 cases. J Orthop Traumatol. 2014;15:277–83.

21.

Wilson WK, Morris RP, Ward AJ, Carayannopoulos NL, Panchbhavi VK. Torsional failure of carbon fiber composite plates versus stainless steel plates for comminuted distal fibula fractures. Foot Ankle Int. 2016;37:548–553.

22.

Zilber S, Larrouy M, Sedel L, Nizard R. Distal femoral varus osteotomy for symptomatic genu valgum: long-term results and review of the literature. Rev Chir Orthop Reparatrice Appar Mot. 2004;90:659–65.
Ethics declarations
Conflict of Interest
Thomas H. McCoy Jr., MD, and Fiona R. Fragomen have declared that they have no conflict of interest. Austin T. Fragomen reports receiving personal fees from Synthes, Smith and Nephew, and NuVasive, outside the submitted work.
Human/Animal Rights
All procedures followed were in accordance with the ethical standards of the responsible committee on human experimentation (institutional and national) and with the Helsinki Declaration of 1975, as revised in 2013.
Informed Consent
Informed consent was waived from all patients for being included in this study.
Required Author Forms
Disclosure forms provided by the authors are available with the online version of this article.
Additional information
Level of Evidence: Level III: Therapeutic Study
About this article
Cite this article
Fragomen, A.T., McCoy, T.H. & Fragomen, F.R. A Preliminary Comparison Suggests Poor Performance of Carbon Fiber Reinforced Versus Titanium Plates in Distal Femoral Osteotomy. HSS Jrnl 14, 258–265 (2018). https://doi.org/10.1007/s11420-017-9587-z
Received:

Accepted:

Published:

Issue Date:
Keywords
distal femoral osteotomy (DFO)

bioactive glass

genu valgum

carbon fiber-reinforced plate

titanium plate