Abstract
Background
Current studies reporting on patients following prosthesis removal and spacer placement for periprosthetic joint infection (PJI) of the shoulder have largely been descriptive and insufficiently powered to determine risk factors for outcomes other than reimplantation.
Purpose
The objective of the present study is to provide a national perspective on the 1-year outcomes following prosthesis removal and spacer placement and risk factors for outcomes other than reimplantation for treatment of PJI following shoulder arthroplasty.
Methods
A national database was queried for Medicare patients who underwent prosthesis removal and spacer placement for PJI between 2005 and 2012. These patients were then evaluated for 5 major study endpoints including: (1) replantation of a shoulder prosthesis within 1 year postoperatively, (2) a repeat irrigation and debridement with second antibiotic spacer placement procedure within 1 year postoperatively, (3) in-hospital death within 1 year postoperatively, (4) a shoulder Girdlestone-type procedure within 1 year postoperatively, and (5) the remaining patients, who were considered to have a retained spacer. Patients with a study endpoint within 1 year postoperatively were included in the study: (1) mortality, (2) repeat debridement, (3) resection arthroplasty, and (4) reimplantation. While it is possible that some patients were not captured due to errors in coding, it is unlikely that patients were lost to follow-up due to change in location of services, given that the database captures all episodes of care that are coded throughout the USA. Independent risk factors were evaluated using logistic regression analysis.
Results
Nine hundred seventy-five patients who underwent prosthesis removal and spacer placement were included. Within 1 year postoperatively, 21 patients died (2.2%), 70 patients had a repeat debridement procedure (7.2%), 55 patients had a resection arthroplasty procedure (5.6%), 349 patients retained their spacers (35.8%), and the remaining 480 patients had a shoulder arthroplasty reimplanted (49.2%). Numerous independent risk factors exist for all outcomes studied.
Conclusion
The fate of antibiotic spacers placed for PJI of the shoulder at 1 year is variable, with numerous independent risk factors for outcomes other than reimplantation. Patients with PJI following total shoulder arthroplasty should be counseled on the risk factors that influence the outcomes of staged revision for shoulder PJI.
This is a preview of subscription content, log in to check access.
Access options
Buy single article
Instant access to the full article PDF.
US$ 39.95
Price includes VAT for USA
Subscribe to journal
Immediate online access to all issues from 2019. Subscription will auto renew annually.
US$ 99
This is the net price. Taxes to be calculated in checkout.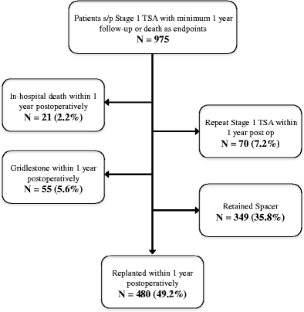 References
1.

Bohsali KI, Wirth MA, Rockwood CA. Complications of total shoulder arthroplasty. J Bone Joint Surg Am. 2006;88(10):2279–92. https://doi.org/10.2106/JBJS.F.00125

2.

Braman JP, Sprague M, Bishop J, Lo IK, Lee EW, Flatow EL. The outcome of resection shoulder arthroplasty for recalcitrant shoulder infections. J Shoulder Elbow Surg. 2006;15(5):549–53. https://doi.org/10.1016/j.jse.2005.11.001.

3.

Cancienne JM, Gwathmey FW, Werner BC. Intraoperative corticosteroid injection at the time of knee arthroscopy is associated with increased postoperative infection rates in a large Medicare population. Arthroscopy. 2016;32(1):90–5. https://doi.org/10.1016/j.arthro.2015.09.003.

4.

Coffey MJ, Ely EE, Crosby LA. Treatment of glenohumeral sepsis with a commercially produced antibiotic-impregnated cement spacer. J Shoulder Elbow Surg. 2010;19:868–73.

5.

Coste JS, Reig S, Trojani C, Berg M, Walch G, Boileau P. The management of infection in arthroplasty of the shoulder. J Bone Joint Surg Br. 2010;86:65–9.

6.

Day JS, Lau E, Ong KL, Williams GR, Ramsey ML, Kurtz SM. Prevalence and projections of total shoulder and elbow arthroplasty in the United States to 2015. J Shoulder Elbow Surg. 2010;19:1115–20.

7.

George DA, Volpin A, Scarponi S, Haddad FS, Romanò CL. Does exchange arthroplasty of an infected shoulder prosthesis provide better eradication rate and better functional outcome, compared to a permanent spacer or resection arthroplasty? A systematic review. BMC Musculoskelet Disord. 2016;17:52.

8.

Gomez MM, Tan TL, Manrique J, Deirmengian GK, Parvizi J. The fate of spacers in the treatment of periprosthetic joint infection. J Bone Joint Surg Am. 2015;97:1495–502.

9.

Ince A, Seemann K, Frommelt L, Katzer A, Loehr JF. One-stage exchange shoulder arthroplasty for peri-prosthetic infection. J Bone Joint Surg Br. 2005;87:814–8.

10.

Jacquot A, Sirveaux F, Roche O, Favard L, Clavert P, Molé D. Surgical management of the infected reversed shoulder arthroplasty: a French multicenter study of reoperation in 32 patients. J Shoulder Elbow Surg. 2015;24:1713–22.

11.

Jain NB, Higgins LD, Guller U, Pietrobon R, Katz JN. Trends in the epidemiology of total shoulder arthroplasty in the United States from 1990-2000. Arthritis Rheum. 2006;55:591–7.

12.

Jawa A, Shi L, O'Brien T, et al. Prosthesis of antibiotic-loaded acrylic cement (PROSTALAC) use for the treatment of infection after shoulder arthroplasty. J Bone Joint Surg Am. 2011;93:2001–9.

13.

Jerosch J, Schneppenheim M. Management of infected shoulder replacement. Arch Orthop Trauma Surg. 2003;123:209–14.

14.

Ortmaier R, Resch H, Hitzl W, Mayer M, Stundner O, Tauber M. Treatment strategies for infection after reverse shoulder arthroplasty. Eur J Orthop Surg Traumatol. 2014;24:723–31.

15.

Romanò CL, Borens O, Monti L, Meani E, Stuyck J. What treatment for periprosthetic shoulder infection? Results from a multicentre retrospective series. Int Orthop. 2012;36:1011–7.

16.

Seebauer L. Total reverse shoulder arthroplasty: European lessons and future trends. Am J Orthop. 2007;36:22–8.

17.

Stine IA, Lee B, Zalavras CG, Hatch G, Itamura JM. Management of chronic shoulder infections utilizing a fixed articulating antibiotic-loaded spacer. J Shoulder Elbow Surg. 2010;19:739–48.

18.

Strickland JP, Sperling JW, Cofield RH. The results of two-stage re-implantation for infected shoulder replacement. J Bone Joint Surg Br. 2008;90:460–5.

19.

Yang S, Werner BC, Cancienne JM, Hassanzadeh H, Shimer AL, Shen FH, Singla A. Preoperative epidural injections are associated with increased risk of infection after single-level lumbar decompression. Spine J. 2016;16(2):191–6. https://doi.org/10.1016/j.spinee.2015.07.439.
Ethics declarations
Conflict of Interest
J. M. Cancienne, MD, James C. Carr 2nd, MD, and B. C. Werner, MD, declare that they have no conflicts of interest. Stephen F. Brockmeier, MD, reports board or committee membership in American Orthopaedic Society for Sports Medicine, International Society of Arthroscopy, Knee Surgery, and Orthopaedic Sports Medicine, and MidAtlantic Shoulder and Elbow Society; editorial or governing board membership at Journal of Bone and Joint Surgery American, Orthopaedic Journal of Sports Medicine, Techniques in Shoulder and Elbow Surgery; research support and/or payment as presenter or speaker from Arthrex, Biomet, DePuy (A Johnson & Johnson Company), Tornier; publishing royalties or financial or material support from Springer; fees as a consultant to MicroAire Surgical Instruments LLC, Zimmer.
Human/Animal Rights
All procedures followed were in accordance with the ethical standards of the responsible committee on human experimentation (institutional and national) and with the Helsinki Declaration of 1975, as revised in 2013.
Informed Consent
Informed consent was waived from all patients for being included in this study.
Required Author Forms
Disclosure forms provided by the authors are available with the online version of this article.
Additional information
Level of Evidence: Therapeutic Study: Level IV
About this article
Cite this article
Cancienne, J.M., Brockmeier, S.F., Carr, J.C. et al. Implant Removal and Spacer Placement for Infected Shoulder Arthroplasty: Risk Factors for Repeat Procedures, Spacer Retention, and Mortality. HSS Jrnl 14, 228–232 (2018). https://doi.org/10.1007/s11420-017-9586-0
Received:

Accepted:

Published:

Issue Date:
Keyword
shoulder arthroplasty

infection

revision

complications

spacer