Abstract
Background
Early surgical intervention for hip fractures in the elderly has proven efficacious. However, surgical delays commonly occur in this patient population due to comorbid conditions that put these patients at a high risk for hypotension-related complications of general or neuraxial anesthesia or anticoagulants that delay the safe use of neuraxial anesthesia.
Questions/Purposes
The questions/purposes of this study are (1) to investigate if a fascia iliaca block in conjunction with light to moderate sedation could provide adequate analgesia throughout open surgery for intertrochanteric hip fractures (AO/OTA 31-1) without requiring conversion to general anesthesia with airway support and (2) to assess its perioperative complication profile.
Methods
A retrospective chart review was conducted to identify patients with intertrochanteric hip fractures who underwent anesthesia with a fascia iliaca block over a 1.5-year period.
Results
In the six patients identified, there were no intraoperative conversions to general anesthesia requiring airway support. Additionally, there were no intraoperative complications, no mortalities within 30 days, 2 patients on anticoagulation who required a blood transfusion, and a single patient who developed a postoperative hospital-acquired pneumonia that resolved with an antibiotic course.
Conclusions
In this series of patients, we demonstrate that a fascia iliaca block can reliably be utilized as the primary anesthetic for patients undergoing surgical fixation of intertrochanteric hip fractures, with an acceptable perioperative complication profile. Although concomitant sedation was provided with the block, this anesthesia strategy has the potential to reduce preoperative delays and minimize the overall burden of sedative and anesthetic medications in a geriatric population. These initial findings may serve as a basis for future, higher-quality prospective and comparative studies.
This is a preview of subscription content, log in to check access.
Access options
Buy single article
Instant access to the full article PDF.
US$ 39.95
Price includes VAT for USA
Subscribe to journal
Immediate online access to all issues from 2019. Subscription will auto renew annually.
US$ 99
This is the net price. Taxes to be calculated in checkout.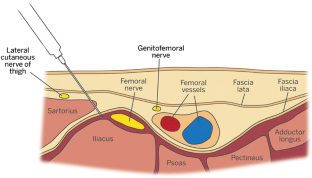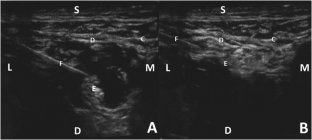 References
1.

Brown J, Morgan-Hughes NJ. Aortic stenosis and non-cardiac surgery. Contin Educ Anaesth Crit Care Pain. 2005;5(1):1–4. https://doi.org/10.1093/bjaceaccp/mki001.

2.

Collinge CA, Kelly KC, Little B, Weaver T, Schuster RD. The effects of clopidogrel (Plavix) and other oral anticoagulants on early hip fracture surgery. J Orthop Trauma. 2012;26:568–73.

3.

Dalens B, Vanneuville G, Tanguy A. Comparison of the fascia iliaca compartment block with the 3-in-1 block in children. Anesth Analg. 1989;69:705–13.

4.

Dy CJ, Dossous PM, Ton QV, Hollenberg JP, Lorich DG, Lane JM. The medical orthopaedic trauma service: an innovative multidisciplinary team model that decreases in-hospital complications in patients with hip fractures. J Orthop Trauma. 2012;26:379–83.

5.

Eardley WG, Macleod KE, Freeman H, Tate A. "Tiers of delay": warfarin, hip fractures, and target-driven care. Geriatr Orthop Surg Rehabil. 2014;5:103–8.

6.

Forrest P. Anaesthesia and right ventricular failure. Anaesth Intensive Care. 2009;37:370–85.

7.

Foss NB, Kristensen BB, Bundgaard M, Bak M, Heiring C, Virkelyst C, Hougaard S, Kehlet H. Fascia iliaca compartment blockade for acute pain control in hip fracture patients: a randomized, placebo-controlled trial. Anesthesiology. 2007;106:773–8.

8.

Gleason LJ, Friedman SM. Preoperative management of anticoagulation and antiplatelet agents. Clin Geriatr Med. 2014;30:219–27.

9.

Johnston DF, Stafford M, McKinney M, Deyermond R, Dane K. Peripheral nerve blocks with sedation using propofol and alfentanil target-controlled infusion for hip fracture surgery: a review of 6 years in use. J Clin Anesth. 2016;29:33–9.

10.

Juliebo V, Krogseth M, Skovlund E, Engedal K, Wyller TB. Medical treatment predicts mortality after hip fracture. J Gerontol A Biol Sci Med Sci. 2010;65:442–9.

11.

Khan SK, Kalra S, Khanna A, Thiruvengada MM, Parker MJ. Timing of surgery for hip fractures: a systematic review of 52 published studies involving 291,413 patients. Injury. 2009;40:692–7.

12.

Luger TJ, Kammerlander C, Luger MF, Kammerlander-Knauer U, Gosch M. Mode of anesthesia, mortality and outcome in geriatric patients. Z Gerontol Geriatr. 2014;47:110–24.

13.

Morris AH, Zuckerman JD, AAOS Council of Health Policy and Practice, USA. American Academy of Orthopaedic Surgeons. National consensus conference on improving the continuum of care for patients with hip fracture. J Bone Joint Surg Am. 2002;84-A:670–4.

14.

Mouzopoulos G, Vasiliadis G, Lasanianos N, Nikolaras G, Morakis E, Kaminaris M. Fascia iliaca block prophylaxis for hip fracture patients at risk for delirium: a randomized placebo-controlled study. J Orthop Traumatol. 2009;10:127–33.

15.

National Hospital Discharge Survey (NHDS), National Center for Health Statistics. Health Data Interactive, Health Care Use and Expenditures. 2012. www.cdc.gov/nchs/hdi.htm. Accessed 21 December 2012.

16.

Neuman MD, Silber JH, Elkassabany NM, Ludwig JM, Fleisher LA. Comparative effectiveness of regional versus general anesthesia for hip fracture surgery in adults. Anesthesiology. 2012;117:72–92.

17.

Nie H, Yang YX, Wang Y, Liu Y, Zhao B, Luan B. Effects of continuous fascia iliaca compartment blocks for postoperative analgesia in hip fracture patients. Pain Res Manag. 2015;20:210–2.

18.

Nikkel LE, Fox EJ, Black KP, Davis C, Andersen L, Hollenbeak CS. Impact of comorbidities on hospitalization costs following hip fracture. J Bone Joint Surg Am. 2012;94:9–17.

19.

Ranhoff AH, Martinsen MI, Holvik K, Solheim LF. Use of warfarin is associated with delay in surgery for hip fracture in older patients. Hosp Pract (1995). 2011;39:37–40.

20.

Shariat AN, Hadzic A, Xu D, Shastri U, Kwofie K, Gandhi K, McCally CM, Gratenstein K, Vandepitte C, Gadsden J, Unis D. Fascia lliaca block for analgesia after hip arthroplasty: a randomized double-blind, placebo-controlled trial. Reg Anesth Pain Med. 2013;38:201–5.

21.

Ultrasound-Guided Fascia Iliaca Block. 2013. http://www.nysora.com/updates/3107-ultrasound-guided-fascia-iliaca-block.html. Accessed 3/24 2016.

22.

Whiting PS, Molina CS, Greenberg SE, Thakore RV, Obremskey WT, Sethi MK. Regional anaesthesia for hip fracture surgery is associated with significantly more peri-operative complications compared with general anaesthesia. Int Orthop. 2015;39:1321–7.

23.

Zuckerman JD, Skovron ML, Koval KJ, Aharonoff G, Frankel VH. Postoperative complications and mortality associated with operative delay in older patients who have a fracture of the hip. J Bone Joint Surg Am. 1995;77:1551–6.
Ethics declarations
This protocol was IRB approved on 2/22/2016 at the New York Presbyterian Queens.
Conflict of Interest
Joseph J. Ruzbarsky, MD; Isaac P. Lowenwirt, MD; Elan M. Goldwyn, MD; and Vitaly Kotlyar, MD, have declared that they have no conflict of interest. Elizabeth B. Gausden, MD, has received funding from the Samuel and May Rudin Foundation.
Human/Animal Rights
All procedures followed were in accordance with the ethical standards of the responsible committee on human experimentation (institutional and national) and with the Helsinki Declaration of 1975, as revised in 2008 (5).
Informed Consent
Informed consent was waived from all patients for being included in the study.
Required Author Forms
Disclosure forms provided by the authors are available with the online version of this article.
Additional information
Level of Evidence: Case series: Level IV
Electronic supplementary material
About this article
Cite this article
Ruzbarsky, J.J., Gausden, E.B., Goldwyn, E.M. et al. The Fascia Iliaca Block as the Primary Intraoperative Anesthesia for Hip Fracture Surgery: A Preliminary Study. HSS Jrnl 14, 77–82 (2018). https://doi.org/10.1007/s11420-017-9582-4
Received:

Accepted:

Published:

Issue Date:
Keywords
intertrochanteric hip fracture surgery

regional anesthesia

fascia iliaca block

high-risk surgical candidates