Abstract
Background
Concerns have arisen regarding deterioration of wear properties of yttria-stabilized zirconia (YSZ) femoral head on conventional polyethylene (PE) bearings due to YSZ phase transformation.
Questions/Purposes
The purpose of this study was to determine if there is a difference in long-term PE wear properties between YSZ and cobalt-chromium-molybdenum (Co-Cr-Mo) femoral heads.
Methods
Ten-year radiographic wear assessment was performed on a cohort of patients enrolled in a prospective randomized clinical trial comparing total hip arthroplasty with YSZ or Co-Cr-Mo femoral heads on conventional, non-cross-linked PE.
Results
PE linear wear, annualized wear, and steady-state wear rates remained low and similar between groups. No cases of osteolysis were observed.
Conclusions
Measured conventional PE wear was similar between YSZ and Co-Cr-Mo femoral heads with the steady-state wear rates for both remaining below the generally accepted threshold at which osteolysis typically occurs. Whether clinically relevant phase transformation with YSZ femoral heads occurs is uncertain; however, the use of YSZ femoral heads in this study was not associated with increased PE wear, osteolysis, or deterioration of wear properties.
This is a preview of subscription content, log in to check access.
Access options
Buy single article
Instant access to the full article PDF.
US$ 39.95
Price includes VAT for USA
Subscribe to journal
Immediate online access to all issues from 2019. Subscription will auto renew annually.
US$ 99
This is the net price. Taxes to be calculated in checkout.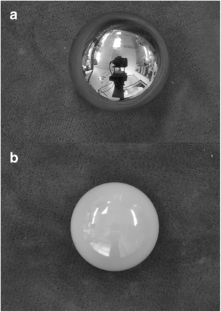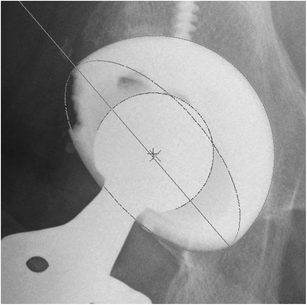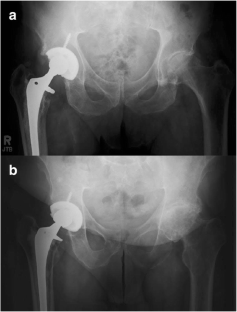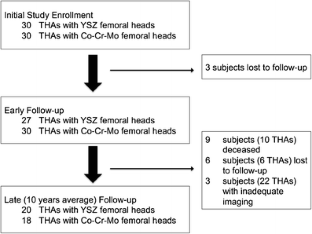 References
1.

Allain J, Le Mouel S, Goutallier D, Voisin MC. Poor eight-year survival of cemented zirconia-polyethylene total hip replacements. J Bone Joint Surg Br. 1999;81:835–842.

2.

Cohn RM, González Della Valle A, Peterson M, Cornell CN. Similar wear in total hip arthroplasties with metallic or zirconia femoral heads. HSS Jrnl. 2008;4:107–111. https://doi.org/10.1007/s11420-008-9084-5

3.

DeLee JG, Charnley J. Radiological demarcation of cemented sockets in total hip replacement. Clin Orthop Relat Res. 1976:20–32.

4.

Fukatsu K, Pezzotti G, Hayaishi Y, Sugano N. Evaluation of phase stability in Zirconia femoral heads from different manufacturers after in vitro testing or in vivo retrieval. J Arthroplast. 2009;24:1225–1230. https://doi.org/10.1016/j.arth.2009.06.026

5.

Fukui K, Kaneuji A, Sugimori T, Ichiseki T, Matsumoto T. Retrieval analysis of new-generation yttria-stabilized Zirconia femoral heads after total hip arthroplasty. Eur J Orthop Surg Traumatol. 2014;24:1197–1202. https://doi.org/10.1007/s00590-013-1397-5

6.

Geerdink CH, Grimm B, Vencken W, Heyligers IC, Tonino AJ. The determination of linear and angular penetration of the femoral head into the acetabular component as an assessment of wear in total hip replacement: A comparison of four computer-assisted methods. J Bone Joint Surg Br. 2008;90:839–846.

7.

Gruen TA, McNeice GM, Amstutz HC. "Modes of failure" of cemented stem-type femoral components: A radiographic analysis of loosening. Clin Orthop Relat Res. 1979:17–27.

8.

Hernigou P, Bahrami T. Zirconia and alumina ceramics in comparison with stainless-steel heads. Polyethylene wear after a minimum ten-year follow-up. J Bone Joint Surg Br. 2003;85:504–509.

9.

Kadar T, Dybvik E, Hallan G, Furnes O, Havelin LI. Head material influences survival of a cemented total hip prosthesis in the Norwegian arthroplasty register. Clin Orthop Relat Res. 2012;470:3007–3013. https://doi.org/10.1007/s11999-012-2396-2

10.

Kim Y-H. Comparison of polyethylene wear associated with cobalt-chromium and zirconia heads after total hip replacement. A prospective, randomized study. J Bone Joint Surg Am. 2005;87:1769–1776.

11.

Kim YH, Kim JS. Tribological and material analyses of retrieved alumina and zirconia ceramic heads correlated with polyethylene wear after total hip replacement. J Bone Joint Surg Br. 2008;90:731–737. https://doi.org/10.1302/0301-620X.90B6.20540

12.

Kraay MJ, Moore RD, Martell JM, Rimnac CM. Reassessment of computerized wear measurement for total hip arthroplasty with correction for projectional image distortion: a brief follow-up report. J Bone Joint Surg Am. 2010;92:1858–1867. https://doi.org/10.2106/JBJS.I.00832

13.

Kraay MJ, Thomas RD, Rimnac CM, Fitzgerald SJ, Goldberg VM. Zirconia versus Co-Cr femoral heads in total hip arthroplasty. Clin Orthop Relat Res. 2006;453:86–90.

14.

Kurtz SM, Kocagöz S, Arnholt C, Huet R, Ueno M, Walter WL. Advances in zirconia toughened alumina biomaterials for total joint replacement. J Mech Behav Biomed Mater. 2014;31:107–116. https://doi.org/10.1016/j.jmbbm.2013.03.022

15.

Masonis JL, Bourne RB, Ries MD, McCalden RW, Salehi A, Kelman DC. Zirconia femoral head fractures: a clinical and retrieval analysis. J Arthroplast. 2004;19:898–905.

16.

Roy ME, Whiteside LA, Katerberg BJ. Not all zirconia femoral heads degrade in vivo. Clin Orthop Relat Res. 2007;465:220–226.

17.

Schmalzried TP, Huk OL. Patient factors and wear in total hip arthroplasty. Clin Orthop Relat Res. 2004:94–97.

18.

Stilling M, Nielsen KA, Søballe K, Rahbek O. Clinical comparison of polyethylene wear with zirconia or cobalt-chromium femoral heads. Clin Orthop Relat Res. 2009;467:2644–2650. https://doi.org/10.1007/s11999-009-0799-5

19.

Sychterz CJ, Yang A, Engh CA. Analysis of temporal wear patterns of porous-coated acetabular components: Distinguishing between true wear and so-called bedding-in. J Bone Joint Surg Am. 1999;81:821–830.

20.

Ueno M, Iwamoto M, Ikeda J. Influence of complex frictional heating and mechanical stress effect for surface crystalline structure change of zirconia femoral head. Key Eng Mater. 2006;309-311:1239–1242. https://doi.org/10.4028/www.scientific.net/KEM.309-311.1239

21.

Weber KL, Callaghan JJ, Goetz DD, Johnston RC. Revision of a failed cemented total hip prosthesis with insertion of an acetabular component without cement and a femoral component with cement. A five to eight-year follow-up study. J Bone Joint Surg Am. 1996;78:982–994.

22.

Yoshitomi H, Shikata S, Ito H, Nakayama T, Nakamura T. Manufacturers affect clinical results of THA with zirconia heads: A systematic review. Clin Orthop Relat Res. 2009;467:2349–2355. https://doi.org/10.1007/s11999-009-0709-x
Acknowledgements
We thank Dr. John Martell for his assistance with the radiographic wear analysis and the late Dr. Victor M. Goldberg for his surgical care of some of the study participants.
Ethics declarations
Conflict of Interest
Todd A. Morrison, MD; Clare M. Rimnac, PhD; Jia Meng, BS; Rebecca D. Moore, MS have declared that they have no conflict of interest. Matthew J. Kraay, MD, MS, reports a grant from Orthopaedic Research Education Foundation (OREF), during the conduct of the study.
Human/Animal Rights
All procedures followed were in accordance with the ethical standards of the responsible committee on human experimentation (institutional and national) and with the Helsinki Declaration of 1975, as revised in 2008 (5).
Informed Consent
Informed consent was obtained from all patients for being included in the study.
Required Author Forms
Disclosure forms provided by the authors are available with the online version of this article.
Additional information
Level of Evidence: Level II: Randomized Control Trial
Electronic supplementary material
About this article
Cite this article
Morrison, T.A., Moore, R.D., Meng, J. et al. No Difference in Conventional Polyethylene Wear Between Yttria-stabilized Zirconia and Cobalt-chromium-molybdenum Femoral Heads at 10 Years. HSS Jrnl 14, 60–66 (2018). https://doi.org/10.1007/s11420-017-9579-z
Received:

Accepted:

Published:

Issue Date:
Keywords
hip

wear analysis

ceramic

polyethylene

zirconia