Abstract
Background
Digital templating systems foster patient-specific measurements for preoperative planning.
Questions/Purposes
We aim (1) to verify the accuracy of a templating system, (2) to describe the effects of scaling marker position on the accuracy of digital templating of the hip, and (3) to provide a practical guide for scaling marker position using patient body mass index (BMI).
Methods
A scaling sphere was placed in five positions along the anterior-posterior axis of an acetabular implant and pelvis phantom, and x-rays were obtained. Each radiograph was templated for the acetabular component and recorded. A retrospective review identified CT scans of preoperative hip arthroplasty cases. The center of the greater trochanter was calculated from these CT scans as the percent distance from the anterior thigh and recorded with the patient's BMI.
Results
By centering the scaling sphere on the acetabular component, an accurate cup size was achieved. A difference of 3.5 cm in sphere placement resulted in a full cup size magnification error. Positioning the scaling sphere at the level of the pubic symphysis resulted in a difference of four cup sizes. This patient population had an average BMI of 28.72 kg/m2 (standard deviation 6.26 kg/m2) and an average position of the center of the greater trochanter of 51% (standard deviation of 6%) from the anterior surface of thigh.
Conclusions
Digital templating relies on scaling marker position to accurately estimate implant size. Based on the findings in this study, scaling markers for hip imaging should be placed laterally, mid-thigh in the anterior-posterior direction for patients with a BMI between 25 and 40 kg/m2. If abnormal hip anatomy or extremes of BMI are discovered, then scaling sphere positioning should be optimized on a case-by-case basis. Digital templating systems for total hip arthroplasty must use precisely placed scaling markers at the level of the hip joint to allow for accurate implant size estimation.
This is a preview of subscription content, log in to check access.
Access options
Buy single article
Instant access to the full article PDF.
US$ 39.95
Price includes VAT for USA
Subscribe to journal
Immediate online access to all issues from 2019. Subscription will auto renew annually.
US$ 99
This is the net price. Taxes to be calculated in checkout.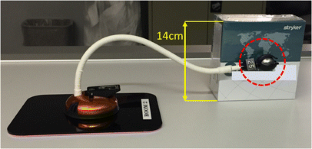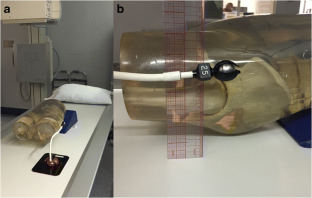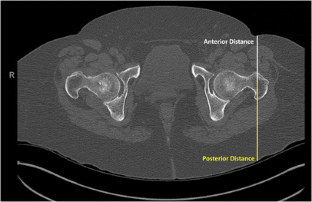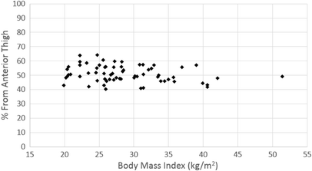 References
1.

Boese CK, Lechler P, Rose L, et al. Calibration Markers for Digital Templating in Total Hip Arthroplasty. PLoS One. 2015; 10:e0128529.

2.

Brew CJ, Simpson PM, Whitehouse SL, et al. Scaling digital radiographs for templating in total hip arthroplasty using conventional acetate templates independent of calibration markers. J Arthroplasty. 2012; 27:643–647.

3.

Hsu AR, Gross CE, Bhatia S, et al. Template-directed instrumentation in total knee arthroplasty: cost savings analysis. Orthopedics. 2012; 35:e1596–1600.

4.

Iorio R, Siegel J, Specht LM, et al. A comparison of acetate vs digital templating for preoperative planning of total hip arthroplasty: is digital templating accurate and safe? J Arthroplasty. 2009; 24:175–179.

5.

Issa K, Pivec R, Boyd B, et al. Comparing the accuracy of radiographic preoperative digital templating for a second- versus a first-generation THA stem. Orthopedics. 2012; 35:1028–1034.

6.

Ramme AJ, Iorio R, Smiaronksi J, et al. Organizational and Technical Considerations for the Implementation of a Digital Orthopaedic Templating System. Bull Hosp Jt Dis (2013); 74:254–261.

7.

Sinclair VF, Wilson J, Jain NP, et al. Assessment of accuracy of marker ball placement in pre-operative templating for total hip arthroplasty. J Arthroplasty. 2014; 29:1658–1660.

8.

White SP and Shardlow DL. Effect of introduction of digital radiographic techniques on pre-operative templating in orthopaedic practice. Ann R Coll Surg Engl. 2005; 87:53–54.

9.

Wimsey S, Pickard R and Shaw G. Accurate scaling of digital radiographs of the pelvis. A prospective trial of two methods. J Bone Joint Surg Br. 2006; 88:1508–1512.
Acknowledgements
The authors would like to thank George Rodriguez, CRT, for his assistance in image acquisition.
Ethics declarations
Conflict of Interest
Austin J. Ramme MD, PhD; Nina D. Fisher, BS; Jonathan Egol; Gregory Chang, MD; Jonathan M. Vigdorchik, MD have declared that they have no conflict of interest.
Human/Animal Rights
All procedures followed were in accordance with the ethical standards of the responsible committee on human experimentation (institutional and national) and with the Helsinki Declaration of 1975, as revised in 2008 (5).
Informed Consent
Informed consent was waived from all patients for being included in the study.
Required Author Forms
Disclosure forms provided by the authors are available with the online version of this article.
Additional information
Work performed at the NYU Hospital for Joint Diseases.
Electronic supplementary material
About this article
Cite this article
Ramme, A.J., Fisher, N.D., Egol, J. et al. Scaling Marker Position Determines the Accuracy of Digital Templating for Total Hip Arthroplasty. HSS Jrnl 14, 55–59 (2018). https://doi.org/10.1007/s11420-017-9578-0
Received:

Accepted:

Published:

Issue Date:
Keywords
digital templating

total hip arthroplasty

radiographs

scaling

surgical planning