This is a preview of subscription content, log in to check access.
Access options
Buy single article
Instant access to the full article PDF.
US$ 39.95
Price includes VAT for USA
Subscribe to journal
Immediate online access to all issues from 2019. Subscription will auto renew annually.
US$ 99
This is the net price. Taxes to be calculated in checkout.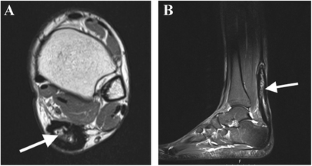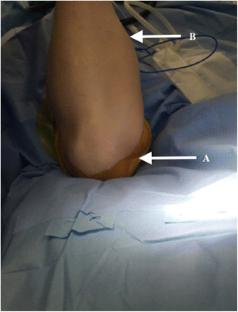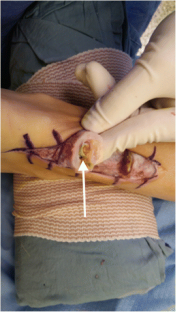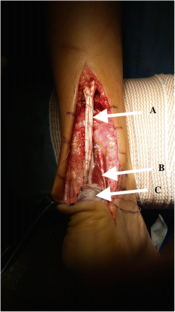 References
1.

Chan JY, Elliott a. J, Ellis SJ. Reconstruction of Achilles Rerupture With Peroneus Longus Tendon Transfer. Foot Ankle Int. 2013;34(6):898–903. doi:10.1177/1071100712473273.

2.

Cody EA, Karnovsky SC, DeSandis B, Tychanski A, Deland JT, Drakos MC. Hamstring Autograft for Foot and Ankle Applications. E-Poster accepted for presentation at the American Orthopaedic Foot & Ankle Society Annual Meeting, July 12–15, 2017, Seattle WA.

3.

Dumbre PSS, Dumbre PVS, Basa VR, Dombale AV. Semitendinosus Tendon Autograft for Reconstruction of Large Deficitis in Chronic Achilles Tendon Ruptures. Foot Ankle Int. 2014;35(7):699–705. Doi:10.1177/1071100714531228

4.

Ellison P, Mason LW, Molloy A. Chronic Achilles tendon rupture reconstructed using hamstring tendon autograft. The Foot. 2016;26:41–44.

5.

Feibel JB, Bernacki BL. A review of salvage procedures after failed achilles tendon repair. Foot Ankle Clin. 2003;8(1):105–114. doi:10.1016/S1083-7515(03)00005-6.

6.

García-Germán D, Rubio-Quevedo R, Lopez-Goenaga J, Martin-Guinea J. Achilles tendon recurrent rupture following surgical repair: Report on two cases. Foot Ankle Surg. 2009;15(3):152–154. doi:10.1016/j.fas.2008.09.001.

7.

Gonçalves S, Caetano R, Corte-Real N. Salvage Flexor Hallucis Longus Transfer for a Failed Achilles Repair: Endoscopic Technique. Arthrosc Tech. 2015;4(5):e411-e416. doi:10.1016/j.eats.2015.03.017.

8.

Ji JH, Kim WY, Kim YY, Lee YS, Yoon JS. Semitendinosus Tendon Augmentation for a Large Defect after Achilles Tendon Rupture: Two Case Reports. Foot Ankle Int. 2007;28(10):1100–1103.

9.

Krahe MA, Berlet GC. Achilles Tendon Ruptures, Re Rupture with Revision Surgery, Tendinosis, and Insertional Disease. Foot Ankle Clin. 2009;14(2):247–275. doi:10.1016/j.fcl.2009.04.003.

10.

Lin JL. Tendon Transfers for Achilles Reconstruction. Foot Ankle Clin. 2009;14(4):729–744. doi:10.1016/j.fcl.2009.08.007.

11.

Maffulli N, Longo UG, Gougoulias N, Denaro V. Ipsilateral free semitendinosus tendon graft transfer for reconstruction of chronic tears of the Achilles tendon. BMC Musculoskelet Disord. 2008;9(1):100.

12.

Pajala A, Kangas J, Ohtonen P, Leppilahti J. Rerupture and deep infection following treatment of total Achilles tendon rupture. J Bone Jt Surg. 2002;84-A(11):2016–2021.

13.

Piontek T, Bąkowski P, Ciemniewska-Gorzela K, Grygorowicz M. Minimally invasive, endoscopic Achilles tendon reconstruction using semitendinosus and gracilis tendons with Endobutton stabilization. BMC Musculoskelet Disord. 2016;17(1):1–8.

14.

Piontek T, Bakowski P, Ciemniewska-Gorzela K, Naczk J. Novel Technique of Achilles Tendon Reconstruction Using Semitendinosus and Gracilis Tendon. Preliminary Report. Ortopdeia Traumatol Rehabil. 2015;17(6):619–25.

15.

Rettig AC. Potential Risk of Rerupture in Primary Achilles Tendon Repair in Athletes Younger Than 30 Years of Age. Am J Sports Med. 2005;33(1):119–123. doi:10.1177/0363546504268720.

16.

Yasuda K, Tsujino J, Ohkoshi Y, Tanabe Y, Kaneda K. Graft site morbidity with autogenous semitendinosus and gracilis tendons. Am J Sports Med. 1995;23(6):706–714. doi:10.1177/036354659502300613.
Ethics declarations
Conflict of Interest
Sydney C. Karnovsky, BA has declared that she has no conflicts of interest. Mark C. Drakos, MD reports other from Fast Form and Extremity Medical, outside the work.
Human/Animal Rights
All procedures followed were in accordance with the ethical standards of the responsible committee on human experimentation (institutional and national) and with the Helsinki Declaration of 1975, as revised in 2008 (5).
Informed Consent
Informed consent was obtained from the patient for being included in the study.
Required Author Forms
Disclosure forms provided by the authors are available with the online version of this article.
Additional information
Work performed at Hospital for Special Surgery.
About this article
Cite this article
Karnovsky, S.C., Drakos, M.C. Revision Achilles Reconstruction with Hamstring Autograft and FHL Tendon Transfer in an Athlete. HSS Jrnl 13, 302–306 (2017). https://doi.org/10.1007/s11420-017-9572-6
Received:

Accepted:

Published:

Issue Date:
Keywords
Achilles tendon

revision surgery

hamstring autograft

FHL transfer

infection