Abstract
Background
There are several accepted surgical treatment options available for carpal tunnel syndrome, thumb carpometacarpal joint (CMC), osteoarthritis (OA), and wrist degenerative joint disease.
Questions/Purposes
We sought to obtain the views and preferences from a cohort of certified hand therapists (CHT) and hypothesized that this source may identify differences in procedures that are otherwise widely believed to have clinical equipoise.
Methods
Five hundred twelve CHTs were surveyed regarding their experience, volume, and referral base along with their subjective assessments and preferences regarding open versus endoscopic carpal tunnel release (CTR), various surgical procedures for CMC OA, and proximal row carpectomy (PRC) versus 4-corner fusion (4-CF).
Results
The average CHT surveyed had 15.2 years experience and had a referral base of 7.7 different hand surgeons. Twenty-seven percent of respondents perceived superior pain control and incisional tenderness following open CTR compared to that of endoscopic CTR. However, 68% of CHTs would elect to undergo an open CTR themselves. There was no clear consensus for the optimal reconstructive technique for thumb CMC OA. As compared to that of 4-CF, PRC was thought to result in superior pain control (34 versus 22%), motion (43 versus 18%), and earlier discharge from therapy (32 versus 19%); however, 53% of respondents would prefer a 4-CF for themselves.
Conclusions
Hand therapists are intimately involved in the care of surgical patients and provide an educated and unique source for evaluating postoperative outcomes.
This is a preview of subscription content, log in to check access.
Access options
Buy single article
Instant access to the full article PDF.
US$ 39.95
Price includes VAT for USA
Subscribe to journal
Immediate online access to all issues from 2019. Subscription will auto renew annually.
US$ 99
This is the net price. Taxes to be calculated in checkout.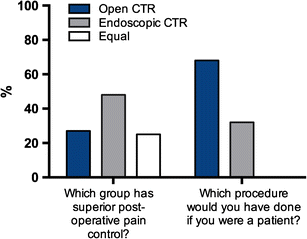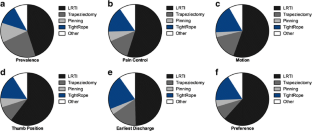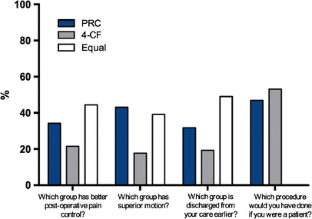 References
1.

Brunton LM, Wilgis EF. A survey to determine current practice patterns in the surgical treatment of advanced thumb carpometacarpal osteoarthrosis. Hand (N Y). 2010; 5(4):415–422.

2.

Fajardo M, Kim SH, Szabo RM. Incidence of carpal tunnel release: trends and implications within the United States ambulatory care setting. J Hand Surg Am. 2012; 37(8):1599–1605.

3.

Physician fee schedule. Centers for Medicare & Medicaid services website. http://www.cms.gov/apps/physician-fee-schedule/search/search-criteria.aspx. Accessed January 30, 2017.

4.

Hand Therapy Certification Commission, Inc. website. http://www.htcc.org/ Accessed January 30, 2017.

5.

Keith MW, Masear V, Chung KC, et al. American Academy of Orthopaedic Surgeons clinical practice guideline on the treatment of carpal tunnel syndrome. J Bone Joint Surg Am. 2010; 92(1):218–219.

6.

Leinberry CF, Rivlin M, Maltenfort M, et al. Treatment of carpal tunnel syndrome by members of the American Society for Surgery of the Hand: a 25-year perspective. J Hand Surg Am. 2012; 37 (10):1997–2003 e1993.

7.

Mulford JS, Ceulemans LJ, Nam D, Axelrod TS. Proximal row carpectomy vs four corner fusion for scapholunate (Slac) or scaphoid nonunion advanced collapse (Snac) wrists: a systematic review of outcomes. J Hand Surg Eur 2009; 34(2):256–263.

8.

Munns JJ, Awan HM. Trends in carpal tunnel surgery: an online survey of members of the American Society for Surgery of the Hand. J Hand Surg Am. 2015; 40(4):767–771 e762.

9.

Parry JA, Kakar S. Dual mini TightRope suspensionplasty for thumb basilar joint arthritis: a case series. J Hand Surg Am. 2015; 40(2):297–302.

10.

Roman PB, Linnell JD, Moore JB. Trapeziectomy arthroplasty with suture suspension: short- to medium-term outcomes from a single-surgeon experience. J Hand Surg Am. 2016; 41(1):34–39 e31.

11.

Sayegh ET, Strauch RJ. Open versus endoscopic carpal tunnel release: a meta-analysis of randomized controlled trials. Clin Orthop Relat Res. 2015; 473(3):1120–1132.

12.

Shin EK, Bachoura A, Jacoby SM, Chen NC, Osterman AL. Treatment of carpal tunnel syndrome by members of the American Association for Hand Surgery. Hand (N Y). 2012; 7(4):351–356.

13.

Smetana BS, Zhou X, Hurwitz S, Kamath GV, Patterson JM. Effects of hand fellowship training on rates of endoscopic and open carpal tunnel release. J Hand Surg Am. 2016.

14.

Vasiliadis HS, Georgoulas P, Shrier I, Salanti G, Scholten RJ. Endoscopic release for carpal tunnel syndrome. Cochrane Database Syst Rev. 2014; 1:CD008265.

15.

Wajon A, Vinycomb T, Carr E, Edmunds I, Ada L. Surgery for thumb (trapeziometacarpal joint) osteoarthritis. Cochrane Database Syst Rev. 2015; 2:CD004631.

16.

Yao J, Song Y. Suture-button suspensionplasty for thumb carpometacarpal arthritis: a minimum 2-year follow-up. J Hand Surg Am. 2013; 38(6):1161–1165.
Ethics declarations
Conflict of Interest
Joseph J. Schreiber, MD and Susan Clark, BS have declared that they have no conflict of interest. Jeffrey Yao, MD reports personal fees from Arthrex, Smith and Nephew Endoscopy, BME, Trimed, McGinley Orthopedics, and grants from Medartis, outside the work.
Human/Animal Rights
All procedures followed were in accordance with the ethical standards of the responsible committee on human experimentation (institutional and national) and with the Helsinki Declaration of 1975, as revised in 2008 (5).
Informed Consent
N/A
Required Author Forms
Disclosure forms provided by the authors are available with the online version of this article
Additional information
Investigation performed at Stanford University Medical Center, Redwood City, CA.
Electronic supplementary material
About this article
Cite this article
Schreiber, J.J., Clark, S. & Yao, J. Comparative Evaluation of Surgical Procedures with Clinical Equipoise: the Unique Perspective of Our Hand Therapy Colleagues. HSS Jrnl 14, 29–33 (2018). https://doi.org/10.1007/s11420-017-9569-1
Received:

Accepted:

Published:

Issue Date:
Keywords
hand therapy

CHT

carpal tunnel syndrome

arthritis