Abstract
Background
The BIOLOX® option system, consisting of a BIOLOX® delta ceramic femoral head with a titanium alloy adapter sleeve, is being increasingly utilized in revision hip arthroplasty. The sleeve protects the ceramic head from fracture and improper motion about the stem trunnion when a damaged trunnion is encountered at revision surgery. Corrosion and fretting due to metal-metal contact at the taper region of hip prosthesis create the potential of causing periprosthetic osteolysis and adverse local tissue reactions.
Questions/Purposes
The objective of this study was to identify the type and extent of damage to retrieved sleeves and ceramic heads to determine their in vivo performance.
Methods
Twenty-four ceramic heads with titanium alloy sleeves were examined. The articular and taper surfaces for each ceramic head were assessed for metal transfer using a subjective grading system. All surfaces of the 24 titanium sleeves and stem trunnions (only available for 7 of 24 cases) were assessed for corrosion and fretting using an established grading system. Scanning electron microscopy and energy dispersive X-ray analysis were conducted on representative sample of sleeves.
Results
Fretting and corrosion were higher at the inner surface of the taper sleeve than the outer sleeve. Mean fretting scores at the inner taper and outer taper sleeve surfaces were 1.8 and 1.2, respectively. The mean corrosion score at the inner taper surface was 1.8; no corrosion was observed on the outer surface of any taper sleeve. SEM and EDS analyses provided further indications of low levels of damage.
Conclusion
Fretting and corrosion were less severe than previously reported for conventional THA metal-metal taper connections, indicating that a ceramic head and titanium sleeve is a safe alternative in revision THA.
This is a preview of subscription content, log in to check access.
Access options
Buy single article
Instant access to the full article PDF.
US$ 39.95
Price includes VAT for USA
Subscribe to journal
Immediate online access to all issues from 2019. Subscription will auto renew annually.
US$ 99
This is the net price. Taxes to be calculated in checkout.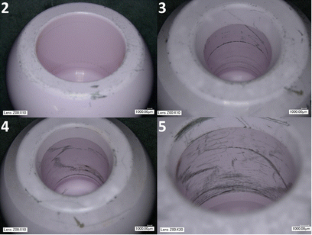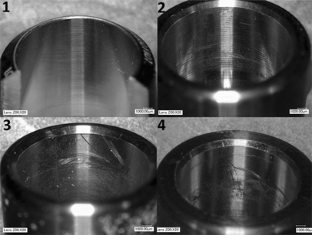 References
1.

Chen D, Lin S, Cutrera N, Padgett D, Wright T. Ceramic bearings in total hip replacement: a retrieval analysis. MINERVA Ortop. E Traumatol. 2010;61:43–49.

2.

Clarke IC, Gustafson A. Clinical and hip simulator comparisons of ceramic-on-polyethylene and metal-on-polyethylene wear. Clin. Orthop. 2000:34–40.

3.

Galvin AL, Jennings LM, Tipper JL, Ingham E, Fisher J. Wear and creep of highly crosslinked polyethylene against cobalt chrome and ceramic femoral heads. Proc. Inst. Mech. Eng. [H]. 2010;224:1175–1183.

4.

Gilbert JL, Buckley CA, Jacobs JJ. In vivo corrosion of modular hip prosthesis components in mixed and similar metal combinations. The effect of crevice, stress, motion, and alloy coupling. J. Biomed. Mater. Res. 1993;27:1533–1544.

5.

Goldberg JR, Gilbert JL, Jacobs JJ, Bauer TW, Paprosky W, Leurgans S. A multicenter retrieval study of the taper interfaces of modular hip prostheses. Clin. Orthop. 2002;401:149–161.

6.

John Cooper H, Della Valle CJ, Berger RA, Tetreault M, Paprosky WG, Sporer SM, Jacobs JJ. Corrosion at the head-neck taper as a cause for adverse local tissue reactions after total hip arthroplasty. J. Bone Jt. Surg. Am. 2012;94: 1655-1661. Available at: http://jbjs.org/cgi/doi/10.2106/JBJS.K.01352 [Accessed October 22, 2015].

7.

Kao Y-YJ, Koch CN, Wright TM, Padgett DE. Flexural rigidity, taper angle, and contact length affect fretting of the femoral stem trunnion in total hip arthroplasty. J. Arthroplasty. 31:254-258 2016.

8.

Kocagoz SB, Underwood RJ, MacDonald DW, Gilbert JL, Kurtz SM. Ceramic heads decrease metal release caused by head-taper fretting and corrosion. Clin. Orthop. 2016;474:985–994.

9.

Kocagöz SB, Underwood RJ, Sivan S, Gilbert JL, Macdonald DW, Day JS, Kurtz SM. Does taper angle clearance influence fretting and corrosion damage at the head-stem interface? A matched cohort retrieval study. Semin. Arthroplasty. 2013;24:246–254.

10.

Kurtz SM, Kocagöz SB, Hanzlik JA, Underwood RJ, Gilbert JL, MacDonald DW, Lee G-C, Mont MA, Kraay MJ, Klein GR, Parvizi J, Rimnac CM. Do ceramic femoral heads reduce taper fretting corrosion in hip arthroplasty? A retrieval study. Clin. Orthop. Relat. Res. 2013;471:3270–3282.

11.

Matsen Ko L, Chen AF, Deirmengian GK, Hozack WJ, Sharkey PF. Catastrophic femoral head-stem trunnion dissociation secondary to corrosion. J. Bone Joint Surg. Am. 2016;98:1400–1404.

12.

Meftah M, Ebrahimpour PB, He C, Ranawat AS, Ranawat CS. Preliminary clinical and radiographic results of large ceramic heads on highly cross-linked polyethylene. Orthopedics. 2011;34:133.

13.

Osman K, Panagiotidou AP, Khan M, Blunn G, Haddad FS. Corrosion at the head-neck interface of current designs of modular femoral components. Bone Jt. J. 2016;98–B:579–584.

14.

Plummer DR, Berger RA, Paprosky WG, Sporer SM, Jacobs JJ, Della Valle CJ. Diagnosis and management of adverse local tissue reactions secondary to corrosion at the head-neck junction in patients with metal on polyethylene bearings. J. Arthroplasty. 2016;31:264–268.

15.

Selvarajah E, Hooper G, Grabowski K, Frampton C, Woodfield TBF, Inglis G. The rates of wear of X3 highly cross-linked polyethylene at five years when coupled with a 36 mm diameter ceramic femoral head in young patients. Bone Jt. J. 2015;97–B:1470–1474.

16.

The Clinical, Biological and Bioengineering Study Groups from the Carl T. Brighton Workshop, Esposito CI, Wright TM, Goodman SB, Berry DJ. What is the trouble with trunnions? Clin. Orthop. Relat. Res. 2014;472:3652–3658.

17.

Triantafyllopoulos GK, Elpers ME, Burket JC, Esposito CI, Padgett DE, Wright TM. Otto Aufranc award: large heads do not increase damage at the head-neck taper of metal-on-polyethylene total hip arthroplasties. Clin. Orthop. 2016;474:330–338.
Acknowledgements
This study was partially funded by the Mary and Fred Trump Institute for implant analysis. The authors thank Elexis Baral for her assistance damage scoring.
Ethics declarations
Conflict of Interest
Chelsea N. Koch, BS; Mark Figgie Jr., BS; and Marcella E. Elpers, BS have declared that they have no conflict of interest. Timothy M. Wright, PhD, reports other from Exactech, Inc., Orthobond, Stryker, and Wolters Kluwer Health-Lippincott Willians & Wilkins, outside the work. In addition, Dr. Wright reports patents and royalty payments from Exactech, Inc., Lima, and Mathys Ltd. Douglas E. Padgett, MD, reports personal fees from DJO, PixarBio, and Stryker, outside the work. Mark P. Figgie, MD, reports other from Mekanika, outside the work. In addition, Dr. Figgie reports a patent with Lima and receives royalties.
Human/Animal Rights
All procedures followed were in accordance with the ethical standards of the responsible committee on human experimentation (institutional and national) and with the Helsinki Declaration of 1975, as revised in 2008 (5).
Informed Consent
Informed consent was waived from all patients for being included in the study.
Required Author Forms
Disclosure forms provided by the authors are available with the online version of this article.
Electronic Supplementary Material
About this article
Cite this article
Koch, C.N., Figgie, M., Figgie, M.P. et al. Ceramic Bearings with Titanium Adapter Sleeves Implanted During Revision Hip Arthroplasty Show Minimal Fretting or Corrosion: a Retrieval Analysis. HSS Jrnl 13, 241–247 (2017). https://doi.org/10.1007/s11420-017-9566-4
Received:

Accepted:

Published:

Issue Date:
Keywords
total hip arthroplasty

retrieval analysis

fretting

corrosion

adapter sleeve