Abstract
Background
Many surgeons advocate for surgical intervention of adult mallet fractures that involve either subluxation of the distal interphalangeal (DIP) joint or those that involve more than one-third of the articular surface. However, the efficacy of operative treatment and complication rates are unclear regarding the adolescent population.
Questions/Purposes
The goal of this study is to evaluate the clinical outcomes following operative fixation of bony mallet fractures in the adolescent population.
Methods
Seventeen patients with bony mallet fractures treated surgically were retrospectively reviewed. Twelve patients were treated by closed reduction with extension block pinning. The other patients underwent an open reduction and pin fixation. The average age was 15.2 years (13–18). Most injuries were sport related. The average time from injury to presentation was 17 days and from injury to surgery was 24.5 days. Nine patients had subluxation at the DIP joint and all involved at least one-third of the articular surface.
Results
The average time from surgery to pin removal was 28 days (19–46). All distal phalanx physis were closed or nearly closed. One patient reported pain at the final follow-up. Two patients (11.8%) had major complications. One had an extension contracture postoperatively, did not attend therapy, and re-fractured 5 months later requiring reoperation. The second was treated delayed (32 days) and lost fixation, requiring revision surgery and antibiotics for a superficial infection. Two patients with delayed treatment (32 and 44 days) had an extensor lag (11.8%).
Conclusions
Operative treatment of mallet fractures with subluxation or involving more than one-third of the articular surface appears effective. Pin removal 4 weeks postoperatively appears adequate. Complications occurred with delayed presentation and non-compliance.
This is a preview of subscription content, log in to check access.
Access options
Buy single article
Instant access to the full article PDF.
US$ 39.95
Price includes VAT for USA
Subscribe to journal
Immediate online access to all issues from 2019. Subscription will auto renew annually.
US$ 99
This is the net price. Taxes to be calculated in checkout.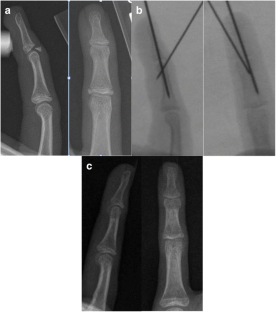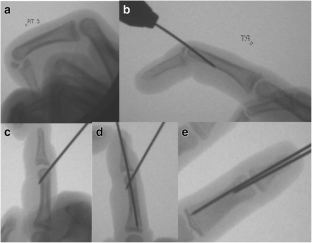 References
1.

Auchincloss JM. Mallet-finger injuries: a prospective, controlled trial of internal and external splintage. Hand. 1982; 14(2):168–173. doi: 10.1016/S0072-968X(82)80011-9.

2.

Bendre A, Hartigan BJ, Kalainov DM. Mallet finger. J Am Acad Orthop Surg. 2005; 13(5):336–344. doi: 10.1007/BF03084121.

3.

Bloom JMP, Khouri JS, Hammert WC. Current concepts in the evaluation and treatment of mallet finger injury. Plast Reconstr Surg. 2013; 132(4):560e-6e. doi: 10.1097/PRS.0b013e3182a0148c.

4.

Ganayem M, Edelson G. Base of distal phalanx fracture in children: a mallet finger mimic. J Pediatr Orthop. 2005; 25(4):487–489. doi: 10.1097/01.bpo.0000158813.37225.fa.

5.

Handoll HHG, Vaghela M V. Interventions for treating mallet finger injuries. Cochrane Database Syst Rev. 2004; 3(3):CD004574. doi: 10.1002/14651858.CD004574.pub2.

6.

Hensinger R. Standards in pediatric orthopedics. New York: Reven Press; 1986.

7.

Inoue G. Closed reduction of mallet fractures using extension-block Kirschner wire. J Orthop Trauma. 1992; 6:413–415. doi: 10.1097/00005131-199212000-00003.

8.

Ishiguro T, Itoh Y, Yabe Y, Hashizume N. Extension block with Kirschner wire for fracture dislocation of the distal interphalangeal joint. Tech Hand Up Extrem Surg. 1997; 1(2):95–102. doi: 10.1097/00130911-199706000-00005.

9.

Jabłecki J, Syrko M. Zone 1 extensor tendon lesions: current treatment methods and a review of literature. Ortop Traumatol Rehabil. 2007; 9(6):52–62.

10.

King HJ, Shin SJ, Kang ES. Complications of operative treatment for mallet fractures of the distal phalanx. J Hand Surg Br. 2001; 26(1):28–31. doi: 10.1054/jhsb.2000.0440.

11.

Niechajev IA. Conservative and operative treatment of mallet finger. Plast Reconstr Surg. 1985; 76:580–585. doi: 10.1097/00006534-198510000-00019.

12.

Pegoli L, Toh S, Arai K, Fukuda A, Nishikawa S, Vallejo IG. The Ishiguro extension block technique for the treatment of mallet finger fracture: indications and clinical results. J Hand Surg Br. 2003; 28(1):15–17. doi: 10.1054/jhsb.2001.0733.

13.

Peterson HA, Madhok R, Benson JT, Ilstrup DM, Melton LJ. Physeal fractures: Part 1. Epidemiology in Olmsted County, Minnesota, 1979-1988. J Pediatr Orthop. 1994; 14(4):423–430. doi: 10.1097/01241398-199407000-00002.

14.

Reddy M, Ho CA. Comparison of percutaneous reduction and pin fixation in acute and chronic pediatric mallet fractures. J Pediatr Orthop. 2016. doi:10.1097/BPO.0000000000000896.

15.

Uzun M, Bulbul M, Ozturk K, Ayanoğlu S, Adanir O, Gürbüz H. Surgical treatment of mallet fractures by extension block Kirschner wire technique surgical treatment of mallet fractures. Acta Ortop Bras. 2012; 20(5):297–299. doi: 10.1590/S1413-78522012000500010.

16.

Wehbé MA, Schneider LH. Mallet fractures. J Bone Joint Surg Am. 1984; 66:658–669. doi: 10.1016/j.jhsb.2006.09.007.

17.

Yeh PC, Dodds SD. Pediatric hand fractures. Tech Orthop. 2009; 24(3):150–162. doi: 10.1097/BTO.0b013e3181b58eb2.
Ethics declarations
Conflict of Interest
Andrew T. Chen, MD, MPH; Keegan T. Conry, BS; Allison Gilmore, MD; and Jochen P. Son-Hing, MD, FRCSC have declared that they have no conflict of interest. Raymond W. Liu, MD reports payment from Orthopediatrics Corp, outside the work.
Human/Animal Rights
All procedures followed were in accordance with the ethical standards of the responsible committee on human experimentation (institutional and national) and with the Helsinki Declaration of 1975, as revised in 2008.
Informed Consent
Informed consent was waived from all patients for being included in the study.
Required Author Forms
Disclosure forms provided by the authors are available with the online version of this article.
Additional information
Level of Evidence: Level IV: Case series.
Work performed at Rainbow Babies and Children's Hospital.
Electronic supplementary material
Below is the link to the electronic supplementary material.
About this article
Cite this article
Chen, A.T., Conry, K.T., Gilmore, A. et al. Outcomes Following Operative Treatment of Adolescent Mallet Fractures. HSS Jrnl 14, 83–87 (2018). https://doi.org/10.1007/s11420-017-9563-7
Received:

Accepted:

Published:

Issue Date:
Keywords
mallet fracture

extension block pinning

adolescent fractures