Abstract
Background
National rates of lateral epicondylitis and surgical treatment are poorly defined. Disease burden of lateral epicondylitis (LE) continues to increase annually. Further study is necessary to optimize treatment algorithms to reduce associated health-care expenditures.
Questions/Purposes
The purpose of this study is to review the annual incidence of LE, surgical rates, and associated health-care costs in a population setting.
Methods
A national database was queried for LE from 2007 to 2014. Surgical cases were identified and annual rates were recorded. Demographic and epidemiologic data were reported with descriptive statistics, while trends over time were analyzed using linear regression.
Results
Eighty-five thousand three hundred eighteen cases of LE were identified. The annual incidence per 10,000 patients remained constant (p = 0.304). The proportion of diagnoses in patients <65 years decreased (p ≤ 0.002) and ≥65 years increased (p < 0.001) over the study period. One thousand six hundred ninety-four patients (2%) required operative treatment. The annual rate of surgical intervention remained constant (p = 0.623). The proportion of patients <40 years requiring surgery decreased (p < 0.001) as the proportion of patients ≥65 years needing surgery increased (p = 0.003). Total reimbursement for LE procedures during the study period was $7,220,912. Average per-patient reimbursement was $4263. Both annual total reimbursement (p = 0.006) and per-patient reimbursement rates (p = 0.002) significantly increased.
Conclusion
The annual incidence of LE and rate of surgical intervention have remained constant from 2007 to 2014. The proportion of patients over >65 years diagnosed with, and receiving surgical treatment for, LE has significantly increased in recent years. Total reimbursement and average per-patient reimbursement have steadily risen, demonstrating the increasing burden of cost on the health-care system.
This is a preview of subscription content, log in to check access.
Access options
Buy single article
Instant access to the full article PDF.
US$ 39.95
Price includes VAT for USA
Subscribe to journal
Immediate online access to all issues from 2019. Subscription will auto renew annually.
US$ 99
This is the net price. Taxes to be calculated in checkout.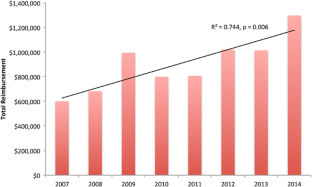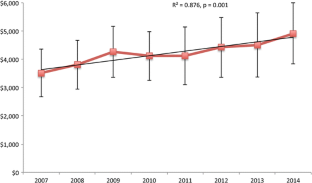 References
1.

Buchbinder R, Johnston R V, Barnsley L, Assendelft WJ, Bell SN, Smidt N (2011) Surgery for lateral elbow pain. Cochrane Database Syst. Rev. CD003525.

2.

Calfee RP, Patel A, DaSilva MF, Akelman E (2008) Management of lateral epicondylitis: current concepts. J. Am. Acad. Orthop. Surg. 16:19–29.

3.

Kachooei AR, Talaei-Khoei M, Faghfouri A, Ring D (2016) Factors associated with operative treatment of enthesopathy of the extensor carpi radialis brevis origin. J. Shoulder Elb. Surg. Elsevier Inc. 25:666–670.

4.

Knutsen EJ, Calfee RP, Chen RE, Goldfarb CA, Park KW, Osei DA (2015) Factors associated with failure of nonoperative treatment in lateral epicondylitis. Am. J. Sports Med. 43:2133–2137.

5.

Nirschl RP, Pettrone FA (1979) Tennis elbow. The surgical treatment of lateral epicondylitis. J. Bone Joint Surg. Am. 61:832–9.

6.

Sanders TL, Maradit Kremers H, Bryan A. J, Ransom JE, Smith J, Morrey BF (2015) The epidemiology and health care burden of tennis elbow: a population-based study. Am. J. Sports Med.

7.

Sanders TL, Maradit Kremers H, Bryan AJ, Ransom JE, Morrey BF (2016) Health care utilization and direct medical costs of tennis elbow: a population-based study. Sport. Heal. A Multidiscip. Approach 8:355–358.

8.

Silverstein B, Welp E, Nelson N, Kalat J (1998) Claims incidence of work-related disorders of the upper extremities: Washington State, 1987 through 1995. Am. J. Public Health 88:1827–1833.

9.

Solheim E, Hegna J, ∅yen J, Inderhaug E (2016) Arthroscopic treatment of lateral epicondylitis: tenotomy versus debridement. Arthrosc. - J. Arthrosc. Relat. Surg. Arthroscopy Association of North America 32:578–585.

10.

Taylor SA, Hannafin JA (2012) Evaluation and management of elbow tendinopathy. Sports Health 4:384–93.

11.

Verhaar JA (1994) Tennis elbow. Anatomical, epidemiological and therapeutic aspects. Int. Orthop. 18:263–7.
Ethics declarations
Conflict of Interest
Ryan M. Degen, MD; Matthew S. Conti, MD; Christopher L. Camp, MD; David W. Altchek, MD; and Brian C. Werner, MD, have declared that they have no conflict of interest. Joshua S. Dines, MD, reports personal fees from Arthrex, Conmed Linvatec, and Ossur, outside the work.
Human/Animal Rights
All procedures followed were in accordance with the ethical standards of the responsible committee on human experimentation (institutional and national) and with the Helsinki Declaration of 1975, as revised in 2008 (5).
Informed Consent
Informed consent was waived from all patients for being included in the study.
Required Author Forms
Disclosure forms provided by the authors are available with the online version of this article.
Electronic supplementary material
About this article
Cite this article
Degen, R.M., Conti, M.S., Camp, C.L. et al. Epidemiology and Disease Burden of Lateral Epicondylitis in the USA: Analysis of 85,318 Patients. HSS Jrnl 14, 9–14 (2018). https://doi.org/10.1007/s11420-017-9559-3
Received:

Accepted:

Published:

Issue Date:
Keywords
lateral epicondylitis

tennis elbow

epidemiology

incidence

cost