Abstract
Background
Intraoperative pedobarography has the potential to aid surgical decisions, but no parameters exist to guide its use.
Questions/Purposes
This study compared supine plantar pressures between flatfoot patients and controls using a previously validated intraoperative pedobarographic device and examined associations between supine, walking, and standing plantar pressures.
Methods
Ten preoperative patients with stage II adult-acquired flatfoot deformity (AAFD) were compared to ten healthy controls. Supine plantar pressures were assessed using the pedobarographic device. Standing and walking plantar pressures were assessed with an EMED-XT sensor array (Novel). Maximum force (MF) and peak pressure (PP) were calculated for nine anatomical foot regions adjusting for age and BMI.
Results
No differences in plantar pressures were found between flatfoot patients and controls in the supine or standing positions. During walking, flatfoot patients had greater MF of the first, second, and third metatarsals (p ≤ 0.018) and greater PP of the first and second metatarsals than controls (p ≤ 0.010). Supine MF and PP were both strongly positively correlated with their respective pressure measurements for both standing and walking in multiple foot regions (p ≤ 0.05, all analyses). Correlations in the first metatarsal region were generally weak and not statistically significant.
Conclusion
This device did not show differences in supine plantar pressures of flatfoot patients and healthy subjects, highlighting the limitations of intraoperative devices in guiding flatfoot correction. The differences between flatfoot and controls during walking and the correlations between supine and walking conditions suggest that dynamic plantar pressures are a more useful parameter in guiding flatfoot reconstruction.
This is a preview of subscription content, log in to check access.
Access options
Buy single article
Instant access to the full article PDF.
US$ 39.95
Price includes VAT for USA
Subscribe to journal
Immediate online access to all issues from 2019. Subscription will auto renew annually.
US$ 99
This is the net price. Taxes to be calculated in checkout.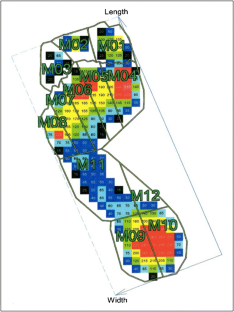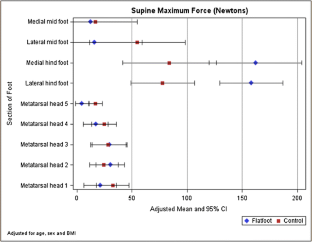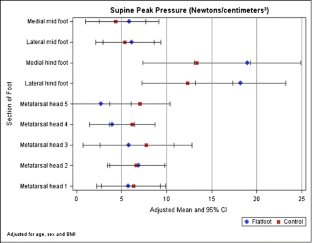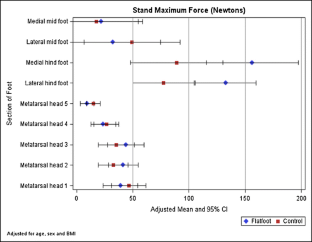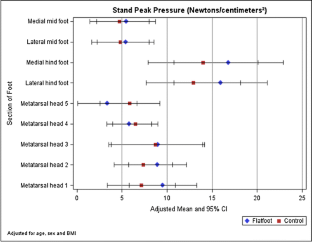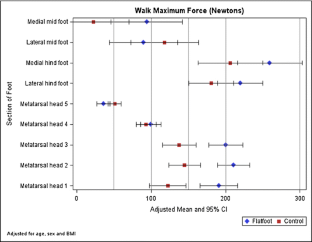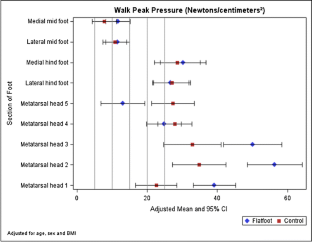 References
1.

Abousayed MM, Tartaglione JP, Rosenbaum AJ, Dipreta JA. Classifications in Brief: Johnson and Strom Classification of Adult-acquired Flatfoot Deformity. Clin Orthop Relat Res. 2016; 474: 588-593. doi:10.1007/s11999-015-4581-6.

2.

Cavanagh PR, Rodgers MM, Liboshi A. Pressure Distribution under Symptom-Free Feet during Barefoot Standing. Foot Ankle Int. 1987; 7: 262-278. doi:10.1177/107110078700700502.

3.

Chan JY, Greenfield ST, Soukup DS, Do HT, Deland JT, Ellis SJ. Contribution of Lateral Column Lengthening to Correction of Forefoot Abduction in Stage IIb Adult Acquired Flatfoot Deformity Reconstruction. Foot Ankle Int. 2015. doi: 10.1177/1071100715596607.

4.

Conti MS, Chan JY, Do HT, Ellis SJ, Deland JT. Correlation of Postoperative Midfoot Position With Outcome Following Reconstruction of the Stage II Adult Acquired Flatfoot Deformity. Foot Ankle Int. 2015. doi: 10.1177/1071100714564217.

5.

Deland JT, Page A, Sung I-H, O'Malley MJ, Inda D, Choung S. Posterior tibial tendon insufficiency results at different stages. HSS J Musculoskelet J Hosp Spec Surg. 2006; 2: 157-160. doi:10.1007/s11420-006-9017-0.

6.

Ellis SJ, Hillstrom H, Cheng R, Lipman J, Garrison G, Deland JT. The development of an intraoperative plantar pressure assessment device. Foot Ankle Int. 2009; 30: 333-340. doi:10.3113/FAI.2009.0333.

7.

Ellis SJ, Stoecklein H, Yu JC, Syrkin G, Hillstrom H, Deland JT. The accuracy of an automasking algorithm in plantar pressure measurements. HSS J Musculoskelet J Hosp Spec Surg. 2011; 7: 57-63. doi:10.1007/s11420-010-9185-9.

8.

Haleem AM, Pavlov H, Bogner E, Sofka C, Deland JT, Ellis SJ. Comparison of Deformity with Respect to the Talus in Patients with Posterior Tibial Tendon Dysfunction and Controls Using Multiplanar Weight-Bearing Imaging or Conventional Radiography. J Bone Jt Surg Am. 2014; 96: e63. doi:10.2106/JBJS.L.01205.

9.

Imhauser CW, Siegler S, Abidi NA, Frankel DZ. The effect of posterior tibialis tendon dysfunction on the plantar pressure characteristics and the kinematics of the arch and the hindfoot. Clin Biomech Bristol Avon. 2004; 19: 161-169. doi:10.1016/j.clinbiomech.2003.10.007.

10.

Johnson KA, Strom DE. Tibialis posterior tendon dysfunction. Clin Orthop. 1989;196–206.

11.

Matheis EA, Spratley EM, Hayes CW, Adelaar RS, Wayne JS. Plantar measurements to determine success of surgical correction of Stage IIb adult acquired flatfoot deformity. J Foot Ankle Surg Off Publ Am Coll Foot Ankle Surg. 2014; 53: 562-566. doi:10.1053/j.jfas.2014.03.020.

12.

Menz HB, Fotoohabadi MR, Munteanu SE, Zammit GV, Gilheany MF. Plantar pressures and relative lesser metatarsal lengths in older people with and without forefoot pain. J Orthop Res. 2013; 31: 427-433. doi:10.1002/jor.22229.

13.

Menz HB, Munteanu SE, Zammit GV, Landorf KB. Foot structure and function in older people with radiographic osteoarthritis of the medial midfoot. Osteoarthritis Cartilage. 2010; 18: 317-322. doi:10.1016/j.joca.2009.11.010.

14.

Murley GS, Menz HB, Landorf KB. A protocol for classifying normal- and flat-arched foot posture for research studies using clinical and radiographic measurements. J Foot Ankle Res. 2009; 2: 22. doi:10.1186/1757-1146-2-22.

15.

Richter M. Technique for Intraoperative Use of Pedography. Tech Foot Ankle Surg. 2006; 5: 88-100.

16.

Richter M, Frink M, Zech S, et al. Intraoperative Pedography: A Validated Method for Static Intraoperative Biomechanical Assessment. Foot Ankle Int. 2006; 27: 833-842. doi:10.1177/107110070602701014.

17.

Richter M, Zech S. Is intraoperative pedography helpful in clinical use--preliminary results of 100 cases from a consecutive, prospective, randomized, controlled clinical study. Foot Ankle Surg Off J Eur Soc Foot Ankle Surg. 2009; 15: 198-204. doi:10.1016/j.fas.2009.03.002.

18.

Richter M, Zech S. Leonard J. Goldner Award 2009: Intraoperative Pedobarography Leads to Improved Outcome Scores: A Level I Study. Foot Ankle Int. 2009; 30: 1029-1036. doi:10.3113/FAI.2009.1029.

19.

Saltzman CL, El-Khoury GY. The hindfoot alignment view. Foot Ankle Int. 1995; 16: 572-576.

20.

Schuh R, Salzberger F, Wanivenhaus AH, Funovics PT, Windhager R, Trnka H-J. Kinematic changes in patients with double arthrodesis of the hindfoot for realignment of planovalgus deformity. J Orthop Res Off Publ Orthop Res Soc. 2013; 31: 517-524. doi:10.1002/jor.22269.

21.

Younger AS, Sawatzky B, Dryden P. Radiographic Assessment of Adult Flatfoot. Foot Ankle Int. 2005; 26: 820-225. doi:10.1177/107110070502601006.
Ethics declarations
Conflict of Interest
Aoife MacMahon, BA, Howard J. Hillstrom, PhD, Jeremy Y. Chan, MD, and Scott J. Ellis, MD, have declared that they have no conflict of interest. Huong T. Do, MA, reports grants from Clinical and Translational Science Center, outside the work. Jonathan T. Deland, MD, reports personal fees from Arthrex, Zimmer, and Integra and personal fees and other from Tornier, outside the work.
Human/Animal Rights
All procedures followed were in accordance with the ethical standards of the responsible committee on human experimentation (institutional and national) and with the Helsinki Declaration of 1975, as revised in 2008 (5).
Informed Consent
Informed consent was obtained from all patients for being included in the study.
Required Author Forms
Required Author Forms Disclosure forms provided by the authors are available with the online version of this article.
Additional information
Level of Evidence: Level III: prospective case-control study.
About this article
Cite this article
MacMahon, A., Hillstrom, H.J., Do, H.T. et al. In Vivo Plantar Pressures in Adult-Acquired Flatfoot Compared to Control Using an Intraoperative Pedobarographic Device. HSS Jrnl 13, 136–145 (2017). https://doi.org/10.1007/s11420-017-9542-z
Received:

Accepted:

Published:

Issue Date:
Keywords
intraoperative pedobarography

adult-acquired flatfoot deformity