Abstract
Background
The incidence of post-dural puncture headache (PDPH) arising from spinal anesthesia in the general population is low. However, patients under 45 years have been shown to exhibit a higher incidence of PDPH, even with small needles.
Questions/Purposes
This study aimed to estimate the incidence of PDPH from a 27G pencil-point needle in ambulatory surgery patients between the ages of 15–45 years and compare incidence of PDPH by age group, sex, and history of headache.
Methods
In this prospective cohort study, 300 patients (15–45 years old) who underwent simple knee arthroscopy under spinal anesthesia with a 27G pencil-point needle were enrolled. Verbal consent was obtained during the initial phone conversation between post-operative days (PODs) 2–5. A PDPH questionnaire was administered during this conversation and between PODs 7–10. Patients who reported a positional headache were contacted by a physician co-investigator, who determined PDPH diagnosis.
Results
Five patients were excluded from analysis due to complicated operative procedures or spinal needle size. The overall PDPH incidence was 2.0% (95% CI 0.9–4.4; 6/295). PDPH incidence in 15–19-year-old patients was 16.7% (95% CI 4.7–44.8; 2/12). The crude relative risk of PDPH was 15.4 (95% CI 2.8–114.4) for patients with and without history of headache and 2.5 (95% CI 0.5–14.8) for females vs. males. Overall, 16.3% (95% CI 12.5–20.9) of patients reported post-operative, non-positional headaches.
Conclusions
There was a low overall incidence of PDPH among patients aged 15–45. Pre-planned subgroup analyses of PDPH incidence by age group revealed a high risk of PDPH among a small sample of 15–19-year-olds.
This is a preview of subscription content, log in to check access.
Access options
Buy single article
Instant access to the full article PDF.
US$ 39.95
Price includes VAT for USA
Subscribe to journal
Immediate online access to all issues from 2019. Subscription will auto renew annually.
US$ 99
This is the net price. Taxes to be calculated in checkout.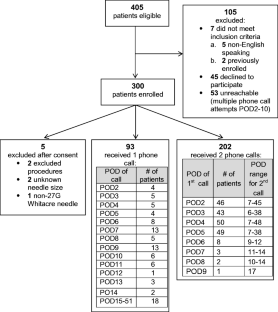 References
1.

Amorim JA, Gomes de Barros MV, Valenca MM. Post-dural (post-lumbar) puncture headache: risk factors and clinical features. Cephalalgia. 2012; 32(12): 916-23.

2.

Amorim JA, Valenca MM. Postdural puncture headache is a risk factor for new postdural puncture headache. Cephalalgia. 2008; 28(1): 5-8.

3.

Brattebo G, Wisborg T, Rodt SA. Intrathecal anaesthesia in patients under 45 years: incidence of postdural puncture symptoms after spinal anaesthesia with 27G needles. Acta Anaesthesiol Scand. 1993; 37(6): 545-8.

4.

Clark JW, Solomon GD, Senanayake PD, et al. Substance P concentration and history of headache in relation to postlumbar puncture headache: towards prevention. J Neurol Neurosurg Psychiatry. 1996; 60(6): 681-3.

5.

Despond O, Meuret P, Hemmings G. Postdural puncture headache after spinal anaesthesia in young orthopaedic outpatients using 27-g needles. Can J Anaesth. 1998; 45(11): 1106-9.

6.

Dittmann M, Schaefer HG, Renkl F, et al. Spinal anaesthesia with 29 gauge Quincke point needles and post dural puncture headache in 2,378 patients. Acta Anaesthesiol Scand. 1994; 38(7): 691-3.

7.

Halpern S, Preston R. Postdural puncture headache and spinal needle design. Metaanalyses Anesthesiol. 1994; 81(6): 1376-83.

8.

Headache Classification Subcommittee of the International Headache Society. The international classification of headache disorders: 2nd edition. Cephalalgia. 2004; 24(1): 9-160.

9.

Janssens E, Aerssens P, Alliet P, et al. Post-dural puncture headaches in children. A literature review. Eur J Pediatr. 2003; 162(3): 117-21.

10.

Kuo C, Edwards A, Mazumdar M, et al. Regional anesthesia for children undergoing orthopedic ambulatory surgeries in the United States, 1996–2006. HSS J. 2012; 8(2): 133-6.

11.

Lowery S, Oliver A. Incidence of postdural puncture headache and backache following diagnostic/therapeutic lumbar puncture using a 22G cutting spinal needle, and after introduction of a 25G pencil point spinal needle. Paediatr Anaesth. 2008; 18(3): 230-4.

12.

Lybecker H, Moller JT, May O, et al. Incidence and prediction of postdural puncture headache. A prospective study of 1021 spinal anesthesias. Anesth Analg. 1990; 70(4): 389-94.

13.

Mosaffa F, Karimi K, Madadi F, et al. Post-dural puncture headache: a comparison between median and paramedian approaches in orthopedic patients. Anesth Pain Med. 2011; 1(2): 66-9.

14.

van de Velde M, Teunkens A, Hanssens M, et al. Post dural puncture headache following combined spinal epidural or epidural anaesthesia in obstetric patients. Anaesth Intensive Care. 2001; 29(6): 595-9.

15.

Wadud R, Laiq N, Qureshi FA, et al. The frequency of postdural puncture headache in different age groups. J Coll Physicians Surg Pak. 2006; 16(6): 389-92.

16.

Wu CL, Rowlingson AJ, Cohen SR, et al. Gender and post-dural puncture headache. Anesthesiology. 2006; 105(3): 613-8.

17.

Wulf HF. The centennial of spinal anesthesia. Anesthesiology. 1998; 89(2): 500-6.

18.

YaDeau JT, Liguori GA, Zayas VM. The incidence of transient neurologic symptoms after spinal anesthesia with mepivacaine. Anesth Analg. 2005; 101(3): 661-5. Table of contents.
Ethics declarations
Conflict of Interest
Kathryn DelPizzo, MD; Jennifer Cheng, PhD; Naomi Dong, MD; Chris R. Edmonds, MD; Richard L. Kahn, MD; Kara G. Fields, MS; Jodie Curren, BSN, RN; Valeria Rotundo; and Victor M. Zayas, MD have declared that they have no conflict of interest.
Human/Animal Rights
All procedures followed were in accordance with the ethical standards of the responsible committee on human experimentation (institutional and national) and with the Helsinki Declaration of 1975, as revised in 2008 (5).
Informed Consent
Informed consent was obtained from all patients for being included in the study.
Required Author Forms
Disclosure forms provided by the authors are available with the online version of this article.
Funding
This work was supported by the Department of Anesthesiology at Hospital for Special Surgery, and REDCap was funded by the National Center for Advancing Translational Science of the National Institutes of Health (UL1TR000457; REDCap use).
Additional information
Level of Evidence: Prognostic study, Level II
Electronic Supplementary Material
Below is the link to the electronic supplementary material.
About this article
Cite this article
DelPizzo, K., Cheng, J., Dong, N. et al. Post-Dural Puncture Headache is Uncommon in Young Ambulatory Surgery Patients. HSS Jrnl 13, 146–151 (2017). https://doi.org/10.1007/s11420-017-9541-0
Received:

Accepted:

Published:

Issue Date:
Keywords
spinal anesthesia

post-dural puncture headache

knee arthroscopy

complications