Abstract
Background
No currently available literature evaluates the effect of Achilles tendon repair on professional baseball players in the Major League Baseball (MLB).
Questions/Purposes
The purpose of this study was to determine the impact of Achilles tendon rupture and repair on MLB players in terms of return to play and batting/fielding performance metrics.
Methods
Achilles tendon rupture data were retrospectively collected using information from the MLB disabled list, injury reports, MLB game summaries, player profiles, and publicly available news articles. Four pair-matched control MLB position players were selected for each of the players who underwent advanced analysis. Baseline characteristics were compared between injured players and controls using Fisher's exact or Student's t test.
Results
Overall, the incidence of Achilles tendon rupture reported in MLB has increased substantially since 1996. Rate of return to play in MLB after Achilles tendon rupture and repair is 62% for position players (non-pitchers) who suffer the injury. There was no association of injury with any player metric. Compared with injury to the non-power side, injury to the power side was associated with fewer plate appearances, fewer triples, an increase in percentage of at-bats with strikeouts, and decreased speed score.
Conclusion
The incidence of Achilles tendon rupture in MLB has increased substantially since 1996. While comparison suggests that overall Achilles tendon injury does not have an effect on MLB player statistics in the years following surgical repair, subset analysis of injury to the rear (power-generating) leg may lead to a decline in those statistics which denote a player's speed and running ability.
This is a preview of subscription content, log in to check access.
Access options
Buy single article
Instant access to the full article PDF.
US$ 39.95
Price includes VAT for USA
Subscribe to journal
Immediate online access to all issues from 2019. Subscription will auto renew annually.
US$ 99
This is the net price. Taxes to be calculated in checkout.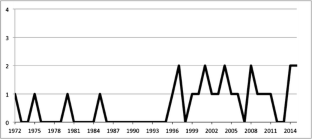 References
1.

Amin NH, Old AB, Tabb LP, Garg R, Toossi N, Cerynik DL. Performance outcomes after repair of complete Achilles tendon ruptures in National Basketball Association players. Am J Sports Med. 2013; 41(8): 1864-8.

2.

Baseball-Reference.com. Home page. Available at: http://www.baseball-reference.com/. Accessed 1 Oct 2015.

3.

Battista V, Combs J, Warme WJ. Asynchronous bilateral Achilles tendon ruptures and androstenediol use. Am J Sports Med. 2003; 31(6): 1007-9.

4.

Erickson BJ, Mascarenhas R, Saltzman BM, Walton D, Lee S, Cole BJ, Bach BR Jr. Is operative treatment of Achilles tendon ruptures superior to nonoperative treatment? A systematic review of overlapping meta-analyses. Orthop J Sports Med. 2015; 3(4). doi:10.1177/2325967115579188

5.

Fabricant PD, Chin CS, Conte S, Coleman SH, Pearle AD, Dines JS. Return to play after anterior cruciate ligament reconstruction in Major League Baseball athletes. Arthroscopy. 2015; 31(5): 896-900.

6.

Jallageas R, Bordes J, Daviet JC, Mabit C, Coste C. Evaluation of surgical treatment for ruptured Achilles tendon in 31 athletes. Orthop Traumatol Surg Res. 2013; 99: 577-84.

7.

Jiang JJ, Leland JM. Analysis of pitching velocity in major league baseball players before and after ulnar collateral ligament reconstruction. Am J Sports Med. 2014; 42(4): 880-5.

8.

Kujala UM, Sarna S, Kaprio J. Cumulative incidence of Achilles tendon rupture and tendinopathy in male former elite athletes. Clin J Sports Med. 2005; 15(3): 133-5.

9.

Liu JN, Garcia GH, Conte S, ElAttrache N, Altchek DW, Dines JS. Outcomes in revision Tommy John surgery in Major League Baseball pitchers. J Shoulder Elb Surg. 2016; 25: 90-7.

10.

Longo UG, Petrillo S, Maffulli N, Denaro V. Acute Achilles tendon rupture in athletes. Foot Ankle Clin N Am. 2013; 18: 319-38.

11.

Marshall NE, Keller RA, Lynch JR, Bey MJ, Moutzouros V. Pitching performance and longevity after revision ulnar collateral ligament reconstruction in Major League Baseball pitchers. Am J Sports Med. 2015; 43: 1051-7.

12.

Martinelli B. Percutaneous repair of the Achilles tendon in athletes. Bull Hosp Jt Dis. 2000; 59(3): 149-52.

13.

McCullough KA, Shaw CM, Anderson RB. Mini-open repair of Achilles rupture in the national football league. J Surg Orthop Adv. 2014; 23(4): 179-83.

14.

Parekh SG, Wray WH 3rd, Brimmo O, Sennett BJ, Wapner KL. Epidemiology and outcomes of Achilles tendon ruptures in the National Football League. Foot Ankle Spec. 2009; 2(6): 283-6.

15.

Rettig AC, Liotta FJ, Klootwyk TE, Porter DA, Mieling P. Potential risk of rerupture in primary Achilles tendon repair in athletes younger than 30 years of age. Am J Sports Med. 2005; 33(1): 119-23.

16.

Stavrou M, Seraphim A, Al-Hadithy N, Mordecai SC. Review article: treatment for Achilles tendon ruptures in athletes. J Orthop Surg. 2013; 21(2): 232-5.

17.

Uquillas CA, Guss MS, Ryan DJ, Jazrawi LM, Strauss EJ. Everything Achilles: knowledge update and current concepts in management. J Bone Joint Surg Am. 2015; 97: 1187-95.

18.

Vadala A, Lanzetti RM, Ciompi A, Rossi C, Lupariello D, Ferretti A. Functional evaluation of professional athletes treated with a mini-open technique for Achilles tendon rupture. Muscles Ligaments Tendons J. 2014; 4(2): 177-81.

19.

Wertz J, Galli M, Borchers JR. Achilles tendon rupture: risk assessment for aerial and ground athletes. Sports Health. 2013; 5(5): 407-9.
Ethics declarations
Conflict of Interest
Bryan M. Saltzman, MD receives personal fees from Nova Science Publishers and Postgraduate Institute for Medicine, outside the work. Bernard R. Bach, Jr., MD reports personal fees from SLACK Incorporated; other from Arthrex, Inc, CONMED Linvatec, DJ Orthopaedics, Ossur, Smith & Nephew, and Tornier; Board or committee member for American Orthopaedic Society for Sports Medicine, outside the work. Simon Lee, MD, reports personal fees from SLACK Incorporated, outside the work; and American Orthopaedic Foot and Ankle Society: Committee member; Foot and Ankle International: Board Membership. Matthew W. Tetreault, MD, Daniel D. Bohl, MD, Danielle Tetreault, BS, have declared that they have no conflict of interest.
Human/Animal Rights
All procedures followed were in accordance with the ethical standards of the responsible committee on human experimentation (institutional and national) and with the Helsinki Declaration of 1975, as revised in 2008 (5).
Informed Consent
Informed consent was waived from all patients for being included in the study.
Required Author Forms
Disclosure forms provided by the authors are available with the online version of this article.
Additional information
Level of Evidence: Therapeutic Study (Level III).
Electronic supplementary material
Below is the link to the electronic supplementary material.
About this article
Cite this article
Saltzman, B.M., Tetreault, M.W., Bohl, D.D. et al. Analysis of Player Statistics in Major League Baseball Players Before and After Achilles Tendon Repair. HSS Jrnl 13, 108–118 (2017). https://doi.org/10.1007/s11420-016-9540-6
Received:

Accepted:

Published:

Issue Date:
Keywords
Achilles tendon

baseball

Major League Baseball

performance