Abstract
Background
Propionibacterium acnes (P. acnes) has become increasingly recognized as a cause of periprosthetic joint infection (PJI).
Questions/Purposes
It is not currently known if the clinical presentation of P. acnes varies depending on the joint being infected.
Methods
We retrospectively reviewed patients infected with P. acnes after total hip, knee, and shoulder arthroplasty from two institutions. Patients were classified as having a PJI based on the Musculoskeletal Infection Society criteria and were excluded if they had a polymicrobial culture. Patient demographics, preoperative laboratory values, and microbiology data were analyzed.
Results
Eighteen knees, 12 hips, and 35 shoulders with a P. acnes PJI were identified. Median ESR was significantly higher in the knee (38.0 mm/h, IQR 18.0–58.0) and hip (33.5 mm/h, IQR 15.3–60.0) groups compared to the shoulder group (11.0 mm/h, IQR 4.5–30.5). C-reactive protein levels were higher in the knee (2.0 mg/dl, IQR 1.3–8.9) and hip (2.4 mg/dl, IQR 0.8–4.9) groups compared to the shoulder group (0.7 mg/dl, IQR 0.6–1.5). Median synovial fluid WBC was significantly higher in the knee group than shoulder group (19,950 cells/mm3, IQR 482–60,063 vs 750 cells/mm3, IQR 0–2825, respectively). Peripheral blood WBC levels were similar between groups, as was mean time of P. acnes growth in culture. Clindamycin resistance was present in all groups.
Conclusion
The manner in which a patient with P. acnes PJI presents is joint specific. Inflammatory markers were significantly higher in the knee and hip groups compared to the hip and shoulder groups, and long hold anaerobic cultures up to 14 days are necessary to accurately identify this organism.
This is a preview of subscription content, log in to check access.
Access options
Buy single article
Instant access to the full article PDF.
US$ 39.95
Price includes VAT for USA
Subscribe to journal
Immediate online access to all issues from 2019. Subscription will auto renew annually.
US$ 99
This is the net price. Taxes to be calculated in checkout.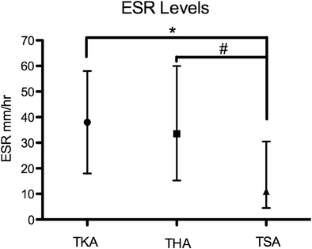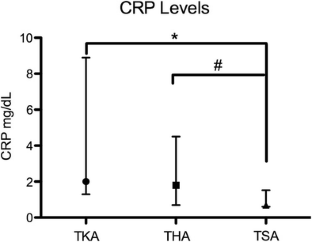 References
1.

Achermann Y, Goldstein EJ, Coenye T, et al. Propionibacterium acnes: from commensal to opportunistic biofilm-associated implant pathogen. Clin Microbiol Rev. 2014; 27(3): 419.

2.

Achermann Y, Tran B, Kang M, et al. Immunoproteomic identification of in vivo-produced propionibacterium acnes proteins in a rabbit biofilm infection model. Clin Vaccine Immunol. 2015; 22(5): 467.

3.

Blomgren G, Lundquist H, Nord CE, et al. Late anaerobic haematogenous infection of experimental total joint replacement. A study in the rabbit using Propionibacterium acnes. J Bone Joint Surg Br. 1981; 63B(4): 614.

4.

Bruggemann H. Insights in the pathogenic potential of Propionibacterium acnes from its complete genome. Semin Cutan Med Surg. 2005; 24(2): 67.

5.

Bruggemann H, Henne A, Hoster F, et al. The complete genome sequence of Propionibacterium acnes, a commensal of human skin. Science. 2004; 305(5684): 671.

6.

Butler-Wu SM, Burns EM, Pottinger PS, et al. Optimization of periprosthetic culture for diagnosis of Propionibacterium acnes prosthetic joint infection. J Clin Microbiol. 2011; 49(7): 2490.

7.

Crane JK, Hohman DW, Nodzo SR, et al. Antimicrobial susceptibility of Propionibacterium acnes isolates from shoulder surgery. Antimicrob Agents Chemother. 2013; 57(7): 3424.

8.

Dodson CC, Craig EV, Cordasco FA, et al. Propionibacterium acnes infection after shoulder arthroplasty: a diagnostic challenge. J Shoulder Elbow Surg. 2010; 19(2): 303.

9.

Fitz-Gibbon S, Tomida S, Chiu BH, et al. Propionibacterium acnes strain populations in the human skin microbiome associated with acne. J Invest Dermatol. 2013; 133(9): 2152.

10.

Frangiamore SJ, Saleh A, Kovac MF, et al. Synovial fluid interleukin-6 as a predictor of periprosthetic shoulder infection. J Bone Joint Surg Am. 2015; 97(1): 63.

11.

Furustrand Tafin U, Corvec S, Betrisey B, et al. Role of rifampin against Propionibacterium acnes biofilm in vitro and in an experimental foreign-body infection model. Antimicrob Agents Chemother. 2012; 56(4): 1885.

12.

Grice EA, Kong HH, Conlan S, et al. Topographical and temporal diversity of the human skin microbiome. Science. 2009; 324(5931): 1190.

13.

Holmberg A, Lood R, Morgelin M, et al. Biofilm formation by Propionibacterium acnes is a characteristic of invasive isolates. Clin Microbiol Infect. 2009; 15(8): 787.

14.

Johnston DH, Fairclough JA, Brown EM, et al. Rate of bacterial recolonization of the skin after preparation: four methods compared. Br J Surg. 1987; 74(1): 64.

15.

Khassebaf J, Hellmark B, Davidsson S, et al. Antibiotic susceptibility of Propionibacterium acnes isolated from orthopaedic implant-associated infections. Anaerobe. 2015; 32: 57.

16.

Kim J, Ochoa MT, Krutzik SR, et al. Activation of toll-like receptor 2 in acne triggers inflammatory cytokine responses. J Immunol. 2002; 169(3): 1535.

17.

Kurtz SM, Ong KL, Schmier J, et al. Future clinical and economic impact of revision total hip and knee arthroplasty. J Bone Joint Surg Am. 2007; 89(Suppl 3): 144.

18.

McDowell A, Gao A, Barnard E, et al. A novel multilocus sequence typing scheme for the opportunistic pathogen Propionibacterium acnes and characterization of type I cell surface-associated antigens. Microbiology. 2011; 157(Pt 7): 1990.

19.

McDowell A, Hunyadkurti J, Horvath B, et al. Draft genome sequence of an antibiotic-resistant Propionibacterium acnes strain, PRP-38, from the novel type IC cluster. J Bacteriol. 2012; 194(12): 3260.

20.

McDowell A, Perry AL, Lambert PA, et al. A new phylogenetic group of Propionibacterium acnes. J Med Microbiol. 2008; 57(Pt 2): 218.

21.

Nakatsuji T, Tang DC, Zhang L, et al. Propionibacterium acnes CAMP factor and host acid sphingomyelinase contribute to bacterial virulence: potential targets for inflammatory acne treatment. PLoS One. 2011; 6(4): e14797.

22.

Nodzo SR, Hohman DW, Crane JK, et al. Hemolysis as a clinical marker for propionibacterium acnes orthopedic infection. Am J Orthop (Belle Mead NJ). 2014; 43(5): E93.

23.

Parvizi J. New definition for periprosthetic joint infection. Am J Orthop (Belle Mead NJ). 2011; 40(12): 614.

24.

Pottinger P, Butler-Wu S, Neradilek MB, et al. Prognostic factors for bacterial cultures positive for Propionibacterium acnes and other organisms in a large series of revision shoulder arthroplasties performed for stiffness, pain, or loosening. J Bone Joint Surg Am. 2012; 94(22): 2075.

25.

Ramage G, Tunney MM, Patrick S, et al. Formation of Propionibacterium acnes biofilms on orthopaedic biomaterials and their susceptibility to antimicrobials. Biomaterials. 2003; 24(19): 3221.

26.

Sampedro MF, Piper KE, McDowell A, et al. Species of Propionibacterium and Propionibacterium acnes phylotypes associated with orthopedic implants. Diagn Microbiol Infect Dis. 2009; 64(2): 138.

27.

Singh JA, Sperling JW, Schleck C, et al. Periprosthetic infections after total shoulder arthroplasty: a 33-year perspective. J Shoulder Elbow Surg. 2012; 21(11): 1534.

28.

Tunney MM, Patrick S, Gorman SP, et al. Improved detection of infection in hip replacements. A currently underestimated problem. J Bone Joint Surg Br. 1998; 80(4): 568.

29.

Tunney MM, Ramage G, Patrick S, et al. Antimicrobial susceptibility of bacteria isolated from orthopedic implants following revision hip surgery. Antimicrob Agents Chemother. 1998; 42(11): 3002.

30.

Zeller V, Ghorbani A, Strady C, et al. Propionibacterium acnes: an agent of prosthetic joint infection and colonization. J Infect. 2007; 55(2): 119.
Ethics declarations
Conflict of Interest
Scott R. Nodzo, MD, K. Keely Boyle, MD, Samrath Bhimani, BS, and Andy O. Miller, MD have declared that they have no conflict of interest. Geoffrey H. Westrich, MD, reports personal fees from Stryker, DJ Orthopaedics, and Mallinckrodt Pharmaceuticals, other from Exactech, outside the work. Thomas R. Duquin, MD, reports personal fees from Zimmer Biomet, outside the work.
Human/Animal Rights
All procedures followed were in accordance with the ethical standards of the responsible committee on human experimentation (institutional and national) and with the Helsinki Declaration of 1975, as revised in 2008 (5).
Informed Consent
Informed consent was waived from all patients for being included in the study.
Required Author Forms
Disclosure forms provided by the authors are available with the online version of this article.
Additional information
Level of Evidence: Prognostic Study Level III
Electronic Supplementary Material
Below is the link to the electronic supplementary material.
About this article
Cite this article
Nodzo, S.R., Boyle, K.K., Bhimani, S. et al. Propionibacterium acnes Host Inflammatory Response During Periprosthetic Infection Is Joint Specific. HSS Jrnl 13, 159–164 (2017). https://doi.org/10.1007/s11420-016-9528-2
Received:

Accepted:

Published:

Issue Date:
Keywords
Propionibacterium acnes

arthroplasty

periprosthetic infection

clinical presentation