Abstract
Background
Fast-pitch softball is one of the fastest growing sports, but there is little research regarding pitcher fatigue. Currently, there are no pitch limits or game counts.
Questions/Purposes
To study the effect of fatigue on youth fast-pitch softball pitchers during a high school season, we hypothesized increased games pitched during the season would correlate with increased player-reported pain and fatigue and decreased with upper extremity strength and range of motion (ROM).
Methods
This prospective cross-sectional study evaluated pre- and postgame shoulder and elbow strength, ROM, pain, and fatigue in 17 high school fast-pitch softball pitchers. These measures were recorded at two games, one at the beginning and one at the end of the season. Pitch count and number of games pitched during the season were recorded. We compared pre- and postgame measurements and measurements made at the beginning and end of the season.
Results
Supraspinatus, forward flexion strength, and external rotation strength in abduction decreased significantly postgame compared to pregame. Pregame pain and fatigue increased with a greater number of games pitched during the season. Forward flexion, supraspinatus, and external rotation strength decreased with increasing number of games pitched during the season.
Conclusions
Fast-pitch softball pitchers experience increased pain and fatigue during a single game and over the entire season. The increase in fatigue may predispose the player to injury. Further studies are needed to understand the relationship of pain and fatigue with predisposition to injury.
This is a preview of subscription content, log in to check access.
Access options
Buy single article
Instant access to the full article PDF.
US$ 39.95
Price includes VAT for USA
Subscribe to journal
Immediate online access to all issues from 2019. Subscription will auto renew annually.
US$ 99
This is the net price. Taxes to be calculated in checkout.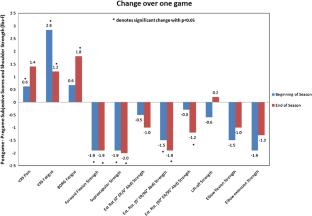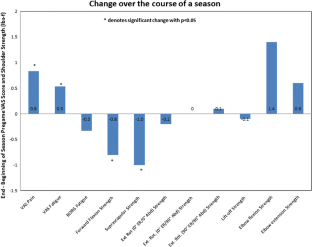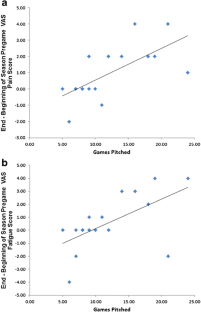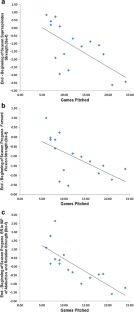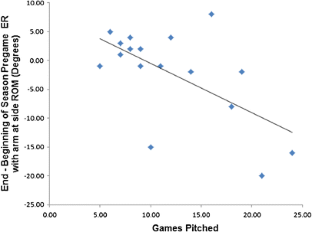 References
1.

Barrentine SW, Fleisig GS, Whiteside JA, Escamilla RF, Andrews JR. Biomechanics of windmill softball pitching with implications about injury mechanisms at the shoulder and elbow. J Orthop Sports Phys Ther. 1998; 28(6): 405-415.

2.

Borg G. Borg's Perceived Exertion and Pain Scales. Champaign, IL: Human Kinetics; 1998.

3.

Escamilla RF, Barrentine SW, Fleisig GS, et al. Pitching biomechanics as a pitcher approaches muscular fatigue during a simulated baseball game. Am J Sports Med. 2007; 35(1): 23-33.

4.

Escamilla RF, Andrews JR. Shoulder muscle recruitment patterns and related biomechanics during upper extremity sports. Sports Med. 2009; 39(7): 569-90.

5.

Flynn M. Softball slides into the 21st century: growth in popularity of softball in schools. Parks Recreation. 1995; 30(4): 36.

6.

Grant S, Aitchison T, Henderson E, et al. A comparison of the reproducibility and the sensitivity to change of visual analogue scales, Borg scales, and Likert scales in normal subjects during submaximal exercise. Chest. 1999; 116(5): 1208-17.

7.

Guido JA Jr, Werner SL, Meister K. Lower-extremity ground reaction forces in youth windmill softball pitchers. J Strength Cond Res. 2009; 23(6): 1873-6.

8.

Hayes K, Walton JR, Szomor ZL, Murrell GA. Reliability of 3 methods for assessing shoulder strength. J Shoulder Elbow Surg. 2002; 11(1): 33-9.

9.

Hawker GA, Mian S, Kendzerska T, French M. Measures of adult pain: visual analog scale for pain (VAS Pain), numeric rating scale for pain (NRS Pain), McGill Pain Questionnaire (MPQ), short-form McGill Pain Questionnaire (SF-MPQ), Chronic Pain Grade scale (CPGS), short form-36 bodily pain scale (SF-36 BPS), and Measure of Intermittent and Constant Osteoarthritis Pain (ICOAP). Arthritis Care Res (Hoboken). 2011; 63(Suppl 11): S240-52.

10.

Hill JL, Humphries B, Weidner T, Newton RU. Female collegiate windmill pitchers: influences to injury incidence. J Strength Cond Res. 2004; 18(3): 426-431.

11.

Jobe FW, Moynes DR. Delineation of diagnostic criteria and a rehabilitation program for rotator cuff injuries. Am J Sports Med. 1982; 10(6): 336-9.

12.

Kelly BT, Kadrmas WR, Speer KP. The manual muscle examination for rotator cuff strength. An electromyographic investigation. Am J Sports Med. 1996; 24: 581-8.24581.

13.

Khanna D, Pope JE, Khanna PP, et al. The minimally important difference for the fatigue visual analog scale in patients with rheumatoid arthritis followed in an academic clinical practice. J Rheumatol. 2008; 35(12): 2339-43.

14.

Loosli AR, Requa RK, Garrick JG, Hanley E. Injuries to pitchers in women's collegiate fast-pitch softball. Am J Sports Med. 1992; 20(1): 35-37.

15.

Lyman S, Fleisig GS, Andrews JR, Osinski ED. Effect of pitch type, pitch count, and pitching mechanics on risk of elbow and shoulder pain in youth baseball pitchers. Am J Sports Med. 2002; 30(4): 463-468.

16.

Maffet MW, Jobe FW, Pink MM, Brault J, Mathiyakom W. Shoulder muscle firing patterns during the windmill softball pitch. Am J Sports Med. 1997; 25(3): 369-374.

17.

Petty DH, Andrews JR, Fleisig GS, Cain EL. Ulnar collateral ligament reconstruction in high school baseball players: clinical results and injury risk factors. Am J Sports Med. 2004; 32(5): 1158-64.

18.

Powell JW, Barber-Foss KD. Injury patterns in selected high school sports: a review of the 1995–1997 seasons. J Athl Train. 1999; 34(3): 277-284.

19.

Ries AL. Minimally clinically important difference for the UCSD Shortness of Breath Questionnaire, Borg scale, and visual analog scale. COPD. 2005; 2(1): 105-10.

20.

Rojas IL, Provencher MT, Bhatia S, et al. Biceps activity during windmill softball pitching: injury implications and comparison with overhand throwing. Am J Sports Med. 2009; 37(3): 558-65.

21.

Tashjian RZ, Deloach J, Porucznik CA, Powell AP. Minimal clinically important differences (MCID) and patient acceptable symptomatic state (PASS) for visual analog scales (VAS) measuring pain in patients treated for rotator cuff disease. J Shoulder Elbow Surg. 2009; 18(6): 927-32.

22.

Tripp BL, Yochem EM, Uhl TL. Functional fatigue and upper extremity sensorimotor system acuity in baseball athletes. J Athl Train. 2007; 42(1): 90-8.

23.

Werner SL, Guido JA, McNeice RP, Richardson JL, Delude NA, Stewart GW. Biomechanics of youth windmill softball pitching. Am J Sports Med. 2005; 33(4): 552-560.

24.

Werner SL, Jones DG, Guido JA Jr, Brunet ME. Kinematics and kinetics of elite windmill softball pitching. Am J Sports Med. 2006; 34(4): 597-603.

25.

USA Baseball Medical and Safety Advisory Committee. Updated: Nov. 2008. http://mlb.mlb.com/usa_baseball/article.jsp?story=medsafety11

26.

Yanagisawa O, Miyanaga Y, Shiraki H, Shimojo H, et al. The effects of various therapeutic measures on shoulder strength and muscle soreness after baseball pitching. Journal of Sports Medicine and Physical Fitness. 2003; 43(2): 189-201.
Ethics declarations
Conflict of Interest
Justin S. Yang, MD, Jeffrey G. Stepan, MD, MSc, Lucas Dvoracek, BS, Robert H. Brophy, MD, and Matthew V. Smith, MD have declared that they have no conflict of interest. Rick W. Wright, MD reports institutional research grants support from Smith Nephew and National Institute Health, National Institute of Arthritis and Musculoskeletal and Skin Diseases, and book royalties from Wolters Kluwer Lippincott Williams & Wilkin, outside the work.
Human/Animal Rights
All procedures followed were in accordance with the ethical standards of the responsible committee on human experimentation (institutional and national) and with the Helsinki Declaration of 1975, as revised in 2008.
Informed Consent
Informed consent was obtained from all patients for being included in the study.
Required Author Forms
Disclosure forms provided by the authors are available with the online version of this article.
Additional information
Level of Evidence
Level IV: Prognostic Study
Work performed at the Department of Orthopedic Surgery, Washington University in St. Louis.
Electronic supplementary material
Below is the link to the electronic supplementary material.
About this article
Cite this article
Yang, J.S., Stepan, J.G., Dvoracek, L. et al. Fast-Pitch Softball Pitchers Experience a Significant Increase in Pain and Fatigue During a Single High School Season. HSS Jrnl 12, 111–118 (2016). https://doi.org/10.1007/s11420-016-9499-3
Received:

Accepted:

Published:

Issue Date:
Keywords
fatigue

softball

pitchers

pitch counts