Abstract
Background
Ganglion cysts are the most common soft tissue tumors of the hand and wrist. There is currently no data available for the recurrence or complication rate of patients that self treat ganglion cysts by using an extrinsic force. Despite this absence of evidence, patients are still using this mode of treatment.
Questions/Purposes
The purpose of the study is to evaluate the efficacy of blunt force as a treatment modality for disrupting ganglion cysts.
Methods
We analyzed videos of patients attempting to disrupt their ganglion cysts of the wrist by blunt force on Youtube.com and surveyed them anonymously. Candidates were contacted through YouTube's email server and given a link to an online questionnaire.
Results
Two hundred fourteen individuals were reviewed with a total of 1,008,913 views. Eighty three percent of videos were effective in treating the cyst. All 38 individuals that responded to the survey reported that the blunt force was effective in immediate elimination of the cyst in an average of 1.6 attempts (range 1–5). A majority (N = 21, 55%) reported no recurrence since the initial disruption of the cyst at a follow-up of 24 months.
Conclusions
YouTube.com was found to be an effective outlet to study a treatment modality that would otherwise be limited by practical considerations. The study showed that a subset of patients is utilizing blunt force trauma to successfully treat wrist ganglion cysts.
This is a preview of subscription content, log in to check access.
Access options
Buy single article
Instant access to the full article PDF.
US$ 39.95
Price includes VAT for USA
Subscribe to journal
Immediate online access to all issues from 2019. Subscription will auto renew annually.
US$ 99
This is the net price. Taxes to be calculated in checkout.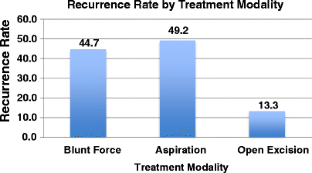 References
1.

Angelides AC, Wallace PF. The dorsal ganglion of the wrist: its pathogenesis, gross and microscopic anatomy, and surgical treatment. J Hand Surg Am. 1976; 1(3): 228-235.

2.

Carp L, Stout AP. Branchial anomolies and neoplasms: A report of thirty-two cases with follow-up results. Ann Surg. 1928; 87(2): 186-209.

3.

Clay NR, Clement DA. The treatment of dorsal wrist ganglia by radical excision. J Hand Surg Br. 1988; 13(2): 187-191.

4.

Craik JD, Walsh SP. Patient outcomes following wrist ganglion excision surgery. J Hand Surg Eur Vol. 2012; 37(7): 673-677.

5.

Dacombe PJ, Robinson J. Falling up the stairs: the equivalent of 'bashing it with a bible' for an ACL ganglion cyst of the knee. BMJ Case Rep. 2012; 2012.

6.

Dias J, Buch K. Palmar wrist ganglion: does intervention improve outcome? A prospective study of the natural history and patient-reported treatment outcomes. J Hand Surg Br. 2003; 28(2): 172-176.

7.

Dias JJ, Dhukaram V, Kumar P. The natural history of untreated dorsal wrist ganglia and patient reported outcome 6 years after intervention. J Hand Surg Eur Vol. 2007; 32(5): 502-508.

8.

Faithfull DK, Seeto BG. The simple wrist ganglion--more than a minor surgical procedure? Hand Surg. 2000; 5(2): 139-143.

9.

Ganglion Cysts. http://www.eatonhand.com/hw/hw013.htm. Accessed August 22, 2013.

10.

Gant J, Ruff M, Janz BA. Wrist ganglions. J Hand Surg Am. 2011; 36(3): 510-512.

11.

Gude W, Morelli V. Ganglion cysts of the wrist: pathophysiology, clinical picture, and management. Curr Rev Musculoskelet Med. 2008; 1(3–4): 205-211.

12.

Ho MW, Singh R, Dias JJ. Re: The natural history of untreated dorsal wrist ganglia and patient reported outcome 6 years after intervention. J Hand Surg Eur Vol. 2008; 33(3): 398-399. author reply 399.

13.

Kang L, Akelman E, Weiss AP. Arthroscopic versus open dorsal ganglion excision: a prospective, randomized comparison of rates of recurrence and of residual pain. J Hand Surg Am. 2008; 33(4): 471-475.

14.

Khan PS, Hayat H. Surgical excision versus aspiration combined with intralesional triamcinolone acetonide injection plus wrist immobilization therapy in the treatment of dorsal wrist ganglion; a randomized controlled trial. J Hand Microsurg. 2011; 3(2): 55-57.

15.

Lidder S, Ranawat V, Ahrens P. Surgical excision of wrist ganglia; literature review and nine-year retrospective study of recurrence and patient satisfaction. Orthop Rev (Pavia). 2009; 1(1): e5.

16.

McEvedy B. The simple ganglion: a review of modes of treatment and an explanation of the frequent failures of surgery. Lancet. 1954; 266(6803): 135-6.

17.

McGrath F. YouTube has 3.5x more Visitors than Active Usors. 2015; http://www.globalwebindex.net/blog/youtube-has-3x-more-visitors-than-active-users. Accessed May 28, 2015.

18.

Nelson CL, Sawmiller S, Phalen GS. Ganglions of the wrist and hand. J Bone Joint Surg Am. 1972; 54(7): 1459-1464.

19.

Nield DV, Evans DM. Aspiration of ganglia. J Hand Surg Br. 1986; 11(2): 264.

20.

Povlsen B, Tavakkolizadeh A. Outcome of surgery in patients with painful dorsal wrist ganglia and arthroscopic confirmed ligament injury: a five-year follow-up. Hand Surg. 2004; 9(2): 171-173.

21.

Rocchi L, Canal A, Fanfani F, Catalano F. Articular ganglia of the volar aspect of the wrist: arthroscopic resection compared with open excision. A prospective randomised study. Scand J Plast Reconstr Surg Hand Surg. 2008; 42(5): 253-259.

22.

Rollins KE, Ollivere BJ, Johnston P. Predicting successful outcomes of wrist and finger Ganglia. Hand Surg. 2013; 18(1): 41-44.

23.

Schreiber JJ, Warren RF, Hotchkiss RN, Daluiski A. An online video investigation into the mechanism of elbow dislocation. J Hand Surg Am. 2013; 38(3): 488-494.

24.

Stephen A, Lyons A, Davis TR. A prospective study of two conservative treatments for ganglia of the wrist. J Hand Surg Br. 1999; 24(1): 104-5.

25.

Thornburg LE. Ganglions of the hand and wrist. J Am Acad Orthop Surg. 1999; 7(4): 231-238.

26.

Westbrook AP, Stephen AB, Oni J, Davis TR. Ganglia: the patient's perception. J Hand Surg Br. 2000; 25(6): 566-567.

27.

YouTube. YouTube. About Us http://www.youtube.com/yt/about/. Accessed July 3, 2013.

28.

Zachariae L, Vibe-Hansen H. Ganglia. Recurrence rate elucidated by a follow-up of 347 operated cases. Acta Chir Scand. 1973; 139(7): 625-628.

29.

Zubowicz V, Ishii CH. Management of ganglion cysts of the hand by simple aspiration. J Hand Surg Am. 1987; 12(4): 618-2.
Ethics declarations
Conflict of Interest
Nikunj N. Trivedi, BS, Joseph J. Schreiber, MD, and Aaron Daluiski, MD, have declared that they have no conflict of interest.
Human/Animal Rights
All procedures followed were in accordance with the ethical standards of the responsible committee on human experimentation (institutional and national) and with the Helsinki Declaration of 1975, as revised in 2008 (5).
Informed Consent
Informed consent was obtained from all patients for being included in the study.
Required Author Forms
Disclosure forms provided by the authors are available with the online version of this article.
Additional information
Level of Evidence: Level IV case series
Work was performed at Department of Orthopaedic Surgery, Hospital for Special Surgery, New York, NY.
About this article
Cite this article
Trivedi, N.N., Schreiber, J.J. & Daluiski, A. Blunt Force May be an Effective Treatment for Ganglion Cysts. HSS Jrnl 12, 100–104 (2016). https://doi.org/10.1007/s11420-016-9493-9
Received:

Accepted:

Published:

Issue Date:
Keywords
cyst

ganglion

wrist ganglion

ganglion cyst

video