Abstract
Background
The posterolateral approach is one of the most common approaches used during hip arthroplasty. A posterior soft tissue repair is necessary to limit the risk of postoperative dislocation. For a trapezoidal capsulotomy, the proximal limb divides the superior band of the iliofemoral ligament (Bigelow's ligament). A transosseous repair frequently leaves a defect in this region, which may elevate the risk for dislocation. The purpose of this article is to describe a simple, rational technique for reinforcing the posterior capsular repair.
Description of Technique
A meticulous exposure of the hip capsule is performed during the posterolateral surgical approach. A trapezoidal capsulotomy is performed. After implantation of the arthroplasty implants, retractors are placed to expose the superior capsule. Prior to transosseous repair of the capsule and short external rotator tendons, the proximal limb of the capsulotomy is reapproximated anatomically and repaired with non-absorbable sutures. If anatomical repair is not possible, leg length and femoral offset should be reassessed carefully.
Discussion
The described modification may further minimize the risk of dislocation following hip arthroplasty, as the superior band of Bigelow's ligament is an additional checkrein to internal and external rotation. This repair provides a secondary intraoperative assessment of leg length and femoral offset to ensure proper biomechanical reconstruction of the hip joint. It is the authors' preferred technique of all hip hemiarthroplasties and total hip arthroplasties, whenever possible.
This is a preview of subscription content, log in to check access.
Access options
Buy single article
Instant access to the full article PDF.
US$ 39.95
Price includes VAT for USA
Subscribe to journal
Immediate online access to all issues from 2019. Subscription will auto renew annually.
US$ 99
This is the net price. Taxes to be calculated in checkout.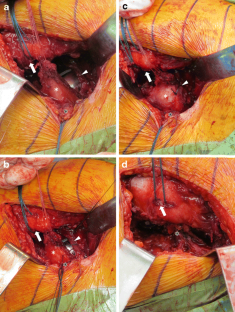 References
1.

Browne JA, Pagnano MW. Surgical technique: A simple soft-tissue-only repair of the capsule and external rotators in posterior-approach THA. Clin Orthop Relat Res. 2012; 470(2): 511-515.

2.

Chan RN, Hoskinson J. Thompson prosthesis for fractured neck of femur. A comparison of surgical approaches. J Bone Joint Surg (Br). 1975; 57(4): 437-443.

3.

Compare 2 Proportions: 2-Sample Non-Inferiority or Superiority. Power and sample size. http://powerandsamplesize.com/Calculators/Compare-2-Proportions/2-Sample-Non-Inferiority-or-Superiority. Accessed April 9, 2015.

4.

Dixon MC, Scott RD, Schai PA, et al. A simple capsulorrhaphy in a posterior approach for total hip arthroplasty. J Arthroplasty. 2004; 19(3): 373-376.

5.

Esposito CI, Gladnick BP, Lee YY, et al. Cup position alone does not predict risk of dislocation after hip arthroplasty. J Arthroplasty. 2015; 30(1): 109-113.

6.

Goel A, Lau EC, Ong KL, Berry DJ, Malkani AL. Dislocation rates following primary total hip arthroplasty have plateaued in the medicare population. J Arthroplast. 2014.

7.

Goldstein WM, Gleason TF, Kopplin M, et al. Prevalence of dislocation after total hip arthroplasty through a posterolateral approach with partial capsulotomy and capsulorrhaphy. J Bone Joint Surg Am. 2001; 83-A Suppl 2(Pt 1): 2-7.

8.

Hedley AK, Hendren DH, Mead LP. A posterior approach to the hip joint with complete posterior capsular and muscular repair. J Arthroplasty. 1990; 5(Suppl): S57-S66.

9.

Kao JT, Woolson ST. Piriformis tendon repair failure after total hip replacement. Orthop Rev. 1992; 21(2): 171-174.

10.

Ko CK, Law SW, Chiu KH. Enhanced soft tissue repair using locking loop stitch after posterior approach for hip hemiarthroplasty. J Arthroplasty. 2001; 16(2): 207-211.

11.

Martin HD, Savage A, Braly BA, et al. The function of the hip capsular ligaments: a quantitative report. Arthroscopy. 2008; 24(2): 188-195.

12.

McLawhorn AS, Potter HG, Cross MB, et al. Posterior Soft Tissue Repair After Primary THA is Durable at Mid-term Followup: A Prospective MRI Study. Clin Orthop Relat Res. 2015; 473(10): 3183-3189.

13.

Mihalko WM, Whiteside LA. Hip mechanics after posterior structure repair in total hip arthroplasty. Clin Orthop Relat Res. 2004; 420: 194-198.

14.

Moore AT. The self-locking metal hip prosthesis. J Bone Joint Surg Am. 1957; 39-A(4): 811-827.

15.

Padgett DE, Della Valle AG. The Press-fit (Ingrowth) Socket. In: Barrack RL, Rosenberg AG, eds. The hip. 2nd ed. Philadelphia: Lippincott Williams & Wilkins; 2006: 283-294.

16.

Pellicci PM, Bostrom M, Poss R. Posterior approach to total hip replacement using enhanced posterior soft tissue repair. Clin Orthop Relat Res. 1998; 355: 224-228.

17.

Pellicci PM, Potter HG, Foo LF, et al. MRI shows biologic restoration of posterior soft tissue repairs after THA. Clin Orthop Relat Res. 2009; 467(4): 940-945.

18.

Revision Hip & Knee Arthroplasty Supplementary Report 2014. Australian Orthopaedic Association National Joint Replacement Registry. https://aoanjrr.dmac.adelaide.edu.au/documents/10180/172288/Revision%20Hip%20%26%20Knee%20Arthroplasty. Accessed April 12, 2015.

19.

Rogmark C, Fenstad AM, Leonardsson O, et al. Posterior approach and uncemented stems increases the risk of reoperation after hemiarthroplasties in elderly hip fracture patients. Acta Orthop. 2014; 85(1): 18-25.

20.

Sioen W, Simon JP, Labey L, et al. Posterior transosseous capsulotendinous repair in total hip arthroplasty : a cadaver study. J Bone Joint Surg Am. 2002; 84-A(10): 1793-1798.

21.

Suh KT, Park BG, Choi YJ. A posterior approach to primary total hip arthroplasty with soft tissue repair. Clin Orthop Relat Res. 2004; 418: 162-167.

22.

Tsai SJ, Wang CT, Jiang CC. The effect of posterior capsule repair upon post-operative hip dislocation following primary total hip arthroplasty. BMC Musculoskelet Disord. 2008;9:29-2474-9-29.

23.

Walters BL, Cooper JH, Rodriguez JA. New findings in hip capsular anatomy: dimensions of capsular thickness and pericapsular contributions. Arthroscopy. 2014; 30(10): 1235-1245.

24.

Weiss AP, Jacobs MA. Posterior augmentation during closure following total hip arthroplasty. Orthopedics. 1990; 13(5): 577-579.
Compliance with Ethical Standards
Conflict of Interest
Joseph Liu, MD; Alexander S. McLawhorn, MD, MBA; Alexander B. Christ, MD; Peteris Dzenis, MD; and John H. Healey, MD, have declared that they have no conflict of interest.
Human/Animal Rights
This article does not contain any studies with human or animal subjects performed by the any of the authors.
Informed Consent
N/A
Required Author Forms
Disclosure forms provided by the authors are available with the online version of this article.
Additional information
Work performed at the Bone & Joint Hospital of Queens, New York Hospital Queens, Flushing, NY and Memorial Sloan Kettering Cancer Center, New York, NY.
Electronic supplementary material
Below is the link to the electronic supplementary material.
About this article
Cite this article
Liu, J., McLawhorn, A.S., Christ, A.B. et al. Direct Repair of the Superior Band of Bigelow's Ligament After Hip Arthroplasty: a Surgical Technique. HSS Jrnl 12, 165–169 (2016). https://doi.org/10.1007/s11420-015-9485-1
Received:

Accepted:

Published:

Issue Date:
Keywords
hip replacement arthroplasty

hemiarthroplasty

joint capsule

ligaments, articular

hip dislocation