This is a preview of subscription content, log in to check access.
Access options
Buy single article
Instant access to the full article PDF.
US$ 39.95
Price includes VAT for USA
Subscribe to journal
Immediate online access to all issues from 2019. Subscription will auto renew annually.
US$ 99
This is the net price. Taxes to be calculated in checkout.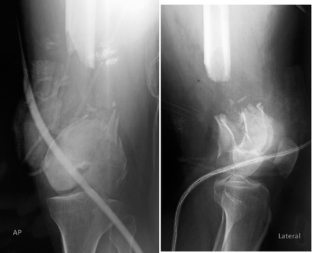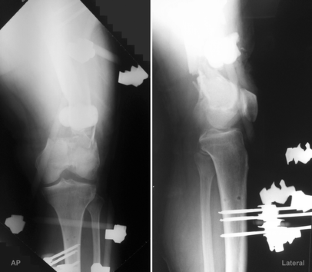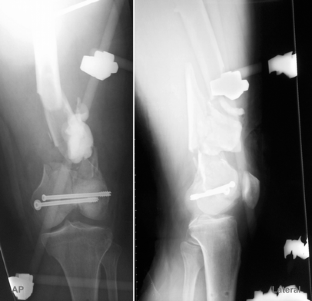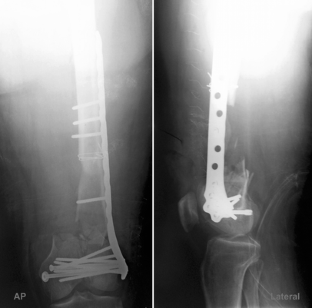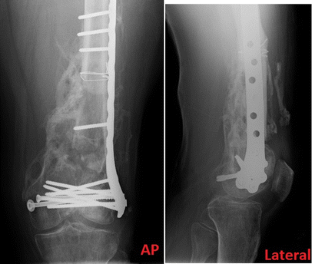 References
1.

Rigal S, Merloz P, Le Nen D, Mathevon H, Masquelet AC. Bone transport techniques in posttraumatic bone defects. Orthop Traumatol Surg Res. 2012; 98(1): 103-8. PubMed PMID: 22257763.

2.

Ridha H, Bernard J, Gateley D, Vesely MJ. Reconstruction of large traumatic segmental defects of the femur using segmental allograft with vascularized fibula inlay. J Reconstr Microsurg. 2011; 27(6): 383-90. PMID: 21717390.

3.

Aizah N, Su Y, Shaifulnizam C, MRos M. Reimplantation of an Extruded Femoral Segment After Gamma Sterilization in A Type IIIA Supracondylar Femur Fracture: A Case Report. Malays Orthop J. 2014; 8(2): 66-8. doi:10.5704/MOJ.1407.015. PubMed PMID: 25279099, PubMed Central PMCID: PMC4181077.

4.

Rouvillain JL, Navarre T, Noseda O, Garron E. Traumatic femoral bone defect reconstruction with an autoclaved autologous femoral segment. A 10-year follow-up. Acta Orthop Belg. 2006; 72(2): 229-233.

5.

Kirkup JR. Traumatic femoral bone loss. J Bone Joint Surg Br. 1965; 47: 106-110.

6.

Abell CF. Extrusion of femoral shaft fragment by trauma and successful replacement: a case report. J Bone Joint Surg Am. 1966; 48: 537-541.

7.

Asada N, Tsuchiya H, Kitaoka K, Mori Y, Tomita K. Massive autoclaved allografts and autografts for limb salvage surgery. A 1–8 year follow-up of 23 patients. Acta Orthop Scand. 1997; 68: 392-395.

8.

Farrelly E, Ferrari L, Roland D, Difelice GS. Reimplantation of an extruded osteoarticular segment of the distal tibia in a 14-year-old girl. Case report and review of the literature. J Orthop Trauma. 2012; 26(3): e24-8. doi:10.1097/BOT.0b013e31821a06b0. PubMed PMID: 22048178, Review.

9.

Kao JT, Comstock C. Reimplantation of a contaminated and devitalized bone fragment after autoclaving in an open fracture. J Orthop Trauma. 1995; 9: 336-340.

10.

Han K-J, Chung N-S, Lee HS, Lee YS. Reimplantation of an Extruded Humeral Segment into an Intact Periosteal Envelope in a Child. A Case Report. JBJS Case Connect. 2012; 2(3): e48. http://dx.doi.org/10.2106/JBJS.CC.K.00149.

11.

Mazurek MT, Pennington SE, Mills WJ. Successful reimplantation of a large segment of femoral shaft in a type IIIA open femur fracture: a case report. J Orthop Trauma. 2003; 17(4): 295-9. PubMed.

12.

Van Winkle BA, Neustein J. Management of open fractures with sterilization of large, contaminated, extruded cortical fragments. Clin Orthop. 1987; 223: 275-281.

13.

Wu CC, Shih CH. A femoral fracture with an extruded 14-cm fragment treated by secondary locked nailing: a case report. Acta Orthop Scand. 1996; 67: 295-296.

14.

Yaman F, Unlü G, Atilgan S, Celik Y, Ozekinci T, Yaldiz M. Microbiologic and histologic assessment of intentional bacterial contamination of bone grafts. J Oral Maxillofac Surg. 2007; 65(8): 1490-4. PubMed.
Ethics declarations
Conflict of Interest
Ashraf M. Fansa, MD, Daniel Paull, MD and Nabil Ebraheim, MD have declared that they have no conflict of interest.
Human/Animal Rights
All procedures followed were in accordance with the ethical standards of the responsible committee on human experimentation (institutional and national) and with the Helsinki Declaration of 1975, as revised in 2008 (5).
Informed Consent
N/A
Required Author Forms:
Disclosure forms provided by the authors are available with the online version of this article.
About this article
Cite this article
Fansa, A.M., Paull, D. & Ebraheim, N. Successful Immediate Re-implantation of an Extruded Femoral Segment: a Case Report. HSS Jrnl 12, 182–185 (2016). https://doi.org/10.1007/s11420-015-9482-4
Received:

Accepted:

Published:

Issue Date:
Keywords
trauma

femur

extruded bone

re-implantation