Abstract
Background
While it is assumed that neuraxial analgesia and pain management may beneficially influence perioperative hemodynamics, few studies provided data quantifying such effects and none have assessed the potential contribution of the addition of a nerve block.
Questions/Purposes
This clinical trial compared the visual analog scale (VAS) scores and measurement of arterial tone using augmentation index of patients who received combined spinal–epidural (CSE) only to patients who received both CSE and lumbar plexus block.
Methods
After obtaining written consent, 92 patients undergoing total hip arthroplasty were randomized to receive either CSE or CSE with lumbar plexus block (LPB). Perioperative pain and arterial tone were measured using VAS scores and augmentation index (AI) respectively, at baseline and at various times postoperatively.
Results
After the exclusion of 2 patients, 44 patients received CSE alone and 46 patients received CSE and LPB. Patient demographics and perioperative characteristics were similar in both groups. AI continuously decreased after placement of a CSE with or without LBP, beyond full resolution of neuraxial and peripheral blockade. Although the LPB group demonstrated a statistically significant reduction of VAS pain scores in the postanesthesia care unit (PACU; P < 0.05), overall, the addition of a LPB did not significantly reduce the AI when compared to the control group.
Conclusion
The addition of a LPB provided better pain control in the PACU but did not reduce the AI, compared to the control group. We conclude that the addition of a LPB may have limited ability to affect arterial tone in the presence of a continuous infusion of epidural analgesics. In summary, the addition of a LPB in patients undergoing total hip arthroplasty is clinically effective and provided better pain control, especially in the immediate postoperative period. The continuous decrease on the AI in both groups beyond the full resolution of the neuroaxial and LPB will require further studies.
This is a preview of subscription content, log in to check access.
Access options
Buy single article
Instant access to the full article PDF.
US$ 39.95
Price includes VAT for USA
Subscribe to journal
Immediate online access to all issues from 2019. Subscription will auto renew annually.
US$ 99
This is the net price. Taxes to be calculated in checkout.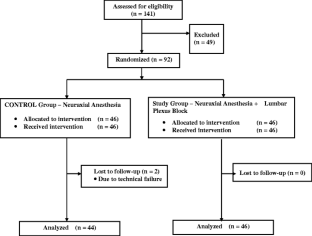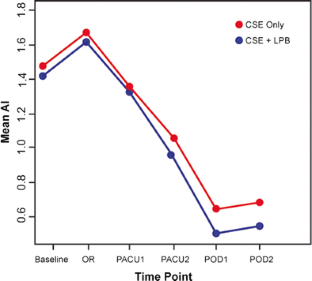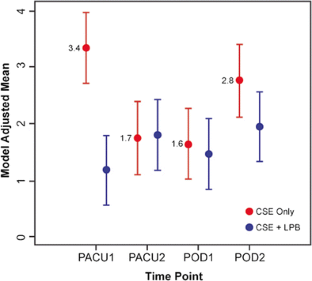 References
1.

American Society of Anesthesiologists. ASA physical status classification system. http://www.asahq.org/Home/For-Members/Clinical-Information/ASA-Physical-Status-Classification-System.

2.

Block BM, Liu SS, Rowlingson AJ, et al. Efficacy of postoperative epidural analgesia: a meta-analysis. JAMA. 2003; 18: 2455-2463.

3.

Capdevila X, Coimbra C, Choquet O. Approaches to the lumbar plexus: success, risks, and outcome. Reg Anesth Pain Med. 2005; 2: 150-6213.

4.

de Oliveira RM, Tenorio SB, Tanaka PP, et al. Control of pain trough epidura328 l block and incidence of cardiac dysrhythmias in postoperative period of thoracic and major abdominal surgical procedures: a comparative study. Rev Bras Anestesiol. 2012; 1: 10-18.

5.

Ginosar Y, Weiniger CF, Kurz V, et al. Sympathectomy-mediated vasodilatation: a randomized concentration ranging study of epidural bupivacaine. Can J Anaesth. 2009; 3: 213-221.

6.

Goytizolo E, Marcello D. Hospital for special surgery clinical trial registry: effect of optimal regional analgesia on arterial tone after total hip arthroplasty. http://www.hss.edu/clinical-trials_arthroplasty-hip-arterial-tone-optimal-regional-analgesia.asp. Accessed July 2012.

7.

Horlocker TT. Pain management in total joint arthroplasty: a historical review. Orthopedics. 2010; 9(Suppl): 14-19.

8.

Ilfeld BM. Continuous peripheral nerve blocks: a review of the published evidence. Anesth Analg. 2011; 4: 904-925.

9.

Ilfeld BM, Mariano ER, Madison SJ, et al. Continuous femoral versus posterior lumbar plexus nerve blocks for analgesia after hip arthroplasty: a randomized, controlled study. Anesth Analg. 2011; 4: 897-903.

10.

Jans O, Bundgaard-Nielsen M, Solgaard S, et al. Orthostatic intolerance during early mobilization after fast-track hip arthroplasty. Br J Anaesth. 2012; 3: 436-443.

11.

Kehlet H, Wilmore DW. Multimodal strategies to improve surgical outcome. Am J Surg. 2002; 6: 630-641.

12.

Ledowski T, Reimer M, Chavez V, et al. Effects of acute postoperative pain on catecholamine plasma levels, hemodynamic parameters, and cardiac autonomic control. Pain. 2012; 4: 759-764.

13.

Ledowski T, Stein J, Albus S, et al. The influence of age and sex on the relationship between heart rate variability, haemodynamic variables and subjective measures of acute post-operative pain. Eur J Anaesthesiol. 2011; 6: 433-437.

14.

Logan JG, Barksdale DJ, Carlson J, et al. Psychological stress and arterial stiffness in Korean Americans. J Psychosom Res. 2012; 1: 53-58.

15.

Lowe A, Harrison W, El-Aklouk E, et al. Non-invasive model342 based estimation of aortic pulse pressure using suprasystolic brachial pressure waveforms. J Biomech. 2009; 13: 2111-2115.

16.

Memtsoudis SG, Ma Y, Gonzalez Della Valle A, et al. Demographics, outcomes, and risk factors for adverse events associated with primary and revision total hip arthroplasties in the United States. Am J Orthop. 2010; 8: E72-E77.

17.

Munir S, Guilcher A, Kamalesh T, et al. Peripheral augmentation index defines the relationship between central and peripheral pulse pressure. Hypertension. 2008; 1: 112-118.

18.

Ni Choileain N, Redmond HP. Cell response to surgery. Arch Surg. 2006; 11: 1132-1140.

19.

Park S, Lakatta EG. Role of inflammation in the pathogenesis of arterial stiffness. Yonsei Med J. 2012; 2: 258-261.

20.

Richman JM, Liu SS, Courpas G, et al. Does continuous peripheral nerve block provide superior pain control to opioids? A meta-analysis. Anesth Analg. 2006; 1: 248-257.

21.

Sharrock NE, Salvati EA. Hypotensive epidural anesthesia for total hip arthroplasty: a review. Acta Orthop Scand. 1996; 1: 91-107.

22.

Stevens RA, Frey K, Liu SS, et al. Sympathetic block during spinal anesthesia in volunteers using lidocaine, tetracaine, and bupivacaine. Reg Anesth. 1997; 4: 325-331.

23.

Wilkinson IB, MacCallum H, Flint L, et al. The influence of heart rate on augmentation index and central arterial pressure in humans. J Physiol. 2000; 263–70.

24.

YaDeau JT, Liguori GA, Zayas VM. The incidence of transient neurologic symptoms after spinal anesthesia with mepivacaine. Anesth Analg. 2005; 3: 661-665.

25.

Zieman SJ, Melenovsky V, Kass DA. Mechanisms, pathophysiology, and therapy of arterial stiffness. Arterioscler Thromb Vasc Biol. 2005; 5: 932-943.
Acknowledgments
We thank Ms. Tara Thompson, RN, BN, for her help with late-night follow-up examinations.
Compliance with Ethical Standards
ᅟ
Conflict of Interest
Enrique A. Goytizolo, MD, Ottokar Stundner, MD, Sandra Hurtado Rúa, PhD, Dorothy Marcello, BA, Valeria Buschiazzo, Ansara M Vaz, MD and Stavros G Memtsoudis, MD, PhD have declared that they have no conflict of interest.
Human/Animal Rights
All procedures followed were in accordance with the ethical standards of the responsible committee on human experimentation (institutional and national) and with the Helsinki Declaration of 1975, as revised in 2008 (5).
Informed Consent
Informed consent was obtained from all patients for being included in the study.
Funding
This study was supported with funds from the Research and Education Fund of the Department of Anesthesiology at the Hospital for Special Surgery. Dr. Sandra Hurtado Rúa was partially supported by the following grant: Clinical Translational Science Center (CTSC) (UL1- RR024996).
Required Author Forms
Disclosure forms provided by the authors are available with the online version of this article.
Additional information
Level of Evidence: Therapeutic study, level II.
Work performed at Hospital for Special Surgery.
Electronic supplementary material
Below is the link to the electronic supplementary material.
About this article
Cite this article
Goytizolo, E.A., Stundner, O., Rúa, S.H. et al. The Effect of Regional Analgesia on Vascular Tone in Hip Arthroplasty Patients. HSS Jrnl 12, 125–131 (2016). https://doi.org/10.1007/s11420-015-9477-1
Received:

Accepted:

Published:

Issue Date:
Keywords
hip arthroplasty

arterial stiffness

vascular resistance

lumbar plexus block