Abstract
Background
It is critical to distinguish gait compensations from true abnormalities when planning interventions to improve gait in individuals with neuromuscular disorders.
Questions/Purposes
The aim of this study was to determine the effect of isolated ankle equinus on knee kinematics during the initial contact phase of gait.
Methods
Ten healthy subjects (29 + 4.3 years) participated, and testing occurred in a motion analysis laboratory. This cross-sectional study investigated five gait conditions in each subject: shoe alone, shoe with unilateral ankle foot orthosis locked at neutral, 10°, 20°, and 30° of fixed ankle plantar flexion. Gait kinematics were recorded and calculated with 3D motion analysis. The difference between the shoe and each brace condition was analyzed by repeated-measures ANOVA. The primary outcome was knee flexion at initial contact.
Results
With greater than 10° simulated ankle equinus, the primary gait compensation pattern was increased knee flexion at initial contact. A significant degree of knee flexion occurred ranging from 7° to 22°.
Conclusion
Our data suggests that observed knee flexion at initial contact may be a compensation pattern in individuals with >10° ankle equinus. However, in individuals with ≤10° ankle equinus, observed knee flexion may represent a true gait deviation. This has clinical significance in the realm of cerebral palsy for treatment planning to improve gait.
This is a preview of subscription content, log in to check access.
Access options
Buy single article
Instant access to the full article PDF.
US$ 39.95
Price includes VAT for USA
Subscribe to journal
Immediate online access to all issues from 2019. Subscription will auto renew annually.
US$ 99
This is the net price. Taxes to be calculated in checkout.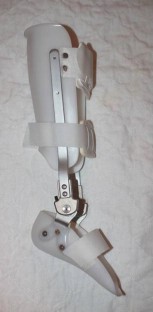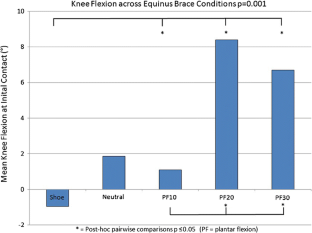 References
1.

Abel MF, Damiano DL, Blanco JS, et al. Relationships among musculoskeletal impairments and functional health status in ambulatory cerebral palsy. J Pediatr Orthop. 2003; 4: 535-541.

2.

Adolfsen SE, Ounpuu S, Bell KJ, DeLuca PA. Kinematic and kinetic outcomes after identical multilevel soft tissue surgery in children with cerebral palsy. J Pediatr Orthop. 2007; 6: 658-667.

3.

Cook RE, Schneider I, Hazlewood ME, Hillman SJ, Robb JE. Gait analysis alters decision-making in cerebral palsy. J Pediatr Orthop. 2003; 3: 292-295.

4.

DeLuca PA, Ounpuu S, Davis RB, Walsh JH. Effect of hamstring and psoas lengthening on pelvic tilt in patients with spastic diplegic cerebral palsy. J Pediatr Orthop. 1998; 6: 712-718.

5.

Desloovere K, Molenaers G, Feys H, Huenaerts C, Callewaert B, Van de Walle P. Do dynamic and static clinical measurements correlate with gait analysis parameters in children with cerebral palsy? Gait Posture. 2006; 3: 302-313.

6.

Dusing SC, Thorpe DE. A normative sample of temporal and spatial gait parameters in children using the GAITRite electronic walkway. Gait Posture. 2007; 1: 135-139.

7.

Etnyre B, Chambers CS, Scarborough NH, Cain TE. Preoperative and postoperative assessment of surgical intervention for equinus gait in children with cerebral palsy. J Pediatr Orthop. 1993; 1: 24-31.

8.

Feng L, Patrick Do K, Aiona M, Feng J, Pierce R, Sussman M. Comparison of hamstring lengthening with hamstring lengthening plus transfer for the treatment of flexed knee gait in ambulatory patients with cerebral palsy. J Child Orthop. 2012; 3: 229-235.

9.

Gage JR. The role of gait analysis in the treatment of cerebral palsy. J Pediatr Orthop. 1994; 6: 701-702.

10.

Gage JR. The identification and treatment of gait problems in cerebral palsy. London: Mac Keith Press; 2009. Distributed by Wiley-Blackwell.

11.

Gough M, Shortland AP. Can clinical gait analysis guide the management of ambulant children with bilateral spastic cerebral palsy? J Pediatr Orthop. 2008; 8: 879-883.

12.

Grant AD, Feldman R, Lehman WB. Equinus deformity in cerebral palsy: a retrospective analysis of treatment and function in 39 cases. J Pediatr Orthop. 1985; 6: 678-681.

13.

Holm I, Tveter AT, Fredriksen PM, Vollestad N. A normative sample of gait and hopping on one leg parameters in children 7-12 years of age. Gait Posture. 2009; 2: 317-321.

14.

Houx L, Lempereur M, Remy-Neris O, Brochard S. Threshold of equinus which alters biomechanical gait parameters in children. Gait Posture. 2013; 4: 582-589.

15.

Kay RM, Dennis S, Rethlefsen S, Reynolds RA, Skaggs DL, Tolo VT. The effect of preoperative gait analysis on orthopaedic decision making. Clin Orthop Relat Res. 2000; 372: 217-222.

16.

Kendall FP, Kendall FP. Muscles: testing and function with posture and pain. 5th ed. Baltimore: Lippincott Williams & Wilkins; 2005.

17.

Lofterod B, Terjesen T. Results of treatment when orthopaedic surgeons follow gait-analysis recommendations in children with CP. Dev Med Child Neurol. 2008; 7: 503-509.

18.

Lofterod B, Terjesen T, Skaaret I, Huse AB, Jahnsen R. Preoperative gait analysis has a substantial effect on orthopedic decision making in children with cerebral palsy: comparison between clinical evaluation and gait analysis in 60 patients. Acta Orthop. 2007; 1: 74-80.

19.

Maas JC, Huijing PA, Dallmeijer AJ, Harlaar J, Jaspers RT, Becher JG. Decrease in ankle-foot dorsiflexion range of motion is related to increased knee flexion during gait in children with spastic cerebral palsy. J Electromyogr Kinesiol. 2015; 2: 339-346.

20.

Norkin CC, White DJ. Measurement of joint motion: a guide to goniometry. 4th ed. Philadelphia: F.A. Davis; 2009.

21.

Perry J, Burnfield JM, Cabico LM. Gait analysis : normal and pathological function. Thorofare: SLACK; 2010.

22.

Rodda J, Graham HK. Classification of gait patterns in spastic hemiplegia and spastic diplegia: a basis for a management algorithm. Eur J Neurol. 2001; 98–108.

23.

Rose SA, DeLuca PA, Davis RB 3rd, Ounpuu S, Gage JR. Kinematic and kinetic evaluation of the ankle after lengthening of the gastrocnemius fascia in children with cerebral palsy. J Pediatr Orthop. 1993; 6: 727-732.

24.

Sutherland DH, Olshen RA, Biden EN, Wyatt MP, eds. The development of mature walking. London: MacKeith Press; 1988.

25.

Ten Berge SR, Halbertsma JP, Maathuis PG, Verheij NP, Dijkstra PU, Maathuis KG. Reliability of popliteal angle measurement: a study in cerebral palsy patients and healthy controls. J Pediatr Orthop. 2007; 6: 648-652.

26.

Thompson NS, Baker RJ, Cosgrove AP, Saunders JL, Taylor TC. Relevance of the popliteal angle to hamstring length in cerebral palsy crouch gait. J Pediatr Orthop. 2001; 3: 383-387.

27.

Whitall J, Getchell N. From walking to running: applying a dynamical systems approach to the development of locomotor skills. Child Dev. 1995; 5: 1541-1553.

28.

Wren TA, Gorton GE 3rd, Ounpuu S, Tucker CA. Efficacy of clinical gait analysis: a systematic review. Gait Posture. 2011; 2: 149-153.

29.

Wren TA, Kalisvaart MM, Ghatan CE, et al. Effects of preoperative gait analysis on costs and amount of surgery. J Pediatr Orthop. 2009; 6: 558-563.

30.

Zwick EB, Saraph V, Zwick G, Steinwender C, Linhart WE, Steinwender G. Medial hamstring lengthening in the presence of hip flexor tightness in spastic diplegia. Gait Posture. 2002; 3: 288-296.
Acknowledgments
The authors acknowledge Howard J. Hillstrom, PhD, for statistics and Andy Tse, CO, for brace fabrication.
Disclosures
ᅟ
Conflict of Interest
Lisa C. Drefus, PT, DPT, Jocelyn F. Hafer, BS, MA, and David M. Scher, MD, have declared that they have no conflict of interest.
Human/Animal Rights
All procedures followed were in accordance with the ethical standards of the responsible committee on human experimentation (institutional and national) and with the Helsinki Declaration of 1975, as revised in 2008 (5).
Informed Consent
Informed consent was obtained from all patients for being included in the study.
Required Auhtor Forms
Disclosure forms provided by the authors are available with the online version of this article.
Electronic Supplementary Material
Below is the link to the electronic supplementary material.
About this article
Cite this article
Drefus, L.C., Hafer, J.F. & Scher, D.M. Simulated Ankle Equinus Affects Knee Kinematics During Gait. HSS Jrnl 12, 39–43 (2016). https://doi.org/10.1007/s11420-015-9474-4
Received:

Accepted:

Published:

Issue Date:
Keywords
equinus

gait

knee kinematics

cerebral palsy

knee flexion

gait compensations