Abstract
Background
Reverse total shoulder arthroplasty (RTSA) provides reconstructive options in patients previously not candidates for total shoulder arthroplasty (TSA) or who have failed previous anatomic TSA. Revision from anatomic TSA to RTSA previously required removal of all components, a difficult and extensive procedure. Modular humeral components permit conversion from anatomic TSA to RTSA without removal of well-fixed humeral components.
Questions/Purposes
Our purpose is to present a case series of patients treated for the unique and not previously reported complication of humeral tray-taper failure following modular RTSA. Challenges in diagnosis and treatment are described, including the use of dynamic fluoroscopy and manufacturer-specific instruments for component revision.
Methods
Five patients with a total of six humeral tray-taper failures were identified from 300 patients with first-generation (titanium) humeral trays over a 7-year period. Dynamic fluoroscopic evaluation aided in diagnosis in a majority of the cases. All cases have been revised to second-generation (cobalt chrome) humeral trays.
Results
Average follow-up was 22 ± 23 months (range 3–60 months). One individual required a second revision for the same complication, but otherwise, no additional procedures were required. Symptom relief was obtained in all patients.
Conclusions
This case series illustrates a previously unpublished complication of humeral tray-taper junction failure following modular RTSA. Clinical and radiographic diagnosis is challenging; however, dynamic fluoroscopic evaluation permits identification of the component failure, and revision surgery results in good outcomes. We must, however, continue to evaluate what activities are recommend for patients following shoulder arthroplasty, specifically reverse total shoulder arthroplasty.
This is a preview of subscription content, log in to check access.
Access options
Buy single article
Instant access to the full article PDF.
US$ 39.95
Price includes VAT for USA
Subscribe to journal
Immediate online access to all issues from 2019. Subscription will auto renew annually.
US$ 99
This is the net price. Taxes to be calculated in checkout.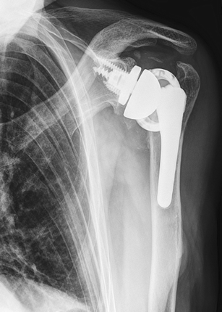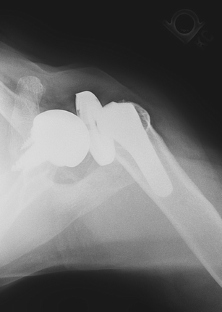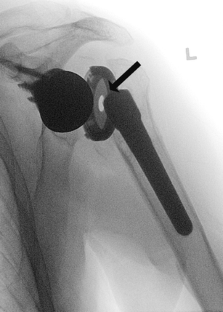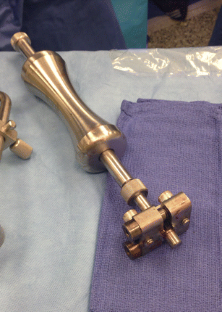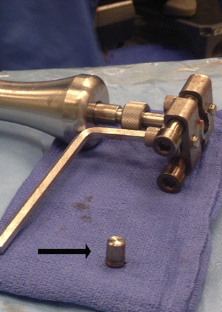 References
1.

Dines DM, Warren RF. Modular shoulder prosthesis. US Patent Office; 4865605, 1989.

2.

Golant A, Christoforou D, Zuckerman JD, Kwon YW. Return to sports after shoulder arthroplasty: a survey of surgeons' preferences. J Shoulder Elbow Surg. 2012; 21: 554-560.

3.

Kelly JD, Zhao JX, Hobgood ER, Norris TR. Clinical results of revision shoulder arthroplasty using the reverse prosthesis. J Shoulder Elbow Surg. 2012; 21: 1516-1525.

4.

Lawrence TM, Ahmadi S, Sanchez-Sotelo J, Sperling JW, Cofield RH. Patient reported activities after reverse shoulder arthroplasty: part II. J Shoulder Elbow Surg. 2012; 21: 1464-1469.

5.

Magnussen RA, Mallon WJ, Willems WJ, Moorman CT. Long-term activity restrictions after shoulder arthroplasty: an international survey of experienced shoulder surgeons. J Shoulder Elbow Surg. 2011; 20: 281-289.

6.

McCarty EC, Marx RG, Maerz D, Altchek D, Warren RF. Sports participation after shoulder replacement surgery. Am J Sports Med. 2008; 36: 1577-1581.

7.

Saltzman BM, Chalmers PN, Gupta AK, Romeo AA, Nicholson GP. Complication rates comparing primary with revision reverse total shoulder arthroplasty. J Shoulder Elbow Surg. 2014; 23: 1647-1654.
Disclosures
Conflict of Interest
Lucas S. McDonald, MD, and Christopher Chin, BA, have declared that they have no conflict of interest. Joshua S. Dines, MD, reports personal fees from Arthrex, outside the work; family member receives royalties from Biomet. Russell F. Warren, MD, reports personal fees from Biomet and other fees from Ivy Sports Medicine and Orthonet and receives royalties for Shoulder Arthroplasty patent, outside the work. David M. Dines, MD, reports personal fees from Biomet and receives royalties for a Shoulder Arthroplasty patent and is a board member of Journal of Shoulder and Elbow Surgery, outside the work.
Human/Animal Rights
All procedures followed were in accordance with the ethical standards of the responsible committee on human experimentation (institutional and national) and with the Helsinki Declaration of 1975, as revised in 2008 (5).
Informed Consent
Informed consent was waived from all patients for being included in the study.
Required Author Forms
Disclosure forms provided by the authors are available with the online version of this article.
Additional information
Work performed at Hospital for Special Surgery, New York, New York.
Level of Evidence: Level IV: Therapeutic Study.
Electronic supplementary material
Below is the link to the electronic supplementary material.
Dynamic fluoroscopic examination of the left shoulder reverse total shoulder arthroplasty demonstrating humeral tray-taper failure. This is clearly identified as the radiolucent space between the humeral tray and the humeral stem as the arm is taken through a range of motion (MOV 46764 kb)
About this article
Cite this article
McDonald, L.S., Dines, J.S., Chin, C. et al. Humeral Tray-Taper Failure in Modular Reverse Total Shoulder Arthroplasty. HSS Jrnl 12, 8–12 (2016). https://doi.org/10.1007/s11420-015-9470-8
Received:

Accepted:

Published:

Issue Date:
Keywords
reverse total shoulder arthroplasty

complication

humeral tray-taper failure

modular components

revision surgery