Abstract
Background
Nerve transfers have demonstrated encouraging outcomes in peripheral nerve reconstructions compared with the conventional direct repair or grafting.
Questions/Purposes
We aimed to identify whether the patient's demographics, delay to surgery, degree of loss of grip and pinch strengths, mechanism of injury, and compliance to hand therapy have an impact on the functional outcome of motor nerve transfers in patients with paralytic hand.
Methods
Fifty-five patients with a mean age of 31.05 (18–48) years with complete isolated high injuries of radial, ulnar, and median nerves, who underwent motor nerve transfers, were reviewed. The outcome was assessed using the Medical Research Council (MRC) scale and measurement of grip and pinch strengths of the hand at minimum 1-year follow-up (mean of 14.4 (12–18) months). Patient's age and gender, delay to surgery, body mass index (BMI), degree of loss of grip and pinch strengths, educational level, occupation, mechanism of injury, and compliance to hand therapy were analyzed to determine their impact on the extent of recovery of hand function.
Results
Forty of fifty five (72.73%) patients regained useful functional recovery (M3–M4) with satisfactory grip hand functions. Worse motor recovery was observed in older ages, delayed surgical intervention, higher BMI, and greater postoperative loss of grip and pinch strengths in comparison to the healthy opposite hand. Better outcomes are significantly associated with higher educational level and postoperative compliance to hand therapy. Contrarily, there was no significant association between gender, occupation, mechanism of injury, and achievement of useful functional recovery.
Conclusions
Successful nerve transfers are expected with experienced skilled surgeons. However, outstanding outcomes are not the standard, with about one fourth failing to achieve M3 grade. The educational level, hand dominance, compliance to hand therapy, loss of grip and pinch strengths, age, injury-surgery interval, and BMI are possible predictors of patients' outcome.
This is a preview of subscription content, log in to check access.
Access options
Buy single article
Instant access to the full article PDF.
US$ 39.95
Price includes VAT for USA
Subscribe to journal
Immediate online access to all issues from 2019. Subscription will auto renew annually.
US$ 99
This is the net price. Taxes to be calculated in checkout.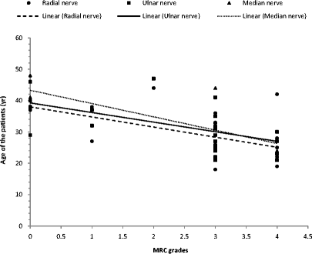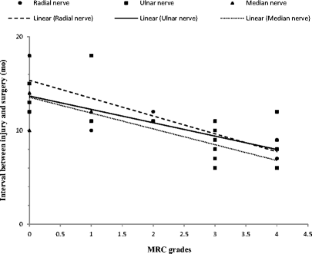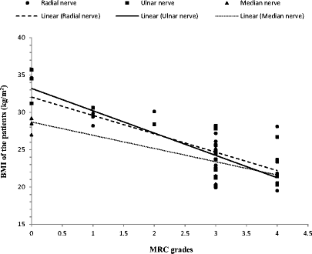 References
1.

Bekar E, Altunkaynak BZ, Balci K, Aslan G, Ayyildiz M, Kaplan S. Effects of high fat diet induced obesity on peripheral nerve regeneration and levels of GAP 43 and TGF-beta in rats. Biotechnic & histochemistry : official publication of the Biological Stain Commission. 2014; 89(6): 446-456.

2.

Brown JM, Tung TH, Mackinnon SE. Median to radial nerve transfer to restore wrist and finger extension: technical nuances. Neurosurgery. 2010; 66(3 Suppl Operative): 75-83. discussion 83.

3.

Bruyns CN, Jaquet JB, Schreuders TA, Kalmijn S, Kuypers PD, Hovius SE. Predictors for return to work in patients with median and ulnar nerve injuries. The Journal of hand surgery. 2003; 28(1): 28-34.

4.

Christie B. Doctors revise Declaration of Helsinki. BMJ : British Medical Journal. 2000; 321(7266): 913-913.

5.

Chuang DC, Yeh MC, Wei FC. Intercostal nerve transfer of the musculocutaneous nerve in avulsed brachial plexus injuries: evaluation of 66 patients. The Journal of hand surgery. 1992; 17(5): 822-828.

6.

Daniels L, Worthingham C. Muscle testing: techniques of manual examination. 5th ed. Philadelphia: Saunders; 1986.

7.

Dellhag B, Bjelle A. A five-year followup of hand function and activities of daily living in rheumatoid arthritis patients. Arthritis care and research : the official journal of the Arthritis Health Professions Association. 1999; 12(1): 33-41.

8.

Fries JF, Spitz P, Kraines RG, Holman HR. Measurement of patient outcome in arthritis. Arthritis & Rheumatism. 1980; 23(2): 137-145.

9.

Garcia-Pena C, Garcia-Fabela LC, Gutierrez-Robledo LM, Garcia-Gonzalez JJ, Arango-Lopera VE, Perez-Zepeda MU. Handgrip strength predicts functional decline at discharge in hospitalized male elderly: a hospital cohort study. PloS one. 2013; 8(7), e69849.

10.

Gutowski KA: Peripheral nerves and tendon transfers. In: The Hand. Volume II, edn.: Selected Readings in Plastic Surgery; 2003: 23.

11.

Hsiao EC, Fox IK, Tung TH, Mackinnon SE. Motor nerve transfers to restore extrinsic median nerve function: case report. Hand (N Y). 2009; 4(1): 92-97.

12.

Jaquet JB, Luijsterburg AJ, Kalmijn S, Kuypers PD, Hofman A, Hovius SE. Median, ulnar, and combined median-ulnar nerve injuries: functional outcome and return to productivity. The Journal of trauma. 2001; 51(4): 687-692.

13.

Lee JY, Kircher MF, Spinner RJ, Bishop AT, Shin AY. Factors affecting outcome of triceps motor branch transfer for isolated axillary nerve injury. The Journal of hand surgery. 2012; 37(11): 2350-2356.

14.

Lurje A. Concerning Surgical Treatment of Traumatic Injury to the Upper Division of the Brachial Plexus (Erb's Type). Annals of surgery. 1948; 127(2): 317-326.

15.

Mackinnon SE, Colbert SH. Nerve transfers in the hand and upper extremity surgery. Techniques in hand & upper extremity surgery. 2008; 12(1): 20-33.

16.

Mackinnon SE, Roque B, Tung TH. Median to radial nerve transfer for treatment of radial nerve palsy. Case report. Journal of neurosurgery. 2007; 107(3): 666-671.

17.

Millesi H. Microsurgery of peripheral nerves. The Hand. 1973; 5(2): 157-160.

18.

Mondelli M, Padua L, Reale F. Carpal tunnel syndrome in elderly patients: results of surgical decompression. Journal of the peripheral nervous system : JPNS. 2004; 9(3): 168-176.

19.

Newton CD, Nunamaker DM: Textbook of small animal orthopaedics. In., edn. Philadelphia: Lippincott; 1985: xxiv, 1140 p.

20.

Novak CB, Mackinnon SE. Distal anterior interosseous nerve transfer to the deep motor branch of the ulnar nerve for reconstruction of high ulnar nerve injuries. Journal of reconstructive microsurgery. 2002; 18(6): 459-464.

21.

Ray WZ, Mackinnon SE. Clinical outcomes following median to radial nerve transfers. The Journal of hand surgery. 2011; 36(2): 201-208.

22.

Ruijs AC, Jaquet JB, Kalmijn S, Giele H, Hovius SE. Median and ulnar nerve injuries: a meta-analysis of predictors of motor and sensory recovery after modern microsurgical nerve repair. Plastic and reconstructive surgery. 2005; 116(2): 484-494. discussion 495-496.

23.

Venkatramani H, Bhardwaj P, Faruquee SR, Sabapathy SR. Functional outcome of nerve transfer for restoration of shoulder and elbow function in upper brachial plexus injury. Journal of brachial plexus and peripheral nerve injury. 2008; 3: 15.
Disclosures
Conflict of Interest
Asser A. Sallam, MD, PhD, Mohamed S. El-Deeb, MD and Mohamed A. Imam, MD, PhD have declared that they have no conflict of interest.
Human/Animal Rights
All procedures followed were in accordance with the ethical standards of the responsible committee on human experimentation (institutional and national) and with the Helsinki Declaration of 1975, as revised in 2000 [5].
Informed Consent
Informed consent was waived from all patients for being included in the study.
Required Author Forms
Disclosure forms provided by the authors are available with the online version of this article.
Additional information
Level of Evidence: Therapeutic Study, Level IV (Retrospective Study)
About this article
Cite this article
Sallam, A.A., El-Deeb, M.S. & Imam, M.A. Useful Functional Outcome Can Be Achieved After Motor Nerve Transfers in Management of the Paralytic Hand. An Observational Study. HSS Jrnl 12, 2–7 (2016). https://doi.org/10.1007/s11420-015-9459-3
Received:

Accepted:

Published:

Issue Date:
Keywords
nerve transfer

neurotization

median nerve

radial nerve

ulnar nerve