Abstract
Background
Previous work indicates that 30 mg isobaric mepivacaine 1.5% plus 10 μg fentanyl produces reliable anesthesia for knee arthroscopy with a more rapid recovery profile than 45 mg mepivacaine.
Questions/Purposes
This randomized controlled trial compared plain mepivacaine to three reduced doses of mepivacaine with 10 μg fentanyl for spinal anesthesia.
Methods
Following written informed consent, subjects undergoing outpatient knee arthroscopy were prospectively randomized into one of four groups: mepivacaine 37.5 mg (M37.5); mepivacaine 30 mg plus fentanyl 10 μg (M30/F10); mepivacaine 27 mg plus fentanyl 10 μg (M27/F10); and mepivacaine 24 mg plus fentanyl 10 μg (M24/F10). The spinal was evaluated by the blinded anesthetist and surgeon. In the post-anesthesia care unit, sensory and motor block resolution was assessed. Subjects rated their satisfaction with the overall experience.
Results
Group M30/F10 (n = 6) had two "fair" anesthetics, and group M27/F10 (n = 10) had one "fair" and one "inadequate" anesthetic. Both groups were eliminated from further enrollment per study protocol. The recovery profiles showed little difference between groups M37.5 and M30/F10, except for motor block resolution (median (25th percentile, 75th percentile): 171 (135, 195) and 128 (120, 135), respectively). Groups M27/F10 and M24/F10 demonstrated recovery profiles that were faster than group M37.5. Patient satisfaction was 10/10 for all groups.
Conclusions
Adding fentanyl 10 μg to a lower dose of mepivacaine 1.5% can lead to quicker recovery profiles. However, this advantage of a quicker recovery must be weighed against the likelihood of an incomplete anesthetic.
This is a preview of subscription content, log in to check access.
Access options
Buy single article
Instant access to the full article PDF.
US$ 39.95
Price includes VAT for USA
Subscribe to journal
Immediate online access to all issues from 2019. Subscription will auto renew annually.
US$ 99
This is the net price. Taxes to be calculated in checkout.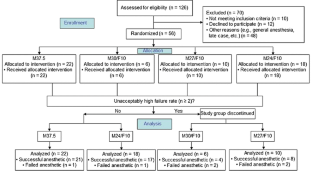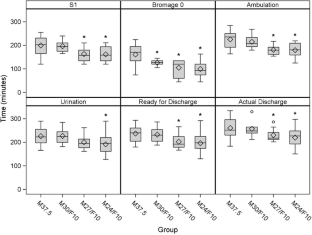 References
1.

Ben-David B, DeMeo PJ, Lucyk C, Solosko D. A comparison of minidose lidocaine-fentanyl spinal anesthesia and local anesthesia/propofol infusion for outpatient knee arthroscopy. Anesth Analg. 2001; 93: 319-25.

2.

Ben-David B, Solomon E, Levin H, Admoni H, Goldik Z. Intrathecal fentanyl with small-dose dilute bupivacaine: better anesthesia without prolonging recovery. Anesth Analg. 1997; 85: 560-5.

3.

Carpenter RL, Hogan QH, Liu SS, Crane B, Moore J. Lumbosacral cerebrospinal fluid volume is the primary determinant of sensory block extent and duration during spinal anesthesia. Anesthesiology. 1998; 89: 24-9.

4.

Hanley JA, Lippman-Hand A. If nothing goes wrong, is everything all right? Interpreting zero numerators. JAMA. 1983; 249(13): 1743-5.

5.

Harris PA, Taylor R, Thielke R, Payne J, Gonzalez N, Conde JG. Research electronic data capture (REDCap) — metadata-driven methodology and workflow process for providing translational research informatics support. J Biomed Inform. 2009; 42(2): 377-81.

6.

Higuchi H, Hirata J, Adachi Y, Kazama T. Influence of lumbosacral cerebrospinal fluid density, velocity, and volume on extent and duration of plain bupivacaine spinal anesthesia. Anesthesiology. 2004; 100: 106-14.

7.

Jacobson L, Chabal C, Brody MC. A dose-response study of intrathecal morphine: efficacy, duration, optimal dose, and side effects. Anesth Analg. 1988; 67(11): 1082-8.

8.

Newcombe RG. Interval estimation for the difference between independent proportions: comparison of eleven methods. Stat Med. 1998; 17(8): 873-90.

9.

O'Donnell D, Manickam B, Perlas A, et al. Spinal mepivacaine with fentanyl for outpatient knee arthroscopy surgery: a randomized controlled trial. Can J Anaesth. 2010; 57: 32-38.

10.

Panni MK, George RB, Allen TK, et al. Minimum effective dose of spinal ropivacaine with and without fentanyl for postpartum tubal ligation. Int J Obstet Anesth. 2010; 19(4): 390-4.

11.

Zayas VM, Liguori GA, Chisholm MF, Susan MH, Gordon MA. Dose response relationships for isobaric spinal mepivacaine using the combined spinal epidural technique. Anesth Analg. 1999; 89: 1167-71.
Disclosures
Conflict of Interest
Richard L. Kahn, MD, Jennifer Cheng, PhD, James J. Bae, MSc, Kara Fields, MS, John G. Muller, MD, John D. MacGillivray, MD, Howard A. Rose, MD, Riley J. Williams III, MD, and Jacques T. YaDeau, MD, PhD have declared that they have no conflict of interest.
Human/Animal Rights
All procedures followed were in accordance with the ethical standards of the responsible committee on human experimentation (institutional and national) and with the Helsinki Declaration of 1975, as revised in 2008 (5).
Informed Consent
Informed consent was obtained from all patients for being included in the study.
Funding
This work was supported by the Department of Anesthesiology at Hospital for Special Surgery, and REDCap was funded by the National Institute of Health: Clinical and Translational Science Center (UL1-RR024996).
Required Author Forms
Disclosure forms provided by the authors are available with the online version of this article.
Additional information
Level of Evidence: Level II: Therapeutic Study.
Electronic supplementary material
Below is the link to the electronic supplementary material.
About this article
Cite this article
Kahn, R.L., Cheng, J., Bae, J.J. et al. Lower-Dose Mepivacaine Plus Fentanyl May Improve Spinal Anesthesia for Knee Arthroscopy. HSS Jrnl 11, 236–242 (2015). https://doi.org/10.1007/s11420-015-9454-8
Received:

Accepted:

Published:

Issue Date:
Keywords
fentanyl

mepivacaine

spinal anesthesia

arthroscopy