Abstract
Background
Conversion of an arthrodesed hip to a total hip arthroplasty (THA) is a technically demanding procedure with high complication rates. One important issue is that determining the amount of correction for a leg length discrepancy (LLD) can be difficult at the planning stage.
Questions/Purposes
The aim of this study is to assess the reliable use of computer tomography (CT)-based three-dimensional (3D) preoperative planning for the conversion of arthrodesed hips to THAs.
Patients and Methods
CT-based preoperative 3D planning was used to convert three arthrodesed hips to THAs. The efficacy of the planning was evaluated with postoperative radiographic measurements involving the amount of correction for LLD, position of components, difference between targeted and actual values, and ratio of the moment arms. The clinical assessment was performed with the Japanese Orthopaedic Association (JOA) hip score before and after THA.
Results
The mean amount of LLD correction and median LLD after THA were 16 mm (range, 15–17 mm) and 4 mm (range, 1–10 mm), respectively. The components were implanted close to the positions recommended by the preoperative simulation. The ratio of the moment arms indicated that the converted hips were reconstructed in a biomechanically correct manner. The implants for the conversion to THA were successfully positioned with respect to anatomy and functional outcome. The median JOA hip score improved from 50 points (range, 30–66 points) preoperatively to 79 points (range, 72–86 points) at the latest follow-up.
Conclusions
CT-based preoperative 3D planning could be a powerful guidance tool for conversion of arthrodesed hips to THAs.
This is a preview of subscription content, log in to check access.
Access options
Buy single article
Instant access to the full article PDF.
US$ 39.95
Price includes VAT for USA
Subscribe to journal
Immediate online access to all issues from 2019. Subscription will auto renew annually.
US$ 99
This is the net price. Taxes to be calculated in checkout.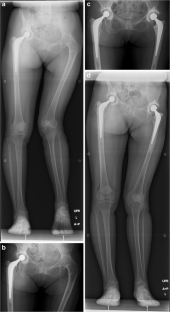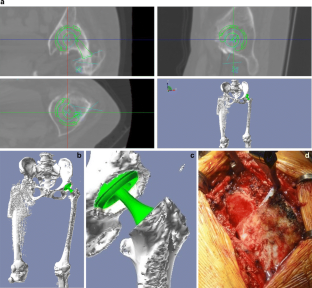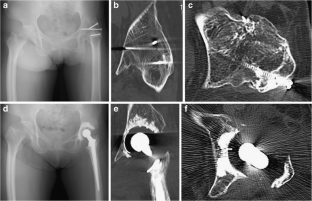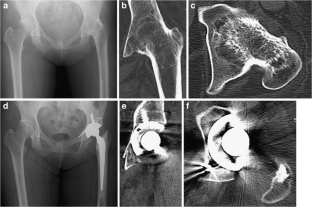 References
1.

Akiyama H, Kawanabe K, Ito T, Goto K, Nangaku M, Nakamura T. Computed tomography-based navigation to determine the femoral neck osteotomy and location of the acetabular socket of an arthrodesed hip. J Arthroplasty. 2009; 24: 1292.e1-4.

2.

Boisgard S, Descamps S, Bouillet B. Complex primary total hip arthroplasty. Orthop Traumatol Surg Res. 2013; 99: S34-S42.

3.

Callaghan JJ, Brand RA, Pedersen DR. Hip arthrodesis. A long-term follow-up. J Bone Joint Surg Am. 1985; 67: 1328-1335.

4.

Fernandez-Fairen M, Murcia-Mazón A, Torres A, Querales V, Murcia A Jr. Is total hip arthroplasty after hip arthrodesis as good as primary arthroplasty? Clin Orthop Relat Res. 2011; 469: 1971-1983.

5.

Gore DR, Murray MP, Sepic SB, Gardner GM. Walking patterns of men with unilateral surgical hip fusion. J Bone Joint Surg Am. 1975; 57: 759-765.

6.

Iida H, Yamamuro T, Kasai R, Matsusue Y, Matsuda Y. Computer simulation for the planning of total hip replacement: improvement of the simulation system. In: Imura S, Akamatsu N, Azume H, Sawai K, Tanaka S, eds. Hip biomechanics. Tokyo: Springer; 1993: 139-147.

7.

Joshi AB, Markovic L, Hardinge K, Murphy JC. Conversion of a fused hip to total hip arthroplasty. J Bone Joint Surg Am. 2002; 84: 1335-1341.

8.

Kilgus DJ, Amstutz HC, Wolgin MA, Dorey FJ. Joint replacement for ankylosed hips. J Bone Joint Surg Am. 1990; 72: 45-54.

9.

Morsi E. Total hip arthroplasty for fused hips; planning and techniques. J Arthroplasty. 2007; 22: 871-875.

10.

Panagiotopoulos KP, Robbins GM, Masri BA, Duncan CP. Conversion of hip arthrodesis to total hip arthroplasty. Instr Course Lect. 2001; 50: 297-305.

11.

Richards CJ, Duncan CP. Conversion of hip arthrodesis to total hip arthroplasty: survivorship and clinical outcome. J Arthroplasty. 2011; 26: 409-413.

12.

Sponseller PD, McBeath AA, Perpich M. Hip arthrodesis in young patients. A long term follow-up. J Bone Joint Surg Am. 1984; 66: 853-859.

13.

Sugano N, Atsumi T, Ohzono K, Kubo T, Hotokebuchi T, Takaoka K. The 2001 revised criteria for diagnosis, classification, and staging of idiopathic osteonecrosis of the femoral head. J Orthop Sci. 2002; 7: 601-605.

14.

Villanueva M, Sobrón FB, Parra J, Rojo JM, Chana F, Vaquero J. Conversion of arthrodesis to total hip arthroplasty: clinical outcome, complications, and prognostic factors of 21 consecutive cases. HSS J. 2013; 9: 138-144.
Disclosures
Conflict of Interest
Yutaka Kuroda, MD, PhD, Haruhiko Akiyama, MD, PhD, Manabu Nankaku, BS, MS, Kazutaka So, MD, PhD, Koji Goto, MD, PhD and Shuichi Matsuda, MD, PhD have declared that they have no conflict of interest.
Human/Animal Rights
All procedures followed were in accordance with the ethical standards of the responsible committee on human experimentation (institutional and national) and with the Helsinki Declaration of 1975, as revised in 2008 (5).
Informed Consent
Informed consent was obtained from all patients for being included in the study.
Required Author Forms
Disclosure forms provided by the authors are available with the online version of this article.
Additional information
Work performed at the Department of Orthopaedic Surgery, Graduate School of Medicine, Kyoto University, Kyoto, Japan, and Department of Orthopaedic Surgery, Gifu University, Rehabilitation Unit, Kyoto University Hospital, Kyoto, Japan
Electronic supplementary material
Below is the link to the electronic supplementary material.
About this article
Cite this article
Kuroda, Y., Akiyama, H., Nankaku, M. et al. A Report on Three Consecutive Cases using Computer Tomography 3D Preoperative Planning for Conversion of Arthrodesed Hips to Total Hip Replacements. HSS Jrnl 11, 76–83 (2015). https://doi.org/10.1007/s11420-014-9423-7
Received:

Accepted:

Published:

Issue Date:
Keywords
arthrodesed hip

leg length discrepancy

preoperative planning

total hip arthroplasty