Abstract
Background
Unicompartmental knee arthroplasty (UKA) is an increasingly popular option for the treatment of single-compartment knee osteoarthritis (OA) in adults. Two options for tibial resurfacing during UKA are (1) all-polyethylene inlays and (2) metal-backed onlays.
Questions/Purposes
The aim of this study was to determine whether there are any differences in clinical outcomes with inlay versus onlay tibial components.
Patients and Methods
We identified 39 inlays and 45 onlays, with average 2.7- and 2.3-year follow-up, respectively, from a prospective robotic-assisted surgery database. The primary outcome was the Western Ontario and McMaster University Arthritis Index (WOMAC), subcategorized by the pain, stiffness, and function subscores, at 2 years postoperatively. The secondary outcome was the need for secondary or revision surgery.
Results
Postoperative WOMAC pain score was 3.1 for inlays and 1.6 for onlays (p = 0.03). For 25 inlays and 30 onlays with both preoperative and postoperative WOMAC data, pain score improved from 8.3 to 4.0 for inlays versus from 9.2 to 1.7 for onlays (p = 0.01). Function score improved from 27.5 to 12.5 for inlays versus from 32.1 to 7.3 for onlays (p = 0.03). Four inlays and one onlay required a secondary or revision procedure (p = 0.18).
Conclusions
We advise using metal-backed onlays during UKA to improve postoperative clinical outcomes.
This is a preview of subscription content, log in to check access.
Access options
Buy single article
Instant access to the full article PDF.
US$ 39.95
Price includes VAT for USA
Subscribe to journal
Immediate online access to all issues from 2019. Subscription will auto renew annually.
US$ 99
This is the net price. Taxes to be calculated in checkout.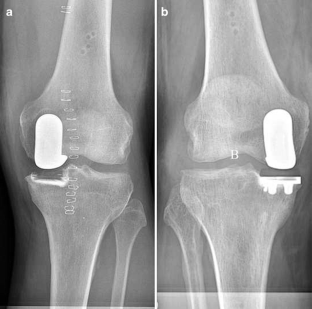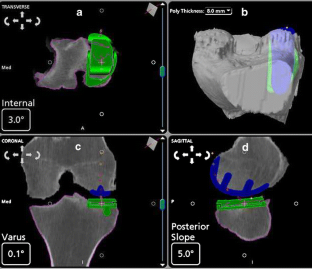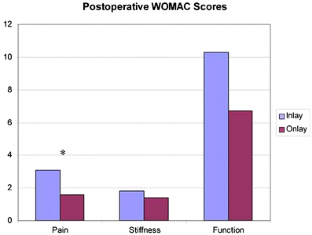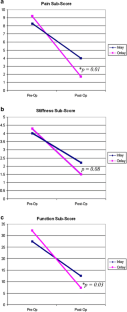 References
1.

Abdeen AR, Collen SR, Vince KG. Fifteen-year to 19-year follow-up of the insall-burstein-1 total knee arthroplasty. J Arthroplasty. 2010; 2: 173-178.

2.

Berger RA, Meneghini RM, Jacobs JJ, et al. Results of unicompartmental knee arthroplasty at a minimum of ten years of follow-up. J Bone Joint Surg Am. 2005; 5: 999-1006.

3.

Cartier P, Sanouiller JL, Grelsamer RP. Unicompartmental knee arthroplasty surgery. 10-year minimum follow-up period. J Arthroplasty. 1996; 7: 782-788.

4.

Foran JR, Brown NM, Della Valle CJ, et al. Long-term survivorship and failure modes of unicompartmental knee arthroplasty. Clin Orthop Relat Res. 2013; 1: 102-108.

5.

Karia M, Masjedi M, Andrews B, Jaffry Z, Cobb J. Robotic assistance enables inexperienced surgeons to perform unicompartmental knee arthroplasties on dry bone models with accuracy superior to conventional methods. Adv Orthop. 2013:481039

6.

Lachiewicz PF, Soileau ES. Fifteen-year survival and osteolysis associated with a modular posterior stabilized knee replacement. A concise follow-up of a previous report. J Bone Joint Surg Am. 2009; 6: 1419-1423.

7.

Marmor L. Unicompartmental arthroplasty of the knee with a minimum ten-year follow-up period. Clin Orthop Relat Res. 1988; 228: 171-177.

8.

Niinimaki T, Eskelinen A, Makela K, et al. Unicompartmental knee arthroplasty survivorship is lower than TKA survivorship: A 27-year finnish registry study. Clin Orthop Relat Res. 2014; 5: 1496-1501.

9.

Padgett DE, Stern SH, Insall JN. Revision total knee arthroplasty for failed unicompartmental replacement. J Bone Joint Surg Am. 1991; 2: 186-190.

10.

Pearle AD, O'Loughlin PF, Kendoff DO. Robot-assisted unicompartmental knee arthroplasty. J Arthroplasty. 2010; 2: 230-237.

11.

Sisto DJ, Blazina ME, Heskiaoff D, et al. Unicompartment arthroplasty for osteoarthrosis of the knee. Clin Orthop Relat Res. 1993; 286: 149-153.

12.

Walker PS, Parakh DS, Chaudhary ME, et al. Comparison of interface stresses and strains for onlay and inlay unicompartmental tibial components. J Knee Surg. 2011; 2: 109-115.
Disclosures
ᅟ
Conflict of Interest
Brian P. Gladnick, MD, Denis Nam, MD, Saker Khamaisy, MD and Sophia Paul, BA have declared that they have no conflict of interest. Andrew D. Pearle, MD reports personal fees from Pipeline Orthopaedics, stock options from Blue Belt Technologies and research grants from MAKO Surgical, outside the work.
Human/Animal Rights
All procedures followed were in accordance with the ethical standards of the responsible committee on human experimentation (institutional and national) and with the Helsinki Declaration of 1975, as revised in 2008 (5).
Informed Consent
Informed consent was obtained from all patients for being included in the study.
Additional information
Level of Evidence: Level III
Electronic Supplementary Material
Below is the link to the electronic supplementary material.
About this article
Cite this article
Gladnick, B.P., Nam, D., Khamaisy, S. et al. Onlay Tibial Implants Appear to Provide Superior Clinical Results in Robotic Unicompartmental Knee Arthroplasty. HSS Jrnl 11, 43–49 (2015). https://doi.org/10.1007/s11420-014-9421-9
Received:

Accepted:

Published:

Issue Date:
Keywords
unicompartmental knee arthroplasty

tibial resurfacing

inlay

onlay

robotic surgery