Abstract
Background
The increasing demand for total knee arthroplasty (TKR) and the initiatives to reduce health care spending have put the responsibility for efficient care on hospitals and providers. Multidisciplinary care pathways have been shown to shorten length of stay and result in improved short-term outcomes. However, common problems such as post-op nausea, orthostasis, and quad weakness remain, while reliance on discharge to rehabilitation facilities may also prolong hospital stay.
Questions/Purposes
Our aim was to document that combined modifications of our traditional clinical pathway for unilateral TKR could lead to improved short-term outcomes. We pose the following research questions. Can pathway modifications which include intra-articular infusion and saphenous nerve block (SNB) provide adequate pain relief and eliminate common side effects promoting earlier mobilization? Can planning for discharge to home avoid in-patient rehab stays? Can these combined modifications decrease length of stay even in patients with complex comorbidities indicated by higher ASA class? Will discharge to home incur an increase in complications or a failure to achieve knee range of motion?
Patients and Methods
A retrospective review was performed and identified two cohorts. Group A included 116 patients that underwent unilateral TKR for osteoarthritis between August 2009 and August 2010. Group B included 171 patients that underwent unilateral TKR for osteoarthritis between February 2012 to February 2013. Group A patients were treated with spinal anesthesia with patient-controlled epidural analgesia (PCEA)/femoral nerve block (FNB) for the first 48 h after surgery. Discharge planning was initiated after admission. Group B had spinal anesthesia with SNB and received a continuous intra-articular infusion of 0.2% ropivicaine for 48 h post-op. Discharge planning was initiated with a case manager prior to hospitalization and discharge to home was declared the preferred approach. An intensive home PT program was made available through a program with our local home care agency. Outcomes assessed and compared between groups included length of stay, incidence of post-op nausea, dizziness, in-hospital falls, occurrence of complications including wound infection and the recovery of range of motion at 6 weeks, 3 months, and 1 year post-op.
Results
Pain control was similar between the groups but Group B had fewer side effects. With the new pathway, length of stay (LOS) was reduced from 4.32 to 3.64 days with a similar LOS reduction across all ASA classes. There was no increase in Group B wound or other complications. Return of ROM was similar between groups.
Conclusions
Our findings suggest that replacing PCEA and FNB with intra-articular analgesia with a SNB allows for improved early recovery following TKR. That, combined with pre-op discharge planning and initiation of an intensive home PT program, reduced average length of stay.
This is a preview of subscription content, log in to check access.
Access options
Buy single article
Instant access to the full article PDF.
US$ 39.95
Price includes VAT for USA
Subscribe to journal
Immediate online access to all issues from 2019. Subscription will auto renew annually.
US$ 99
This is the net price. Taxes to be calculated in checkout.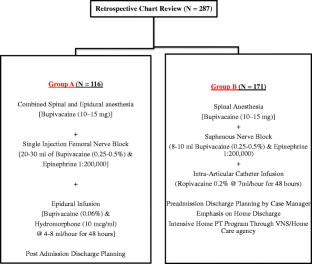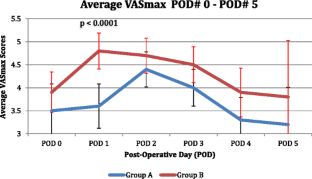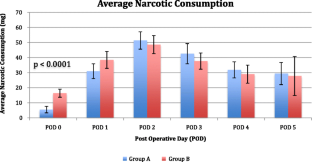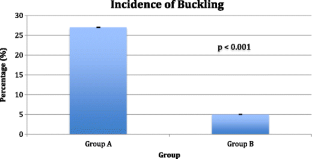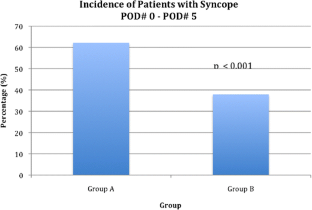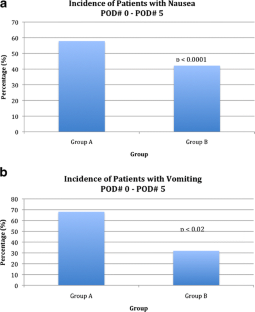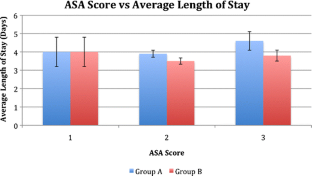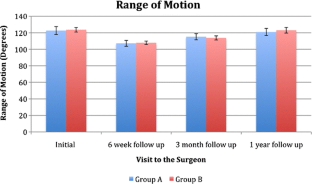 References
1.

Ayalon O, Liu S, Flics S, Cahill J, Juliano K, Cornell C. A Multimodal Clinical Pathway Can Reduce Length of Stay after Total Knee Arthroplasty. HSS Journal. 2011; 9: 9-15.

2.

Chapman SR, Duncan SR, Brodsky JB, Brose WG. Morphine and Hydromorphone Epidural Analgesia: A Prospective Randomized Trial. Anesthesiology. 1992; 77: 1090-1094.

3.

Chimenti CE, Ingersoll G. Comparison of Home Healthcare Physical Therapy Outcomes Following Total Joint Replacement with and without Subacute Rehabilitation. J Geriatr Phys Ther. 2007; 30: 102-108.

4.

Choi PT, Bhandari M, Scott J, Douketis J. Epidural for Pain Relief Following Hip or Knee Replacement. Cochrane Database Syst Rev 2003; 3: CD003071

5.

Cram P, Xu X, Kates SL, et al. Total Knee Arthroplasty Volume, Utilization and Outcomes Among Medicare Beneficiaries 1991–2010. JAMA. 2012; 308: 1227-1236.

6.

Feibel RJ, Dervin GF, Kim PR, Beaule PE. Major Complications Associated with Femoral Nerve Catheters for Knee Arthroplasty. The Journal of Arthroplasty. 2009; 24(suppl 1): 132-137.

7.

Gomes-Cardero P, Rodriguez MC. Post-operative Analgesia in TKA: Ropivicaine Continuous Intraarticular Infusion. Clin Orthop Relat Res. 2010; 468: 1242-1247.

8.

Ilfeld BM, Duke KB, Donohue MC. The Association Between Lower Extremity Continuous Peripheral Nerve Blocks and Patient Falls after Knee and Hip Arthroplasty. Anesth Analg. 2010; 111: 1552-1554.

9.

Iyengar KP, Nadkarni JB, Ivanovic N, Mahale A. Targeted Early Rehabilitation at Home after Total Hip and Knee Joint Replacement: Does It Work? Disabil Rehabil. 2007; 29: 495-502.

10.

Kandasami M, Kinninmouth AWG, Sarungi M, Baines J, Scott NB. Femoral Nerve Block for Total Knee Replacement: A word of Caution. The Knee. 2009; 16: 98-100.

11.

Krames ES. Ontraspinal Opiod Therapy for Chronic Nonmalignant Pain: Current Practice and Current Guidelines. J Pain Symptom Management. 1996; 11(4): 333-352.

12.

Kurtz S, Ong K, Laue E, Mowat F, Halpern M. Projections of Primary and Revision Hip and Knee Arthroplasty in the United States from 2005–2030. J Bone Joint Surg. 2007; 89: 780-785.

13.

Larsen K, Hansen TB, Thomsen PB, Christiansen T, Soballe K. Cost-effectiveness of Accelerated Perioperative Care and Rehabilitation after Total Hip and Total Knee Arthroplasty. J Bone Joint Surg Am. 2009; 91: 761-772.

14.

Losina E, Walensky RP, Kessler CL, et al. Cost Effectiveness of Total Knee Arthroplasty in the United States: Patient risk and Hospital Volume. Arch Int Med. 2009; 169: 1113-1121.

15.

Oldmeadow LB, McBurney H, Robertson VJ. Hospital Stay and Discharge Outcomes after Knee Arthroplasty: Implications for Physiotherapy Practice. Aust J Physiotherapy. 2002; 48: 117-121.

16.

Raphael M, Jaeger M, van Vlymen J. Easily Adoptable Total Joint Arthroplasty Program Allows Discharge Home in Two Days. Can J Anaesth. 2011; 58: 902-910.

17.

Rasmussen S, Kramhoft MU, Sperling KP, Pedersen JHL. Increased Flexion and Reduced Hospital Stay with Continuous Intraarticular Morphine and Ropivacaine After Total Knee Replacement. Acta Orthop Scand. 2004; 75: 606-609.

18.

Reinhardt KR, Duggal S, Umunna BP, Reinhardt GA, Nam D, Alexiades M, Cornell CN. Intraarticular Analgesia versus Epidural Plus Femoral Nerve Block after TKA: A Randomized Double Blind Trial. Clin Orthop Relat Res DOI 10.1007/s11999-013-3351-6

19.

Roos EM. Effectiveness and Practice Variation in Rehabilitation after Joint Replacement. Curr Opin Rheumatol. 2003; 15: 160-162.

20.

Sharma S, Iorio R, Specht LM, Healey WL. Complications of Femoral Nerve Block for Total Knee Arthroplasty

21.

Slover J, Zuckerman J. Increasing Use of Total Knee Replacement and Revision Surgery. Editorial JAMA. 2012; 308: 1266-1268.

22.

Toftdahl K, Nikolajsen L, Haraldsted V, Madsen F, Tonnesen EK, Soballe K. Comparison of peri-and Intraarticular Analgesia with Femoral Nerve Block after Total Knee Arthroplasty. Acta Orthopaedia. 2007; 78: 172-179.
Acknowledgments
We are grateful for the technical assistance of Kathy Kujawa, Clinical Data Manager at HSS in the preparation of this manuscript. We are also indebted to the Visiting Nurse Service of Greater New York for their willingness to partner with us on developing our intensive in-home physical therapy protocol. As always, we thank our anesthesia colleagues who assisted us with this study.
Disclosures
ᅟ
Conflict of Interest:
Shivi Duggal, BS, MBA, Susan Flics, RN, MA, MBA and Charles Cornell, MD have declared that they have no conflict of interest.
Human/Animal Rights:
All procedures followed were in accordance with the ethical standards of the responsible committee on human experimentation (institutional and national) and with the Helsinki Declaration of 1975, as revised in 2008 [5].
Informed Consent:
Informed consent was waived from all patients for being included in the study.
Required Author Forms:
Disclosure forms provided by the authors are available with the online version of this article.
Additional information
Level of Evidence: Therapeutic Study Level III
About this article
Cite this article
Duggal, S., Flics, S. & Cornell, C.N. Intra-articular Analgesia and Discharge to Home Enhance Recovery Following Total Knee Replacement. HSS Jrnl 11, 56–64 (2015). https://doi.org/10.1007/s11420-014-9414-8
Received:

Accepted:

Published:

Issue Date:
Keywords
clinical pathways

intra-articular analgesia

TKR