Abstract
Background
Anterior cervical discectomy and fusion (ACDF) is widely accepted as a predictably excellent procedure. On the other hand, adjacent level pathology following ACDF is a well-known phenomenon which undercuts surgical outcome. However, the extent to which ACDF accelerates this phenomenon in the naturally degenerating cervical spine is still to be understood.
Questions/Purposes
To summarize the current evidence concerning adjacent segment pathology in the light of biomechanics, natural history, postoperative course, and comparison between ACDF and total disc replacement (TDR).
Methods
This is a study of published articles. Articles were searched by the topic of adjacent disc pathology in cervical spine through Google Scholar and Pubmed. After review, 37 published articles were deemed suitable for the subject of this study.
Results
Biomechanical and clinical data strongly suggest that ASP is a presentation of the iatrogenically accelerated natural aging process of cervical spine. However, power study analysis with assumption showed that current RCTs are unlikely to prove this suggestion.
Conclusion
Available data suggests that iatrogenic factors play a significant role in adjacent segment pathology following ACDF.
This is a preview of subscription content, log in to check access.
Access options
Buy single article
Instant access to the full article PDF.
US$ 39.95
Tax calculation will be finalised during checkout.
Subscribe to journal
Immediate online access to all issues from 2019. Subscription will auto renew annually.
US$ 99
Tax calculation will be finalised during checkout.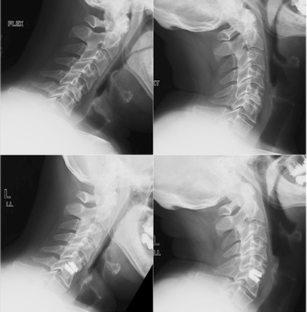 References
1.

Anderson P, Sasso R, Metcalf N, et al. Reoperation rates for cervical arthroplasty vs. arthrodesis. Spine J. 2005; 5: 76 s-77 s.

2.

Anderson PA, Sasso RC, Riew KD. Comparison of adverse events between the Bryan artificial cervical disc and anterior cervical arthrodesis. Spine. 2008; 33: 1305-12.

3.

Anderson PA, Andersson GBJ, Arnold PM, et al. Terminology. Spine. 2012; 37(22S): 8-9.

4.

Auerbach J, Anakwenze O, Milby A, et al. Segmental contribution toward total cervical range of motion: a comparison of cervical disc arthroplasty and fusion. Spine. 2011; 36: E1593-9.

5.

Baba H, Furusawa N, Imura S, et al. Late radiographic findings after anterior cervical fusion for spondylotic myeloradiculopathy. Spine. 1993; 18: 2167-73.

6.

Burkus JK, Haid RW, Traynelis VC, Mummaneni PV. Long-term clinical and radiographic outcomes of cervical disc replacement with the prestige disc: results from a prospective randomized controlled clinical trial. J Neurosurg Spine. 2010; 13: 308-18.

7.

Carrier CS, Bono CM, Lebl DR. Evidence-based analysis of adjacent segment degeneration and disease after ACDF: a systematic review. Spine J 2013

8.

Delamarter RB, Zigler J. Five-year reoperation rates, cervical total disc replacement versus fusion, results of a prospective randomized clinical trial. Spine. 2013; 38(9): 711-717.

9.

Dmitriev AE, Cunningham BW, Hu N, et al. Adjacent level intradis- cal pressure and segmental kinematics following a cervical total disc arthroplasty: an in vitro human cadaveric model. Spine. 2005; 30: 1165-72.

10.

Eck JC, Humphreys SC, Lim TH, et al. Biomechanical study on the effect of cervical spine fusion on adjacent-level intradiscal pressure and segmental motion. Spine. 2002; 27: 2431-4.

11.

Goffin J, Geusens E, Vantomme N, et al. Long-term follow-up after interbody fusion of the cervical spine. J Spinal Disord Tech. 2004; 17: 79-85.

12.

Gore DR. Roentgenographic findings in the cervical spine in asymptomatic persons; a ten-year follow-up. Spine. 2001; 26(22): 2463-2466.

13.

Gore DR, Sepic SB. Anterior cervical fusion for degenerated or pro- truded discs: a review of one hundred forty-six patients. Spine. 1984; 9(7): 667-71.

14.

Gore DR, Gardner GM, Sepic SB, et al. Roentgenographic findings following anterior cervical fusion. Skeletal Radiol. 1986; 15: 556-559.

15.

Grunhagen T, Shirazi-Adl A, Fairbank JCT, et al. Intervertebral disk nutrition: a review of factors influencing concentrations of nutrients and metabolites. Orthop Clin N Am. 2011; 42: 465-477.

16.

Helgeson MD, Bevevino AJ, Hilibrand AS. Update on the evidence for adjacent segment degeneration and disease. Spine J. 2013; 13: 342-351.

17.

Hilibrand AS, Robbins M. Adjacent segment degeneration and adjacent segment disease: the consequences of spinal fusion? Spine J. 2004; 4: 190s-194s.

18.

Hilibrand AS, Carlson GD, Palumbo MA, et al. Radiculopathy and myelopathy at segments adjacent to the site of a previous anterior cervical arthrodesis. J Bone Joint Surg Am. 1999; 81: 519-28.

19.

Ishihara H, Kanamori M, Kawaguchi Y, et al. Adjacent segment disease after anterior cervical interbody fusion. Spine J. 2004; 4: 624-8.

20.

Jawahar A, Cavanaugh DA, Kerr EJ 3rd, et al. Total disc arthroplasty does not affect the incidence of adjacent segment degeneration in cervical spine: results of 93 patients in three prospective randomized clinical trials. Spine J. 2010; 10: 1043-8.

21.

Kelly MP, Mok JM, Frisch RF, Tay BK. Adjacent segment motion after anterior cervical discectomy and fusion versus prodisc-c cervical total disk arthroplasty: analysis from a randomized, controlled trial. Spine. 2011; 36: 1171-9.

22.

Lee MJ, Dettori JR, Standaert CJ, et al. The natural history of degeneration of the lumbar and cervical spines: a systematic review. Spine. 2012; 37(22S): S18-S30.

23.

Maldonado CV, Paz RD, Martin CB. Adjacent-level degeneration after cervical disc arthroplasty versus fusion. Eur Spine J. 2011; 20(3 Suppl): 403-7.

24.

Matsumoto M, Okada E, Ichihara D, et al. Anterior cervical decompression and fusion accelerates adjacent segment degeneration: comparison with asymptomatic volunteers in a ten-year magnetic resonance imaging follow-up study. Spine. 2010; 35: 36-43.

25.

Mummaneni PV, Burkus JK, Haid RW, et al. Clinical and radiographic analysis of cervical disc arthroplasty compared with allograft fusion: a randomized controlled clinical trial. J Neurosurg Spine. 2007; 6: 198-9.

26.

Okada E, Matsumoto M, Fujiwara H, et al. Disc degeneration of cervical spine on MRI in patients with lumbar disc herniation: comparison study with asymptomatic volunteers. Eur Spine J. 2011; 20(4): 585-591.

27.

Park JB, Cho YS, Riew KD. Development of adjacent-level ossification in patients with an anterior cervical plate. J Bone Joint Surg Am. 2005; 87: 558-63.

28.

Robertson JT, Papadopoulos SM, Traynelis VC. Assessment of adjacent-segment disease in patients treated with cervical fusion or arthroplasty: a prospective 2-year study. J Neurosurg Spine. 2005; 3: 417-23.

29.

Robinson RA, Smith GW. Anterolateral cervical disc removal and interbody fusion for cervical disc syndrome. (Abstract.) Bull. Johns Hopkins Hosp. 1955; 96: 223-224.

30.

Sasso RC, Smucker JD, Hacker RJ, et al. Artificial disc versus fusion. Spine. 2007; 26(32): 2933-2940.

31.

Sasso R, Anderson P, Riew K, et al. Results of cervical arthroplasty compared with anterior discectomy and fusion: four-year clinical outcomes in a prospective, randomized, controlled trial. J Bone Joint Surg Am. 2011; 93: 1684-92.

32.

Satyajit M, Girardi F, Sama A, et al. National trends in anterior cervical fusion procedures. Spine. 2010; 35(15): 1454-1459.

33.

Smith GW, Robinson RA. The treatment of certain cervical-spine disorders by anterior removal of the intervertebral disc and interbody fusion. J Bone Jt Surg. 1958; 40-A: 607-624.

34.

Wilder FV, Hall BJ, Barrett JP. Smoking and osteoarthritis: is there an association? the clearwater osteoarthritis study. Osteoarthritis Cartilage 2003;11:29.

35.

Wilder FV, Fahlman L, Donnelly R. Radiographic cervical spine osteoarthritis progression rates: a longitudinal assessment. Rheu- matol Int 2011;31:45

36.

Yue WM, Brodner W, Highland TR. Long-term results after anterior cervical discectomy and fusion with allograft and plating: a 5- to 11-year radiologic and clinical follow-up study. Spine. 2005; 30: 2138-44.
Disclosures
Conflict of Interest
Haruki Ueda, MD, Russel C. Huang, MD, and Darren R. Lebl, MD have declared that they have no conflict of interest
Human/Animal Rights
This article does not contain any studies with human or animal subjects performed by the any of the authors.
Informed Consent
N/A.
Required Author Forms
Disclosure forms provided by the authors are available with the online version of this article.
About this article
Cite this article
Ueda, H., Huang, R.C. & Lebl, D.R. Iatrogenic Contributions to Cervical Adjacent Segment Pathology. HSS Jrnl 11, 26–30 (2015). https://doi.org/10.1007/s11420-014-9409-5
Received:

Accepted:

Published:

Issue Date:
Keywords
adjacent segment pathology

anterior cervical discectomy and fusion

total disc arthroplasty

prognosis

reoperation