Abstract
Background
Arthritis remains an important public health problem.
Questions/Purposes
This study aims to determine the effects of an adapted (vs. the original) Arthritis Self-Help Program (ASHP) among older adults. Specifically, this study sought to determine (1) whether the adapted ASHP improved attendance, retention, and adherence with the use of self-management exercises, and (2) if the original ASHP's beneficial outcomes were maintained following program adaptation.
Patient and Methods
Individuals age ≥60 with self-reported arthritis were recruited from eight New York City senior centers. Participants were assessed at baseline to assess their demographic and clinical status and at 6 and 24 weeks to ascertain study outcomes using validated measures.
Results
Two-hundred-one participants (64 non-Hispanic African Americans, 86 Hispanics, and 51 non-Hispanic Whites) enrolled. Participants in the adapted (vs. original) ASHP had better average attendance in the six session program (4.7 vs. 3.2 classes attended, p < 0.01) and program retention (93% vs. 74%, p < 0.01). Adherence with use of the self-management exercises (number of days using endurance, stretching, and relaxation exercises) was similar in both groups. Significant positive physical/psychosocial outcomes were documented in both the adapted and original program.
Conclusion
The adapted ASHP improved program attendance and retention while maintaining improvements in physical and psychosocial functions. These results support future efforts to employ controlled designs to quantify the benefits of adapted evidence-based programs to ensure that adaptation maintains program effectiveness.
This is a preview of subscription content, log in to check access.
Access options
Buy single article
Instant access to the full article PDF.
US$ 39.95
Price includes VAT for USA
Subscribe to journal
Immediate online access to all issues from 2019. Subscription will auto renew annually.
US$ 99
This is the net price. Taxes to be calculated in checkout.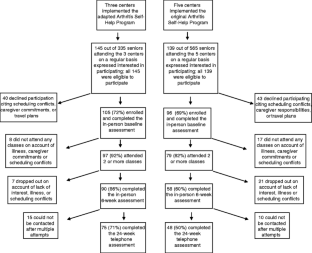 References
1.

Abraído-Lanza AF, Vásquez E, Echeverría SE. En las manos de Dios [in God's hands]: religious and other forms of coping among Latinos with arthritis. J Consult Clin Psychol. 2004; 72(1): 91-102.

2.

Appelbaum KA, Blanchard EB, Hickling EJ, Alfonso M. Cognitive behavioral treatment of a veteran population with moderate to severe rheumatoid arthritis. Behav Ther. 1988; 19(4): 489-502.

3.

Bates MS, Rankin-Hill L, Sanchez-Ayendez M. The effects of the cultural context of health care on treatment of and response to chronic pain and illness. Soc Sci Med. 1997; 45(9): 1433-1447.

4.

Beissner K, Parker S, Henderson CR, Reid MC. Implementing a self-management program for back pain in New York City senior centers: Evidence for a possible race/ethnicity effect. J Aging Phys Act. 2012; 20: 246-265.

5.

Bill‐Harvey D, Rippey RM, Abeles M, Pfeiffer CA. Methods used by urban, low‐income minorities to care for their arthritis. Arthritis Rheum. 2005; 2(2): 60-64.

6.

Brady TJ, Kruger J, Helmick CG, Callahan LF, Boutaugh ML. Intervention programs for arthritis and other rheumatic diseases. Health Educ Behav. 2003; 30(1): 44-63.

7.

Brazier JE, Harper R, Jones NM, et al. Validating the SF-36 health survey questionnaire: new outcome measure for primary care. BMJ. 1992; 305(6846): 160-164.

8.

Calsyn R, Tornatzky LG, Dittmar S. Incomplete adoption of an innovation: The case of goal attainment scaling. Evaluation. 1977; 4: 128-130.

9.

Card JJ, Solomon J, Cunningham SD. How to adapt effective programs for use in new contexts. Health Promot Pract. 2011; 12(1): 25-35.

10.

Castro FG, Barrera M, Martinez CR. The cultural adaptation of prevention interventions: Resolving tensions between fidelity and fit. Prev Sci. 2004; 5(1): 41-45.

11.

Chen EK, Reid MC, Parker SJ, Pillemer K. Tailoring evidence-based interventions for new populations: A model for program adaptation through community engagement. Eval Health Prof. 2013; 36(1): 73-92.

12.

Elliott DS, Mihalic S. Issues in disseminating and replicating effective prevention programs. Prev Sci. 2004; 5(1): 47-53.

13.

Ersek M, Turner JA, McCurry SM, Gibbons L, Kraybill BM. Efficacy of a self-management group intervention for elderly persons with chronic pain. Clin J Pain. 2003; 19(3): 156-167.

14.

González VM, Stewart A, Ritter PL, Lorig K. Translation and validation of arthritis outcome measures into Spanish. Arthritis Rheum. 1995; 38(10): 1429-1446.

15.

Green CR, Anderson KO, Baker TA, et al. The unequal burden of pain: Confronting racial and ethnic disparities in pain. Pain Med. 2003; 4(3): 277-294.

16.

Griner D, Smith TB. Culturally adapted mental health intervention: A meta-analytic review. Psychotherapy (Chic). 2006; 43(4): 531-548.

17.

Hirano PC, Laurent DD, Lorig K. Arthritis patient education studies, 1987–1991: A review of the literature. Patient Educ Couns. 1994; 24(1): 9-54.

18.

Kelly JA, Heckman TG, Stevenson LY, et al. Transfer of research-based HIV prevention interventions to community service providers: fidelity and adaptation. AIDS Educ Prev. 2000; 12(5 Suppl): 87-98.

19.

Kerns RD, Rosenberg R. Predicting responses to self-management treatments for chronic pain: Application of the pain stages of change model. Pain. 2000; 84(1): 49-55.

20.

Krivitsky L, Parker SJ, Pal A, Shengelia R, Reid MC. A systematic review of health promotion and disease prevention program adaptations: How are programs adapted? In: Wethington E, Dunifon R, eds. Translational research for improving outcomes across the life course. Washington, DC: American Psychological Association Press; 2012: 73-99.

21.

Kumpfer KL, Alvarado R, Smith P, Bellamy N. Cultural sensitivity and adaptation in family-based prevention interventions. Prev Sci. 2002; 3(3): 241-246.

22.

La Roche MJ, Koinis-Mitchell D, Gualdron L. A culturally competent asthma management intervention: a randomized controlled pilot study. Ann Allery Asthma Immunol. 2006; 96(1): 80-85.

23.

Lindroth Y, Bauman A, Brooks PM, Priestley D. A 5-year follow-up of a controlled trial of an arthritis education programme. Rheumatology. 1995; 34(7): 647-652.

24.

Lorig K. Arthritis self-help course: Leader's manual and reference material. The Arthritis Foundation: Atlanta; 1992.

25.

Lorig K, Chastain RL, Ung E, Shoor S, Holman HR. Development and evaluation of a scale to measure perceived self‐efficacy in people with arthritis. Arthritis Rheum. 1989; 32(1): 37-44.

26.

Lorig K, Gonzalez VM, Ritter P. Community-based Spanish language arthritis education program: A randomized trial. Med Care. 1999; 37(9): 957-963.

27.

Lorig K, Gonzalez V, Stewart A, Ritter P, Laurent D, Lynch J. Outcome measures for health education and other health care interventions. Thousand Oaks, CA: Sage Publications; 1996.

28.

Lorig KR, Holman HR. Self-management education: history, definition, outcomes, and mechanisms. Ann Behav Med. 2003; 26(1): 1-7.

29.

Lorig K, Lubeck D, Kraines RG, Seleznick M, Holman HR. Outcomes of self‐help education for patients with arthritis. Arthritis Rheum. 2005; 28(6): 680-685.

30.

Lorig K, Ritter PL, Plant K. A disease‐specific self‐help program compared with a generalized chronic disease self‐help program for arthritis patients. Arthritis Care Res. 2005; 53(6): 950-957.

31.

Meenan RF, Mason JH, Anderson JJ, Guccione AA, Kazis LE. AIMS2. The content and properties of a revised and expanded Arthritis Impact Measurement Scales Health Status Questionnaire. Arthritis Rheum. 1992; 35(1): 1-10.

32.

Newman S, Steed L, Mulligan K. Self-management interventions for chronic illness. Lancet. 2004; 364(9444): 1523-1537.

33.

Nicholas MK. The pain self‐efficacy questionnaire: Taking pain into account. Eur J Pain. 2007; 11(2): 153-163.

34.

Parker SJ, Chen EK, Pillemer K, et al. Participatory adaptation of an evidence-based, arthritis self-management program: Making changes to improve program fit. Fam Comm Health. 2012; 35(3): 236-245.

35.

Parker SJ, Vasquez R, Chen EK, Henderson CR, Pillemer K, Reid MC. A comparison of the Arthritis Foundation Self-Help Program across three race/ethnicity groups. Ethn Dis. 2011; 21(4): 444-450.

36.

Ritter PL, González VM, Laurent DD, Lorig KR. Measurement of pain using the visual numeric scale. J Rheumatol. 2006; 33(3): 574-580.

37.

Sharpe PA. Community‐based physical activity intervention. Arthritis Care Res. 2003; 49(3): 455-462.

38.

Solomon J, Card JJ, Malow RM. Adapting efficacious interventions advancing translational research in HIV prevention. Eval Health Prof. 2006; 29(2): 162-194.

39.

Stanford Arthritis Center. Curso de manejo personal de la artritis: Manual de los instructores [Arthritis Self-Management Course: Leader's Manual]. Palo Alto: Stanford Arthritis Center; 1995.

40.

Superio‐Cabuslay E, Ward MM, Lorig KR. Patient education interventions in osteoarthritis and rheumatoid arthritis: A meta‐analytic comparison with nonsteroidal antiinflammatory drug treatment. Arthritis Rheum. 1996; 9(4): 292-301.

41.

Thomas VJ, Rose FD. Ethnic differences in the experience of pain. Soc Sci Med. 1991; 32(9): 1063-1066.

42.

Turk DC, Rudy TE. Neglected topics in the treatment of chronic pain patients—relapse, noncompliance, and adherence enhancement. Pain. 1991; 44(1): 5-28.

43.

Van Baar ME, Dekker J, Oostendorp RAB, Dijl D, Voorn TB, Bijlsma TWJ. Effectiveness of exercise in patients with osteoarthritis of hip or knee: Nine months' follow up. Ann Rheum Dis. 2001; 60(12): 1123-1130.

44.

Villarruel AM. Mexican–American cultural meanings, expressions, self‐care and dependent‐care actions associated with experiences of pain. Res Nurs Health. 1995; 18(5): 427-436.

45.

Warsi A, LaValley MP, Wang PS, Avorn J, Solomon DH. Arthritis self‐management education programs: A meta‐analysis of the effect on pain and disability. Arthritis Rheum. 2003; 48(8): 2207-2213.

46.

Won A, Lapane K, Gambassi G, Bernabei R, Mor V, Lipsitz LA. Correlates and management of nonmalignant pain in the nursing home. J Am Geriatr Soc. 1999; 47(8): 936-942.

47.

Zhang J. Illness management strategies among Chinese immigrants living with arthritis [Dissertation]. Calgary: University of Calgary; 1998.
Acknowledgments
This work was supported by the National Institute of Nursing Research [R21NR010200]; and the National Institute on Aging: An Edward R. Roybal Center Grant [P30AG022845].
Disclosures
ᅟ
Conflict of Interest:
M. Carrington Reid, MD received personal fees from Endo Pharmaceuticals during the study. Emily K. Chen, Samantha J. Parker, Charles R. Henderson Jr., Karl Pillemer, Ph.D., have declared that they have no conflict of interest.
Human/Animal Rights:
All procedures followed were in accordance with the ethical standards of the responsible committee on human experimentation (institutional and national) and with the Helsinki Declaration of 1975, as revised in 2008 (5).
Informed Consent:
Informed consent was obtained from all patients for being included in the study.
Required Author Forms
Disclosure forms provided by the authors are available with the online version of this article.
Additional information
Level of Evidence: Therapeutic Study Level II.
Electronic supplementary material
Below is the link to the electronic supplementary material.
About this article
Cite this article
Reid, M.C., Chen, E.K., Parker, S.J. et al. Measuring the Value of Program Adaptation: A Comparative Effectiveness Study of the Standard and a Culturally Adapted Version of the Arthritis Self-Help Program. HSS Jrnl 10, 59–67 (2014). https://doi.org/10.1007/s11420-013-9368-2
Received:

Accepted:

Published:

Issue Date:
Keywords
arthritis

self-management

health promotion