Abstract
Background
Measuring Hounsfield units (HUs) from computed tomography (CT) scans has recently been proposed as a tool for assessing vertebral bone quality, as it has been associated with bone mineral density, compressive strength, and fracture risk. Vertebral bone quality is believed to be an important determinant of outcome and complication rates following spine surgery and potentially influences success of interbody spinal fusion.
Questions/Purposes
The purpose of this study was to investigate the association between HU on CT scans and fusion success in patients with lateral transpsoas surgery for lumbar interbody fusion (LIF).
Methods
The CT scans of 28 patients with a combined 52 levels of stand-alone LIF were evaluated at a minimum of 12 weeks postoperatively. Coronal and sagittal images were evaluated for evidence of fusion, and HU values were collected from axial images. HU measurements were also taken from vertebral bodies proximal to the construct to evaluate global bone quality.
Results
Of the 52 LIF levels, 73% were assessed as fused and 27% were nonunited at the time of evaluation. The successful fusion levels had significantly higher HU measurements than the nonunion levels (203.3 vs. 139.8, p < 0.001). Patients with successful fusion constructs also had higher global bone density when vertebral bodies proximal to the construct were compared (133.7 vs. 107.3, p < 0.05).
Conclusion
With the aging population and increasing prevalence of osteoporosis, preoperative assessment of bone quality prior to spinal fusion deserves special consideration. We found that a successful lumbar fusion was associated with patients with higher bone density, as assessed with HU, both globally and within the fusion construct, as compared to patients with CT evidence of nonunion.
This is a preview of subscription content, log in to check access.
Access options
Buy single article
Instant access to the full article PDF.
US$ 39.95
Price includes VAT for USA
Subscribe to journal
Immediate online access to all issues from 2019. Subscription will auto renew annually.
US$ 99
This is the net price. Taxes to be calculated in checkout.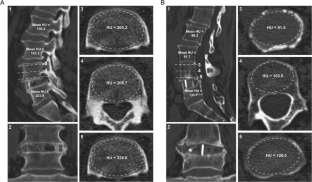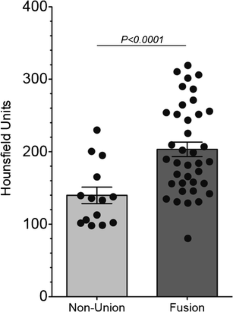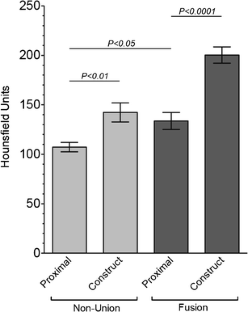 References
1.

Burkus JK, Gornet MF, Schuler TC, Kleeman TJ, Zdeblick TA. Six-year outcomes of anterior lumbar interbody arthrodesis with use of interbody fusion cages and recombinant human bone morphogenetic protein-2. The Journal of Bone and Joint Surgery, American Volume. 2009; 91(5): 1181-1189.

2.

Carragee EJ, Hurwitz EL, Weiner BK. A critical review of recombinant human bone morphogenetic protein-2 trials in spinal surgery: emerging safety concerns and lessons learned. The Spine Journal: official journal of the North American Spine Society. 2011; 11(6): 471-491.

3.

Chin DK, Park JY, Yoon YS, et al. Prevalence of osteoporosis in patients requiring spine surgery: incidence and significance of osteoporosis in spine disease. Osteoporosis International: a journal established as result of cooperation between the European Foundation for Osteoporosis and the National Osteoporosis Foundation of the USA. 2007; 18(9): 1219-1224.

4.

DeWald CJ, Stanley T. Instrumentation-related complications of multilevel fusions for adult spinal deformity patients over age 65: surgical considerations and treatment options in patients with poor bone quality. Spine. 2006; 31(19 Suppl): S144-151.

5.

Dipaola CP, Bible JE, Biswas D, Dipaola M, Grauer JN, Rechtine GR. Survey of spine surgeons on attitudes regarding osteoporosis and osteomalacia screening and treatment for fractures, fusion surgery, and pseudoarthrosis. The Spine Journal: official journal of the North American Spine Society. 2009; 9(7): 537-544.

6.

Fantini GA, Pappou IP, Girardi FP, Sandhu HS, Cammisa FP Jr. Major vascular injury during anterior lumbar spinal surgery: incidence, risk factors, and management. Spine. 2007; 32(24): 2751-2758.

7.

Hart RA, Prendergast MA. Spine surgery for lumbar degenerative disease in elderly and osteoporotic patients. Instructional Course Lectures. 2007; 56: 257-272.

8.

Meredith DS, Schreiber JJ, Taher F, Cammisa FP Jr, Girardi FP. Lower Preoperative Hounsfield Unit Measurements are Associated With Adjacent Segment Fracture Following Spinal Fusion. Spine. 2012; 38(5): 415-418.

9.

Mroz TE, Wang JC, Hashimoto R, Norvell DC. Complications related to osteobiologics use in spine surgery: a systematic review. Spine. 2010; 35(9 Suppl): S86-104.

10.

Oliveira L, Marchi L, Coutinho E, Pimenta L. A radiographic assessment of the ability of the extreme lateral interbody fusion procedure to indirectly decompress the neural elements. Spine. 2010; 35(26 Suppl): S331-337.

11.

Ozgur BM, Aryan HE, Pimenta L, Taylor WR. Extreme Lateral Interbody Fusion (XLIF): a novel surgical technique for anterior lumbar interbody fusion. The Spine Journal: official journal of the North American Spine Society. 2006; 6(4): 435-443.

12.

Pumberger M, Hughes AP, Huang RR, Sama AA, Cammisa FP, Girardi FP. Neurologic deficit following lateral lumbar interbody fusion. European Spine Journal: official publication of the European Spine Society, the European Spinal Deformity Society, and the European Section of the Cervical Spine Research Society. 2012; 21(6): 1192-1199.

13.

Rajaraman V, Vingan R, Roth P, Heary RF, Conklin L, Jacobs GB. Visceral and vascular complications resulting from anterior lumbar interbody fusion. Journal of Neurosurgery. 1999; 91(1 Suppl): 60-64.

14.

Rodgers WB, Gerber EJ, Patterson J. Intraoperative and early postoperative complications in extreme lateral interbody fusion: an analysis of 600 cases. Spine. 2011; 36(1): 26-32.

15.

Rodgers WB, Gerber EJ, Rodgers JA. Lumbar fusion in octogenarians: the promise of minimally invasive surgery. Spine. 2010; 35(26 Suppl): S355-360.

16.

Schreiber JJ, Anderson PA, Rosas HG, Buchholz AL, Au AG. Hounsfield units for assessing bone mineral density and strength: a tool for osteoporosis management. The Journal of Bone and Joint Surgery, American Volume. 2011; 93(11): 1057-1063.

17.

Sharma AK, Kepler CK, Girardi FP, Cammisa FP, Huang RC, Sama AA. Lateral lumbar interbody fusion: clinical and radiographic outcomes at 1 year: a preliminary report. Journal of Spinal Disorders & Techniques. 2011; 24(4): 242-250.

18.

Smith WD, Huntington CF. Letter to the editor regarding: Dua K, Kepler CK, Huang RC, Marchenko A. Vertebral body fracture after anterolateral instrumentation and interbody fusion in two osteoporotic patients. Spine J 2010;10:e11-5. The Spine Journal: official journal of the North American Spine Society. 2011; 11(2): 166-167. author reply 167.

19.

Toyone T, Ozawa T, Kamikawa K, et al. Subsequent vertebral fractures following spinal fusion surgery for degenerative lumbar disease: a mean ten-year follow-up. Spine. 2010; 35(21): 1915-1918.
Disclosures
ᅟ
Conflict of Interest:
Joseph J. Schreiber, MD and Fadi Taher, MD have declared that they have no conflict of interest. Alexander P. Hughes, MD receives personal fees from NuVasive, outside the work. Federico P. Girardi, MD receives personal fees from DePuy Spine, LifeSpine, NuVasive, Ortho Development Corp., Centinel Spine, Healthpoint Capital, Paradigm Spine, Small Bone Innovations, Spinal Kinetics, LANX Spine, SpineArt, Wenzel Spine, LDR Spine, and Ethicon, outside the work.
Human/Animal Rights:
All procedures followed were in accordance with the ethical standards of the responsible committee on human experimentation (institutional and national) and with the Helsinki Declaration of 1975, as revised in 2008 [5].
Informed Consent:
Informed consent was waived from all patients for being included in the study.
Required Author Forms
Disclosure forms provided by the authors are available with the online version of this article.
Additional information
Level of Evidence: Prognostic Study Level III: See Levels of Evidence for a complete description.
Electronic Supplementary Material
Below is the link to the electronic supplementary material.
About this article
Cite this article
Schreiber, J.J., Hughes, A.P., Taher, F. et al. An Association Can Be Found Between Hounsfield Units and Success of Lumbar Spine Fusion. HSS Jrnl 10, 25–29 (2014). https://doi.org/10.1007/s11420-013-9367-3
Received:

Accepted:

Published:

Issue Date:
Keywords
Hounsfield units

fusion

osteoporosis