Abstract
Background
Controversies still exist regarding the optimal diagnostic and therapeutic strategies in patients with prosthetic joint infections (PJI).
Questions/Purposes
How effective are preoperative and intraoperative cultures in isolating organisms and how do these culture results compare to one another? What are the results of surgical treatment of PJI in the hip and knee in an international, tertiary referral center cohort?
Patients and Methods
One hundred sixteen patients (N = 59 hip PJI, N = 57 knee PJI) were recruited prospectively to registries at three international, tertiary referral centers between December 2008 to November 2011. Retrospective review of prospective registry data including demographics, microbiology results, and operative reports was performed.
Results
Preoperative synovial fluid aspiration yielded an organism in only 45.2% and 44.4% of cases, respectively, for knee and hip PJI. False-negative rates of preoperative aspiration relative to intraoperative culture were 56% and 46% in hip and knee PJI, respectively, with discordance rates of 25% and 21.4%, respectively. Rates of negative intraoperative cultures were 15% in hip PJI and 20.7% in knee PJI. Open debridement with prosthetic retention was the most common initial revision procedure performed (48.3% of hip PJI and 63.8% of knee PJI). This method of revision was successful in 41.3% of hip PJI and 59.4% of knee PJI. Initial failure rates for prosthetic revision was lower than debridement with prosthetic retention but remained substantial in both hip PJI (initial success of one-stage exchange 60% and two-stage exchange 70%) and knee PJI (initial success of one-stage exchange 80% and two-stage exchange 75%).
Conclusion
Diagnosis and treatment of PJI remains challenging with difficulty in isolating the offending organism and with high rates of prosthetic revision and initial treatment failures. Future advances in organism isolation and international standardization of treatment protocols may improve patient outcomes.
This is a preview of subscription content, log in to check access.
Access options
Buy single article
Instant access to the full article PDF.
US$ 39.95
Price includes VAT for USA
Subscribe to journal
Immediate online access to all issues from 2019. Subscription will auto renew annually.
US$ 99
This is the net price. Taxes to be calculated in checkout.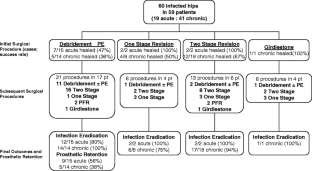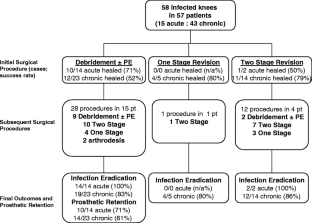 References
1.

Azzam KA, Seeley M, Ghanem E, Austin MS, Purtill JJ, Parvizi J. Irrigation and debridement in the management of prosthetic joint infection: traditional indications revisited. J Arthroplasty. 2010; 25(7): 1022-1027.

2.

Barrack RL, Harris WH. The value of aspiration of the hip joint before revision total hip arthroplasty. J Bone and Joint Surg. 1993; 75-A: 66-76.

3.

Berbari EF, Marculescu C, Sia I, et al. Culture-negative prosthetic joint infection. Clin Infect Dis. 2007; 45(9): 1113-1119.

4.

Charnley J. A clean-air operating enclosure. British J Surg. 1964; 51: 202-205.

5.

Clohisy JC, Calvert G, Tull F, McDonald D, Maloney WJ. Reasons for revision hip surgery: a retrospective review. Clin Orthop Relat Res. 2004; 429: 188-192.

6.

Costerton JW, Stewart PS, Greenberg EP. Bacterial biofilms: a common cause of persistent infections. Science, NY. 1999; 284(5418): 1318-1322.

7.

Crockarell JR, Hanssen AD, Osmon DR, Morrey BF. Treatment of infection with débridement and retention of the components following hip arthroplasty. J Bone Joint Surg Am. 1998; 80(9): 1306-1313.

8.

Cuckler JM. The infected total knee: management options. J Arthroplasty. 2005; 20(4 suppl 2): 33-36.

9.

Deirmengian C, Greenbaum J, Stern J, et al. Open debridement of acute gram-positive infections after total knee arthroplasty. Clin Orthop Relat Res. 2003; 416: 129-134.

10.

Della Valle CJ, Sporer SM, Jacobs JJ, Berger RA, Rosenberg AG, Paprosky WG. Preoperative testing for sepsis before revision total knee arthroplasty. J Arthroplasty. 2007; 22: 90-93.

11.

Della Valle CJ, Zuckerman JD, Di Cesare PE. Periprosthetic sepsis. Clin Orthop Relat Res. 2004; 420: 26-31.

12.

Eftekhar NS. Postoperative wound infection. In Total Hip Arthroplasty. Vol. 2, pp. 1457–1504. St. Louis, C. V. Mosby, 1993.

13.

Fitzgerald RH, Peterson LFA, Washington JA, Van Scoy RE, Coventry MB. Bacterial colonization of wounds and sepsis in total hip arthroplasty. J Bone and Joint Surg. 1973; 55-A: 1242-1250.

14.

Haddad FS, Muirhead-Allwood SK, Manktelow AR, Bacarese-Hamilton I. Two-stage uncemented revision hip arthroplasty for infection. J Bone Joint Surg Br. 2000; 82(5): 689-694.

15.

Hanssen AD, Rand JA. Evaluation and treatment of infection at the site of a total hip or knee arthroplasty. Instr Course Lect. 1999; 48: 111-122.

16.

Hernigou P, Flouzat-Lachianette CH, Jalil R, Batista SU, Guissou I, Poignard A. Treatment of infected hip arthroplasty. The Open Orthopaedics Journal. 2010; 4: 126-131.

17.

Hughes SP, Dash CH, Benson MK, Field CA. Infection following total hip replacement and the possible prophylactic role of cephaloridine. Journal of the Royal College of Surgeons of Edinburgh. 1978; 23(1): 9-12.

18.

Ince A, Rupp J, Frommelt L, Katzer A, Gille J, Lohr JF. Is "aseptic" loosening of the prosthetic cup after total hip replacement due to nonculturable bacterial pathogens in patients with low-grade infection? Clin Infect Dis. 2004; 39(11): 1599-1603.

19.

Kalore NV, Gioe TJ, Singh JA. Diagnosis and management of infected total knee arthroplasty. Open Orthop J. 2011; 5: 86-91.

20.

Kotelnicki J, Mitts K. Surgical treatments for patients with an infected total knee arthroplasty. JAAPA. 2009; 22(11): 40-46.

21.

Koyonos L, Zmistowski B, Della Valle CJ, Parvizi J. Infection control rate of irrigation and debridement for periprosthetic joint infection. Clin Orthop Relat Res. 2011; 469(11): 3043-3048.

22.

Lachiewicz PF, Rogers GD, Thomason HC. Aspiration of the hip joint before revision total hip arthroplasty. Clinical and laboratory factors influencing attainment of a positive culture. J Bone Joint Surg Am. 1996; 78(5): 749-754.

23.

Leone JM, Hanssen AD. Management of infection at the site of a total knee arthroplasty. J Bone Joint Surg Am. 2005; 87(10): 2335-2348.

24.

Marculescu CE, Berbari EF, Hanssen AD, Steckelberg JM, Osmon DR. Prosthetic joint infection diagnosed postoperatively by intraoperative culture. Clin Orthop Relat Res. 2005; 439: 38-42.

25.

Moyad TF, Thornhill T, Estok D. Evaluation and management of the infected total hip and knee. Orthopedics. 2008; 31(6): 581-588.

26.

Mulcahy DM, Fenelon GC, McInerney DP. Aspiration arthrography of the hip joint. Its uses and limitations in revision hip surgery. J Arthroplasty. 1996; 11: 64-68.

27.

Müller M, Morawietz L, Hasart O, Strube P, Perka C, Tohtz S. Diagnosis of periprosthetic infection following total hip arthroplasty – Evaluation of the diagnostic values of pre- and intraoperative parameters and the associated strategy to preoperatively select patients with a high probability of joint infection. Journal of Orthopaedic Surgery and Research. 2008; 3: 31.

28.

Pandey R, Berendt AR, Athanasou NA. Histological and microbiological findings in non-infected and infected revision arthroplasty tissues. The OSIRIS Collaborative Study Group. Oxford Skeletal Infection Research and Intervention Service. Arch Orthop Trauma Surg. 2000; 120(10): 570-574.

29.

Pandey R, Drakoulakis E, Athanasou NA. An assessment of the histological criteria used to diagnose infection in hip revision arthroplasty tissues. Journal of Clinical Pathology. 1999; 52(2): 118-123.

30.

Parvizi J, Adeli B, Zmistowski B, Restrepo, Greenwald AS. Management of Periprosthetic Joint Infection: The Current Knowledge: AAOS Exhibit Selection. J Bone Joint Surg Am 2012;94(14):e104 1–9.

31.

Parvizi J, Ghanem E, Sharkey P, Aggarwal A, Burnett RS, Barrack RL. Diagnosis of infected total knee: findings of a multicenter database. Clin Orthop Relat Res. 2008; 466(11): 2628-2633.

32.

Peersman G, Laskin R, Davis J, Peterson M. Infection in total knee replacement: a retrospective review of 6489 total knee replacements. Clin Orthop Relat Res 2001;15–23.

33.

Rao N, Crossett LS, Sinha RK, Le Frock JL. Long-term suppression of infection in total joint arthroplasty. Clin Orthop Relat Res. 2003; 414: 55-60.

34.

Roberts P, Walters AJ, McMinn DJ. Diagnosing infection in hip replacements. The use of fine-needle aspiration and radiometric culture. J Bone Joint Surg Br. 1992; 74: 265-271.

35.

Sculco TP. The economic impact of infected joint arthroplasty. Orthopedics. 1995; 18: 871-873.

36.

Mf S, Della Valle CJ, Sporer SM, Paprosky WG. Perioperative testing for joint infection in patients undergoing revision total hip arthroplasty. J Bone Joint Surg Am. 2008; 90(9): 1869-1875.

37.

Segreti J, Nelson JA, Trenholme GM. Prolonged suppressive antibiotic therapy for infected orthopedic prostheses. Clin Infect Dis. 1998; 27(4): 711-713.

38.

Shih LY, Wu JJ, Yang DJ. Erythrocyte sedimentation rate and C-reactive protein values in patients with total hip arthroplasty. Clin Orthop. 1987; 225: 238-246.

39.

Spangehl MJ, Masri BA, O'Connell JX, Duncan CP. Prospective analysis of preoperative and intraoperative investigations for the diagnosis of infection at the sites of two hundred and two revision total hip arthroplasties. J Bone Joint Surg Am. 1999; 81(5): 672-683.

40.

Spangehl MJ, Younger ASE, Masri BA, Duncan CP. Diagnosis of infection following total hip arthroplasty. J Bone Joint Surg Am. 1997; 79: 1578-1588.

41.

Squire MW, Della Valle CJ, Parvizi J. Preoperative diagnosis of periprosthetic joint infection: role of aspiration. AJR Am J Roentgenol. 2011; 196(4): 875-879.

42.

Tietjen R, Stinchfield FE, Michelsen CB. The significance of intracapsular cultures in total hip operations. Surg, GynecAnd Obstet. 1977; 144: 699-702.

43.

Tigges S, Stiles RG, Meli RJ, Roberson JR. Hip aspiration: a cost-effective and accurate method of evaluating the potentially infected hip prosthesis. Radiology. 1993; 189: 485-488.

44.

Toulson C, Walcott-Sapp S, Hur J, et al. Treatment of infected total hip arthroplasty with a 2-stage reimplantation protocol: update on "our institution's" experience from 1989 to 2003. J Arthroplasty. 2009 Oct; 24(7): 1051-1060.

45.

Tsukayama DT, Goldberg VM, Kyle R. Diagnosis and management of infection after total knee arthroplasty. J Bone Joint Surg Am. 2003; 85(Suppl 1): S75-80.

46.

Tunney MM, Patrick S, Gorman SP, et al. Improved detection of infection in hip replacements. A currently underestimated problem. J Bone Joint Surg Br. 1998; 80(4): 568-572.

47.

Vessely MB, Whaley AL, Harmsen WS, Schleck CD, Berry DJ. Long-term survivorship and failure modes of 1000 cemented condylar total knee arthroplasties. Clin Orthop Relat Res. 2006; 452: 28-34.

48.

Yoo JJ, Kwon YS, Koo KH, Yoon KS, Kim YM, Kim HJ. One-stage cementless revision arthroplasty for infected hip replacements. Int Orthop. 2009; 33(5): 1195-1201.
Acknowledgments
The authors wish to thank the International Society of Orthopedic Centers (ISOC) for providing funding through the Traveling Fellowship for Dr. Shanmugasundaram.
Disclosures
Conflict of Interest: Saseendar Shanmugasundaram, MD, Benjamin F. Ricciardi, MD and Timothy WR. Briggs, MD have declared that they no conflict of interest. Patrick S. Sussmann, MD, receives speaker fees from Depuy and Johnson and Johnson, outside the work. Mathias P. Bostrom, MD, is a paid consultant to Smith and Nephew and serves as a board member of the Orthopedic Research Society and HSS Journal, outside the work.
Human/Animal Rights: All procedures followed were in accordance with the ethical standards of the responsible committee on human experimentation (institutional and national) and with the Helsinki Declaration of 1975, as revised in 2008 (5).
Informed Consent: Informed consent was obtained from all patients for being included in the study.
Required Author Forms
Disclosure forms provided by the authors are available with the online version of this article.
Additional information
Level of Evidence: Level IV (retrospective study). See the Guidelines for Authors for a complete description of levels of evidence.
Electronic Supplementary Material
Below is the link to the electronic supplementary material.
About this article
Cite this article
Shanmugasundaram, S., Ricciardi, B.F., Briggs, T.W.R. et al. Evaluation and Management of Periprosthetic Joint Infection–an International, Multicenter Study. HSS Jrnl 10, 36–44 (2014). https://doi.org/10.1007/s11420-013-9366-4
Received:

Accepted:

Published:

Issue Date:
Keywords
prosthetic joint infection

single-stage revision arthroplasty

two-stage revision arthroplasty

prosthetic joint aspiration

synovial fluid culture