This is a preview of subscription content, log in to check access.
Access options
Buy single article
Instant access to the full article PDF.
US$ 39.95
Price includes VAT for USA
Subscribe to journal
Immediate online access to all issues from 2019. Subscription will auto renew annually.
US$ 99
This is the net price. Taxes to be calculated in checkout.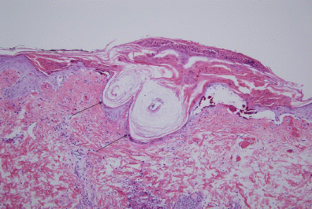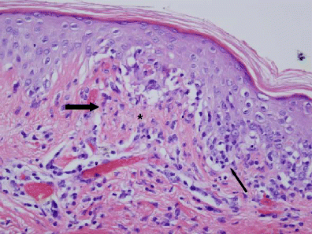 References
1.

Antiga E, Caproni M, Bonciani D, Bonciolini V, Fabbri P. The last word on the so-called "Rowell's syndrome"? Lupus. 2012; 21: 577-585.

2.

Brice SL, Leahy MA, Ong L, et al. Examination of non-involved skin, previously involved skin, and peripheral blood for herpes simplex virus DNA in patients with recurrent herpes-associated erythema multiforme. J Cutan Pathol. 1994; 21: 408-412.

3.

Crowson AN, Magro CM, Mihm MC. Interface dermatitis. Archives of Pathology & Laboratory Medicine. 2008; 132: 652-666.

4.

Drago F, Parodi A, Rebora A. Persistent erythema multiforme: report of two new cases and review of literature. J Am Acad Dermatol. 1995; 33: 366-369.

5.

Fiallo P, Tagliapietra AG, Santoro G, Venturino E. Rowell's syndrome. Int J Derm. 1995; 34: 635-636.

6.

Frank MB, McArthur R, Harley JB, Fujisaku A. Anti-Ro(SSA) autoantibodies are associated with T cell receptor beta genes in systemic lupus erythematosus patients. J Clin Invest. 1990; 85: 33-9.

7.

Namekawa T, Kuroda K, Kato T, et al. Identification of Ro(SSA) 52 kDa reactive T cells in labial salivary glands from patients with Sjögren's syndrome. J Rheumatol. 1995; 22: 2092.

8.

Ng PP, Sun YJ, Tan HH, Tan SH. Detection of herpes simplex virus genomic DNA in various subsets of erythema multiforme by polymerase chain reaction. Dermatology. 2003; 207: 349-353.

9.

Rowell NR, Beck JS, Anderson JR. Lupus erythematosus and erythema multiforme-like lesions. A syndrome with characteristic immunological abnormalities. Arch Dermatol. 1963; 88: 176-180.

10.

Shadid NH, Thissen C, van Marion AMW, Poblete-Gutierrez P, Frank J. Lupus Erythematosus associated with erythema multiforme: Rowell's syndrome. Int J Derm. 2007; 46(suppl 3): 30-32.

11.

Shteyngarts AR, Warner MR, Camisa C. Lupus erythematosus associated with erythema multiforme: does Rowell's syndrome exist? J Amer Acad Derm. 1999; 40: 773-777.

12.

Sokumbi O, Wetter DA. Clinical features, diagnosis, and treatment of erythema multiforme: a review for the practicing dermatologist. Int J Derm. 2012; 51: 889-902.

13.

Sumida T, Namekawa T, Maeda T, Nishioka K. New T-cell epitope of Ro/SS-A 52 kDa protein in labial salivary glands from patients with Sjögren's syndrome. Lancet. 1996; 348: 1667.

14.

Zeitouni NC, Funaro D, Cloutier RA, Gagne E, Claveau J. Redefining Rowell's syndrome. Br J Dermatol. 2000; 142: 343-346.
Disclosures
Conflict of Interest
Susan S. Kim, MD, Cynthia Magro, MD, Richard D. Granstein, MD, Anne Bass, MD and Doruk Erkan, MD have declared that they have no conflict of interest.
Human/Animal Rights
All procedures followed were in accordance with the ethical standards of the responsible committee on human experimentation (institutional and national) and with the Helsinki Declaration of 1975, as revised in 2008 (5).
Informed Consent
Informed consent was obtained from all patients for being included in the study. Additionally, informed consent was obtained from all patients for which identifying information is included in this article.
Required Author Forms
Disclosure forms provided by the authors are available with the online version of this article.
Electronic Supplementary Material
Below is the link to the electronic supplementary material.
About this article
Cite this article
Kim, S.S., Magro, C., Granstein, R.D. et al. Systemic Lupus Erythematosus Associated with Rowell's Syndrome. HSS Jrnl 9, 289–292 (2013). https://doi.org/10.1007/s11420-013-9356-6
Received:

Accepted:

Published:

Issue Date:
Keywords
Systemic lupus erythematosus

Rowell's syndrome