Abstract
Background
Intraneural ganglion cysts are rare, benign, mucinous lesions that occur within neural sheaths and are thought to involve cystic fluid exiting from nearby synovial joints. They often present as tender masses causing paresthesias in the distribution of the involved nerve, muscle weakness or cramping, or localized or referred pain.
Case Description
We present a case of a patient who initially presented with foot drop due to an intraneural ganglion cyst of the common peroneal nerve. This cyst was successfully treated using ultrasound guidance to aspirate the cyst and inject corticosteroid to prevent further inflammation.
Literature Review
Standard of care has previously involved surgical resection, but this has been associated with a high frequency of recurrence. Due to the risks of nerve and vessel damage, there have been efforts to find alternative ways of resolving these cysts.
Purposes and Clinical Relevance
Aspiration and injection of corticosteroid is a useful and minimally invasive alternative to surgery for managing intraneural ganglion cysts.
This is a preview of subscription content, log in to check access.
Access options
Buy single article
Instant access to the full article PDF.
US$ 39.95
Price includes VAT for USA
Subscribe to journal
Immediate online access to all issues from 2019. Subscription will auto renew annually.
US$ 99
This is the net price. Taxes to be calculated in checkout.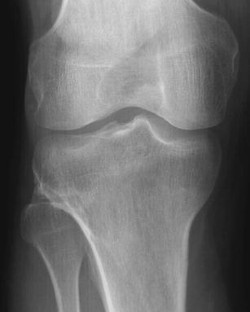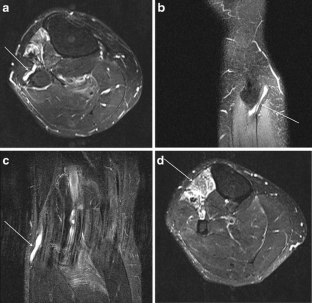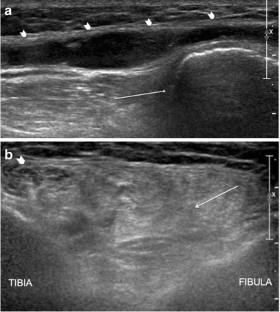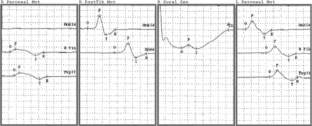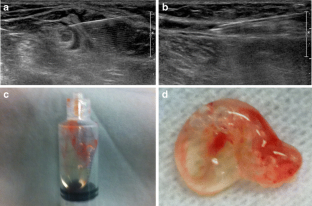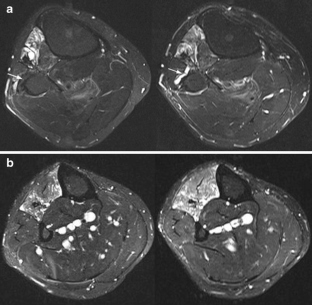 References
1.

Adn M, Hamlat A, Morandi H, Guegan Y. Intraneural ganglion cyst of the tibial nerve. Acta Neurochir. 2006; 148: 885-890.

2.

Iverson DJ. MRI detection of cysts of the knee causing common peroneal neuropathy. Neurology. 2005; 65: 1829-1831.

3.

Jose J, Fourzali R, Lesniak B, Kaplan L. Ultrasound guided aspiration of symptomatic intraneural ganglion cyst within the tibial nerve. Skeletal Radiol. 2011; 40: 1473-1478.

4.

Nakamichi K, Tachibana S. Ganglion-associated ulnar tunnel syndrome treated by ultrasonographically assisted aspiration and splinting. J Hand Surg Br. 2003; 28: 177-178.

5.

Omoumi P, de Gheldere A, Leemirijse T, et al. Value of computed tomography arthrography with delayed acquisitions in the workup of ganglion cysts of the tarsal tunnel: report of three cases. Skeletal Radiol. 2010; 39: 381-386.

6.

Saboeiro G, Sofka CM. Ultrasound-guided ganglion cyst aspiration. HSS J. 2008; 4: 161-163.

7.

Spinner RJ, Atkinson JL, Tiel RL. Peroneal intraneural ganglia: the importance of the articular branch, a unifying theory. J Neurosurg. 2003; 99: 330-343.

8.

Spinner RJ, Desy NM, Rock MG, Amrami KK. Peroneal intraneural ganglia part I: techniques for successful diagnosis and treatment. Neurosurg Focus. 2007; 22: 1-10.
Disclosures
Conflict of interest:
Teresa Liang, BSc; Anukul Panu, MD; Sean Crowther, MB BCh; Robert Lambert, MB BCh; and Gavin Low, MBChB, have declared that they have no conflict of interest.
Human/Animal Rights:
All procedures followed were in accordance with the ethical standards of the responsible committee on human experimentation (institutional and national) and with the Helsinki Declaration of 1975, as revised in 2008 (5).
Informed Consent:
N/A
Required Author Forms
Disclosure forms provided by the authors are available with the online version of this article.
Additional information
Work was performed at the Department of Radiology and Diagnostic Imaging, University of Alberta Hospital, Walter Mackenzie Center, 8440-112 St, Edmonton, AB T6G 2B7 Canada.
Electronic Supplementary Material
Below is the link to the electronic supplementary material.
About this article
Cite this article
Liang, T., Panu, A., Crowther, S. et al. Ultrasound-Guided Aspiration and Injection of an Intraneural Ganglion Cyst of the Common Peroneal Nerve. HSS Jrnl 9, 270–274 (2013). https://doi.org/10.1007/s11420-013-9345-9
Received:

Accepted:

Published:

Issue Date:
Keywords
intraneural ganglion cyst

common peroneal nerve

ultrasound-guided aspiration

denervation edema

foot drop