Abstract
Background
The short, tapered, collarless Furlong Active stem has been recently associated in the published literature with significant subsidence using Roentgen stereophotogrammetric analysis.
Questions/Purposes
The purpose of this study was to analyze the short-term radiographic subsidence in Furlong Active HAP stems and correlate the results with the age, gender, bone morphology, and bone quality of the proximal femur, stem diameter, and medullary canal filling.
Methods
Sixty-five consecutive patients (70 hips) receiving the Furlong Active HAP stems were enrolled in this prospective series. The average follow-up was 2.99 ± 1.38 years. All patients were evaluated clinically using the Harris Hip Score (HHS) and radiographically for femoral stem subsidence. In addition, proximal femoral osteopenia, proximal femur morphology, and medullary canal filling were also evaluated.
Results
The average subsidence was 2.4 mm (from 0 to 13 mm) at the end of the follow-up period. The average HHS score at the end of follow-up was 90 (range, 81–98). There was one intraoperative fracture.
Conclusions
Of the Furlong Active stems 61% subsided with initial weight bearing. Subsidence is higher in males, but no correlation has been found with age, stem diameter, morphology, osteopenia, or canal filling.
This is a preview of subscription content, log in to check access.
Access options
Buy single article
Instant access to the full article PDF.
US$ 39.95
Price includes VAT for USA
Subscribe to journal
Immediate online access to all issues from 2019. Subscription will auto renew annually.
US$ 99
This is the net price. Taxes to be calculated in checkout.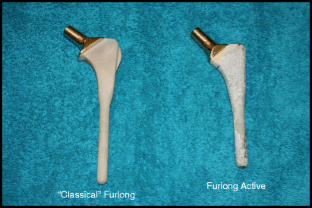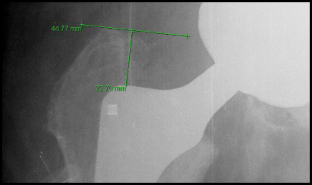 References
1.

Aldinger PR, Jung AW, Pritsch M, et al. Uncemented grit-blasted straight tapered titanium stems in patients younger than fifty-five years of age. Fifteen to twenty-year results. J Bone Joint Surg Am. 2009;91:1432-1439.

2.

Buratti CA, D'Arrigo C, Guido G, et al. Assessment of the initial stability of the Symax femoral stem with EBRA-FCA: a multicentric study of 85 cases. Hip Int. 2009;19:24-29.

3.

Callaghan JD, Dysart SH, Savory CG. The uncemented porous-coated anatomic total hip prosthesis. Two-year results of a prospective consecutive series. J Bone Joint Surg Am. 1988;70:337-346.

4.

Campbell D, Mercer G, Nilsson KG, Wells V, Field JR, Callary SA. Early migration characteristics of a hydroxyapatite-coated femoral stem: an RSA study. Int Orthop. 2011;35:483-488.

5.

Dorr LD, Faugere M-C, Mackel AM, Gruen TA, Bognar B, Malluche HH. Structural and cellular assessment of bone quality of proximal femur. Bone. 1993;14:231-242.

6.

Engh CA, Glassman AH, Suthers KE. The case for porous-coated hip implants. The femoral side. Clin Orthop. 1990;261:63-81.

7.

Froimson MI, Garino J, Machenaud A, Vidalain JP. Minimum 10-year results of a tapered, titanium, hydroxyapatite-coated hip stem: an independent review. J Arthroplasty. 2007;22:1-7.

8.

Gallinaro P, Massè A, Leonardi F, Buratti CA, Boggio F, Piana R. Eight- to ten-year results of a variable geometry stem. Orthopedics. 2007;30:954-958.

9.

Goetz DD, Smith JJ, Harris WH. The prevalence of femoral osteolysis associated with components inserted with or without cement in total hip replacements. J Bone Joint Surg Am. 1994;76:1121-1128.

10.

Gruen TA, McNeice GM, Amstutz HC. "Modes of failure" of cemented stem-type femoral components. Clin Orthop. 1979;171:17-27.

11.

Ince A, Lermann J, Göbel S, Wollmerstedt N, Hendrich C. No increased stem subsidence after arthroplasty in young patients with femoral head osteonecrosis: 41 patients followed for 1–9 years. Acta Orthop. 2006;77:866-870.

12.

Jacobs CA, Christensen CP. Progressive subsidence of a tapered, proximally coated femoral stem in total hip arthroplasty. Int Orthop. 2009;33:917-922.

13.

Kinov P, Radl R, Zacherl M, Leithner A, Windhager R. Correlation between thigh pain and radiological findings with a proximally porous-coated stem. Acta Orthop Bel. 2007;73:618-624.

14.

Leali A, Fetto J. Promising mid-term results of total hip arthroplasty using an uncemented lateral-flare hip prosthesis: a clinical and radiographic study. Int Orthop. 2007;31:845-849.

15.

Lee JM, Lee CW. Comparison of hydroxyapatite-coated and non-hydroxyapatite-coated noncemented total hip arthroplasty in same patients. J Arthroplasty. 2007;22:1019-1023.

16.

Mazoochian F, Schrimpf FM, Kircher J, et al. Proximal loading of the femur leads to low subsidence rates: first clinical results of the CR-stem. Arch Orthop Trauma Surg. 2007;127:397-401.

17.

McCarthy JC, Lee JA, Naughton M. A proximally coated beaded stem minimum 5-year follow-up. Orthopedics. 2008;31:366.

18.

Mears SC, Richards AM, Knight TA, Belkoff SM. Subsidence of uncemented stems in osteoporotic and non-osteoporotic cadaveric femora. Proc Inst Mech Eng H. 2009;223:189-194.

19.

Röhrl SM, Li MG, Pedersen E, Ullmark G, Nivbrant B. Migration pattern of a short femoral neck preserving stem. Clin Orthop Relat Res. 2006;448:73-78.

20.

Schütz U, Decking J, Decking R, Puhl W. Assessment of femoral component migration in total hip arthroplasty: digital measurements compared to RSA. Acta Orthop Bel. 2005;71:65-75.

21.

Shetty AA, Slack R, Tindall A, James KD, Rand C. Results of a hydroxyapatite-coated (Furlong) total hip replacement: a 13-to-15-year follow-up. J Bone Joint Surg Br. 2005;87:1050-1054.

22.

Simpson DJ, Kendrick BJ, Hughes M, et al. The migration patterns of two versions of the Furlong cementless femoral stem: a randomised, controlled trial using radiostereometric analysis. J Bone Joint Surg Br. 2010;92:1356-1362.

23.

Singh M, Nagrath AR, Maini PS. Changes in trabecular pattern of the upper end of the femur as an index of osteoporosis. J Bone Joint Surg Am. 1970;52:457-467.

24.

Ström H, Nilsson O, Milbrink J, Mallmin H, Larsson S. Early migration pattern of the uncemented CLS stem in total hip arthroplasties. Clin Orthop Rel Res. 2007;454:127-132.

25.

Ström H, Nilsson O, Milbrink J, Mallmin H, Larsson S. The effect of early weight bearing on migration pattern of the uncemented CLS stem in total hip arthroplasty. J Arthroplasty. 2007;22:1122-1129.

26.

Taunt CJ Jr, Finn H, Baumann P. Immediate weight bearing after cementless total hip arthroplasty. Orthopedics. 2008;31:223.

27.

White CA, Carsen S, Rasuli K, Feibel RJ, Kim PR, Beaulé PE. High incidence of migration with poor initial fixation of the Accolade stem. Clin Orthop Relat Res. 2012;470:410-417.
Disclosures
ᅟ
Conflict of Interest:
José Cordero-Ampuero, MD, PhD received travel support for meetings from MBA for the study; is a paid consultant for Pfizer, receives payment for presentation from MSD and Pfizer and travel support from MBA, Sanofi and Stryker, outside the work. Pablo Peñalver, MD, received travel support for meetings for the study from MBA; receives travel support from Sanofi, Rovi, Pfizer, and MBA, outside the work. Rodrigo Antón, MD received travel support for the study from MBA, Sanofi, and Rovi; received travel support from Sanofi and Rovi, outside the work. María Galán, MD, received travel support for meetings for the study from MBA; received travel support from MSD, Pfizer, Sanofi, and Rovi, outside the work. Enrique Cordero declared that he has no conflict of interest.
Human/Animal Rights:
All procedures followed were in accordance with the ethical standards of the responsible committee on human experimentation (institutional and national) and with the Helsinki Declaration of 1975, as revised in 2008 (5).
Informed Consent:
Informed consent was obtained from all patients included in the study.
Required Author Forms
Disclosure forms provided by the authors are available with the online version of this article.
Additional information
Level of Evidence: Therapeutic Study, Level IV (Case Series, No Control Group)
Electronic supplementary material
Below is the link to the electronic supplementary material.
About this article
Cite this article
Cordero-Ampuero, J., Peñalver, P., Antón, R. et al. Radiographic Subsidence in Asymptomatic Patients After THR Using the Furlong Active HAP Stem. HSS Jrnl 9, 161–165 (2013). https://doi.org/10.1007/s11420-013-9342-z
Received:

Accepted:

Published:

Issue Date:
Keywords
subsidence

cementless

stem

Furlong Active