Abstract
Background
Posterior stabilized total knee arthroplasty requires an intercondylar notch to accommodate the cam housing that articulates with the tibial post to create femoral rollback required for deep flexion. The volume of bone resected for the intercondylar notch varies with implant design, and newer designs may accommodate high flexion with less bone resection.
Questions/Purposes
This study aims to analyze the bone volume and density resected from the intercondylar notch for three posterior stabilized implants from a single company: a Posterior Stabilized (PS) system, a Hi-Flex system (HF), and a rounded new box-reamer (RB) system and to further assess whether the newer RB with a cylindrical cutting tool would preserve more native bone.
Materials and Methods
Using a computer model, the PS, HF, and RB femoral components were digitally implanted into CT scans of 19 cadaver femurs. Nine cadavers were fit with a size 4 implant, six with size 3, and four with a size 2. The volume of intercondylar bone resected digitally for femoral preparation was measured. Bone density was measured by CT scans in Hounsfield units (HU). A paired t test was used to compare the mean volume of bone resected for each implant.
Results
For the size 4 femurs, the newer RB design removed 8% less intercondylar bone than the PS design (7,832 ± 501 vs. 8,547 ± 377 mm3, p < 0.001) and 28% less bone than the HF design (7,832 ± 501 vs. 10,897 ± 444 mm3, p < 0.001). The average HU for size 4 femurs for RB design was 427 ± 72 (PS = 399 ± 69, p < 0.001; HF = 379 ± 66, p < 0.001). For the size 3 femurs, the RB design removed 12% less intercondylar bone than the PS (6,664 ± 786 vs. 7,516 ± 648 mm3, p < 0.001) and 27% less bone than the HF (6,664 ± 786 vs. 9,078 ± 713 mm3, p < 0.001). HU for size 3 femurs for the RB design was 452 ± 70 (PS = 422 ± 53, p < 0.1; HF = 410 ± 59, p < 0.01). For the size 2 femurs, the RB design removed 5% less intercondylar bone than the PS (5,730 ± 552 vs. 6,009 ± 472 mm3, p < 0.01) and 22% less bone than the HF (5,730 ± 552 vs. 7,380 ± 532 mm3, p < 0.001). HU for size 2 femurs for the RB design was 430 ± 48 (PS = 408 ± 55, p < 0.01; HF = 385 ± 56, p < 0.01).
Conclusions
The newer RB design removes less bone from the intercondylar notch than the classic PS and HF designs in all sizes tested. The bone-conserving cuts incorporated into this newer implant design appear to preserve native bone without compromising design objectives.
This is a preview of subscription content, log in to check access.
Access options
Buy single article
Instant access to the full article PDF.
US$ 39.95
Price includes VAT for USA
Subscribe to journal
Immediate online access to all issues from 2019. Subscription will auto renew annually.
US$ 99
This is the net price. Taxes to be calculated in checkout.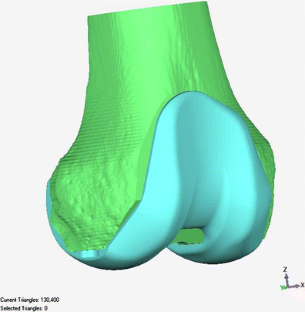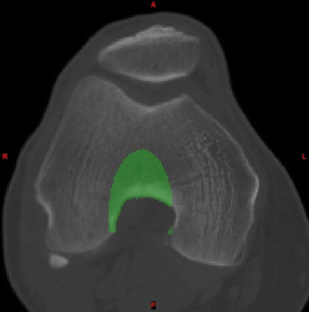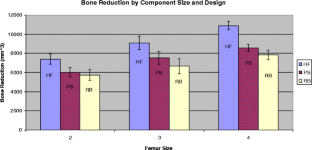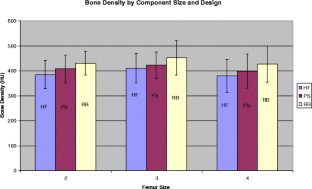 References
1.

Abdel MP, Morrey ME, Jensen MR, Morrey BF. Increased long-term survival of posterior cruciate-retaining versus posterior cruciate-stabilizing total knee replacements. J Bone Joint Surg Am. 2011;22:2072-2078.

2.

Angibaud LD, Kubo MB, Steffens JG, Steilar CA, Myers SL, Rice J. Intercondylar femoral notch preparation for stabilized knee arthroplasty - volumetric bone resection according to two methods. Orthopaedics Research Society. 2010.

3.

Diduch DR, Insall JN, Scott WN, Scuderi GR, Font-Rodriguez D. Total knee replacement in young, active patients. long-term follow-up and functional outcome. J Bone Joint Surg Am. 1997;4:575-582.

4.

Haas SB, Nelson CL, Laskin RS. Posterior stabilized knee arthroplasty: an assessment of bone resection. The Knee. 2000;7:25-29.

5.

Kurtz S, Mowat F, Ong K, Chan N, Lau E, Halpern M. Prevalence of primary and revision total hip and knee arthroplasty in the United States from 1990 through 2002. J Bone Joint Surg Am. 2005;7:1487-1497.

6.

Kurtz S, Ong K, Lau E, Mowat F, Halpern M. Projections of primary and revision hip and knee arthroplasty in the United States from 2005 to 2030. J Bone Joint Surg Am. 2007;4:780-785.

7.

Lombardi AV Jr, Mallory TH, Waterman RA, Eberle RW. Intercondylar distal femoral fracture. an unreported complication of posterior-stabilized total knee arthroplasty. J Arthroplasty. 1995;5:643-650.

8.

Wragg R, Khan RJ, Damasena IT, Wimhurst J. A comparison of bone loss at total knee replacement: posterior stabilized versus cruciate retaining. Journal of Orthopaedics. 2012;1:1.
Disclosures
Conflict of Interest:
Timothy Wright, PhD, is a board member of the Knee Society and receives royalties from Orthopaedic Research Society and Mathys ABG, stock payments from Exactech, and research support from Synthes Spine, outside the work. Geoffrey Westrich, MD, is a board member of Eastern Orthopaedic Association and receives research support from Exactech and Stryker, outside the work. Luke Pugh, MD, FRCSC, Allison Ruel, BA, and Mark Gessell, MD, have declared that they have no conflict of interest. Joseph D. Lipman, MS is a paid consultant for Ivy Sport Medicine; employee of Hospital for Special Surgery; has received payment for manuscript preparation from Stryker; has the following patents: Posterior Stabilized Knee Prosthesis, Self‐aligning knee prosthesis, Dual radius glenoid prosthetic component for total shoulder arthroplasty, Pelvic Positioner, Trochlear Clamp, Patella Resection Drill and Prosthesis Implantation Device; has pending patents for Constrained Condylar Knee Device, Prosthetic Condylar Joints With Articulating Bearing Surfaces Having A Translating Contact Point During Rotation Thereof, Elbow Replacement Apparatus And Methods, Expanding Cannula And Retractor Device And Methods Of Use and External fixation devices and methods of use; receives royalties payment from Mathys Inc. and Ortho Development Corp; has received travel support for travel to meetings from Chinese Orthopaedic Association, outside the work.
Human/Animal Rights:
This article does not contain any studies with human or animal subjects performed by any of the authors.
Informed Consent:
N/A
Required Author Forms
Disclosure forms provided by the authors are available with the online version of this article.
Electronic supplementary material
Below is the link to the electronic supplementary material.
About this article
Cite this article
Pugh, L., Ruel, A., Lipman, J. et al. Reduction in Bone Volume Resection with a Newer Posterior Stabilized Total Knee Arthroplasty Design. HSS Jrnl 9, 157–160 (2013). https://doi.org/10.1007/s11420-013-9340-1
Received:

Accepted:

Published:

Issue Date:
Keywords
total knee arthroplasty

bone resection

posterior stabilized