Abstract
Background
Heterotopic ossification (HO) is a common complication following orthopedic and trauma surgery, which may have substantial negative effects on the postoperative outcome. Angiogenesis appears to play a critical role in heterotopic ossification. One of the involved signaling molecules is platelet-derived growth factor (PDGF) which may be inhibited by imatinib.
Questions/Purposes
Our goal was to prevent HO by pharmacologically interfering with the molecular signaling pathways involved in the developmental process. We hypothesized that by administering a proven inhibitor of PDGF expression, heterotopic bone formation may be prevented.
Methods
The effect of imatinib on HO formation was studied in a murine model which reliably produces islets of HO within the soft tissue following Achilles tenotomy. The control group underwent Achilles tenotomy only. The imatinib group received imatinib mesylate. After trial completion, the limbs were harvested and scanned by micro-CT. Heterotopic bone volume was then identified and quantified.
Results
The mean volume of heterotopic bone formed in the control group was 0.976mm3 compared to 0.221 mm3 in the imatinib group. The volume of HO in the treatment group was reduced by 85% compared to the control group.
Conclusions
The administration of imatinib was associated with a significantly reduced volume of HO. This may be due to the inhibitory effect of imatinib on the PDGF signaling pathway during development of HO.
Clinical Relevance
The successful reduction of HO formation following imatinib administration has led to further insight concerning the pathogenesis of HO which in the future may lead to new clinical approaches towards the prevention of HO.
This is a preview of subscription content, log in to check access.
Access options
Buy single article
Instant access to the full article PDF.
US$ 39.95
Price includes VAT for USA
Subscribe to journal
Immediate online access to all issues from 2019. Subscription will auto renew annually.
US$ 99
This is the net price. Taxes to be calculated in checkout.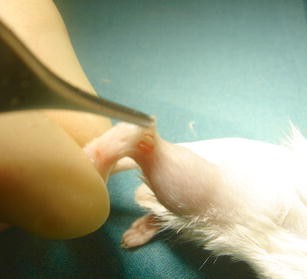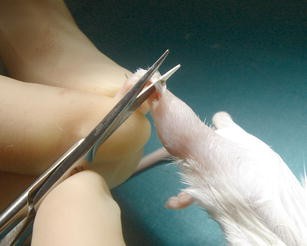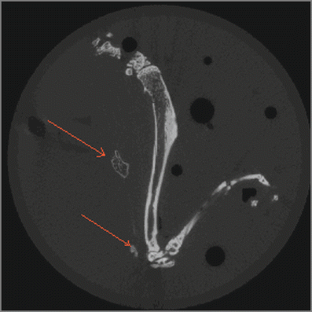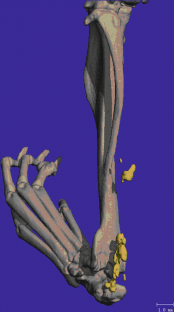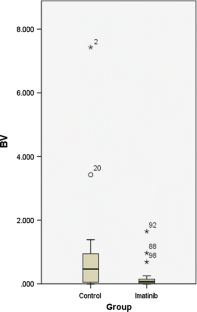 References
1.

Alini M, Marriott A, Chen T, et al. A novel angiogenic molecule produced at the time of chondrocyte hypertrophy during endochondral bone formation. Dev Biol. 1996;176:124-132.

2.

Berman E, Nicolaides M, Maki RG, et al. Altered bone and mineral metabolism in patients receiving imatinib mesylate. N Engl J Med. 2006;354:2006-2013.

3.

Deckers M, Karperien M, van der Bent C, et al. Expression of vascular endothelial growth factors and their receptors during osteoblast differentiation. Endocrinology. 2000;141:1667-1674.

4.

Dewar AL, Farrugia AN, Condina MR, et al. Imatinib as a potential antiresorptive therapy for bone disease. Blood. 2006;107:4334-4337.

5.

Fitter S, Dewar AL, Kostakis P, et al. Long-term imatinib therapy promotes bone formation in CML patients. Blood. 2008;111:2538-2547.

6.

Flecknell PA. Laboratory Animal Anesthesia. London: Academic Press (Elsevier); 1996.

7.

Garland D. A clinical perspective on common forms of acquired heterotopic ossification. Clin Orthop Relat Res. 1991;13–29;

8.

Goodman S, Ma T, Genovese M, et al. COX-2 selective inhibitors and bone. Int J Immunopathol Pharmacol. 2003;16:201-205.

9.

Goodman S, Ma T, Trindade M, et al. COX-2 selective NSAID decreases bone ingrowth in vivo. J Orthop Res. 2002;20:1164-1169.

10.

Jönsson S, Olsson B, Ohlsson C, et al. Increased cortical bone mineralization in imatinib treated patients with chronic myelogenous leukemia. Haematologica. 2008;93:1101-1103.

11.

McClure J. The effect of diphosphonates on heterotopic ossification in regenerating Achilles tendon of the mouse. J Pathol. 1983;139:419-430.

12.

Naraghi F, DeCoster T, Moneim M, et al. Heterotopic ossification. Orthopedics. 1996;19:145-151.

13.

Nash TJ, Howlett CR, Martin C, et al. Effect of platelet-derived growth factor on tibial osteotomies in rabbits. Bone. 1994;15:203-208.

14.

O'Sullivan S, Horne A, Wattie D, et al. Decreased bone turnover despite persistent secondary hyperparathyroidism during prolonged treatment with imatinib. J Clin Endocrinol Metab. 2009;94:1131-1136.

15.

Puzas JE, Miller MD, Rosier RN. Pathologic bone formation. Clin Orthop. 1989;245:269-281.

16.

Ranly DM, McMillan J, Keller T, et al. Platelet-derived growth factor inhibits demineralized bone matrix-induced intramuscular cartilage and bone formation. A study of immunocompromised mice. J Bone Joint Surg Am. 2005;87:2052-2064.

17.

Roussy Y, Bertrand Duchesne MP, Gagnon G. Activation of human platelet-rich plasmas: effect on growth factors release, cell division and in vivo bone formation. Clin Oral Implants Res. 2007;18:639-648.

18.

Saudan M, Saudan P, Perneger T, et al. Celecoxib versus ibuprofen in the prevention of heterotopic ossification following total hip replacement: a prospective randomised trial. J Bone Joint Surg Br. 2007;89:155-159.

19.

van Steensel L, Paridaens D, Schrijver B, et al. Imatinib mesylate and AMN107 inhibit PDGF-signaling in orbital fibroblasts: a potential treatment for Graves' ophthalmopathy. Invest Ophthalmol Vis Sci. 2009;50:3091-3098.

20.

Vandyke K, Dewar AL, Diamond P, et al. The tyrosine kinase inhibitor dasatinib dysregulates bone remodeling through inhibition of osteoclasts in vivo. J Bone Miner Res. 2010;25:1759-1770.

21.

Vandyke K, Fitter S, Dewar AL, et al. Dysregulation of bone remodeling by imatinib mesylate. Blood. 2010;115:766-774.

22.

Vuorinen K, Gao F, Oury TD, et al. Imatinib mesylate inhibits fibrogenesis in asbestos-induced interstitial pneumonia. Exp Lung Res. 2007;33:357-373.

23.

Yin M, Gentili C, Koyama E, et al. Antiangiogenic treatment delays chondrocyte maturation and bone formation during limb skeletogenesis. J Bone Miner Res. 2002;17:56-65.
Acknowledgments
The study was supported by a grant of the Swiss Trauma Foundation.
Disclosures
ᅟ
Conflict of Interest:
Clément ML. Werner, MD, Stefan M. Zimmermann, MD, Carola C. Würgler-Hauri, MD, Joseph M. Lane, MD, Guido A. Wanner, MD, and Hans-Peter Simmen, MD have declared that they have no conflicts of interest.
Human/Animal Rights:
All institutional and national guidelines for the care and use of laboratory animals were followed.
Informed Consent
N/A
Required Author Forms
Disclosure forms provided by the authors are available with the online version of this article.
Electronic supplementary material
Below is the link to the electronic supplementary material.
About this article
Cite this article
Werner, C.M.L., Zimmermann, S.M., Würgler-Hauri, C.C. et al. Use of Imatinib in the Prevention of Heterotopic Ossification. HSS Jrnl 9, 166–170 (2013). https://doi.org/10.1007/s11420-013-9335-y
Received:

Accepted:

Published:

Issue Date:
Keywords
heterotopic ossification

prevention

imatinib mesylate

murine

PDGF