Abstract
Background:
The femoral canal is frequently measured preoperatively in cases where an intramedullary device is planned for operative fixation of a fracture. To our knowledge, a formal assessment of validity and reliability of preoperative canal measurements has not been previously performed.
Questions/Purposes:
This study aims to determine the validity and reliability of preoperative canal measurements of the femur made on plain radiographs using comparison with curved planar reformation software as the gold standard.
Methods:
Fifty-six patients were identified based on availability of anterior–posterior (AP) and lateral radiographs of the femur and computed tomography (CT) of the lower extremity. Four "raters" measured the canal diameter at its narrowest point and the distance from the lesser trochanter to the isthmus on the AP, lateral radiograph, and CT. The width of the femoral nail on AP radiographs was also measured to determine magnification error. Curved planar reformation (CPR) was used to provide the most accurate calculation of the canal diameter.
Results:
Compared to the isthmus position determined by CPR, the measurement was most accurate on an AP and the diameter of the canal was most accurate using coronal CT, followed by AP radiographs. The measured canal diameter of the fractured femur on APs was compared to that of the used implant and varied by 1 mm.
Discussion/Conclusion:
The AP plain radiographic measurement was found to be more accurate for determination of the canal diameter compared to the lateral radiograph. These findings confirm the utility of preoperative canal measurements in predicting the feasibility of placing a specific size intramedullary implant.
This is a preview of subscription content, log in to check access.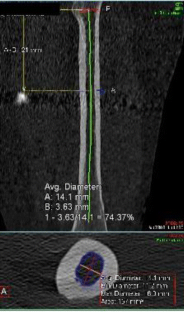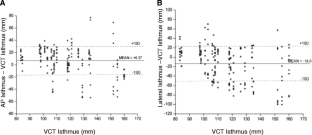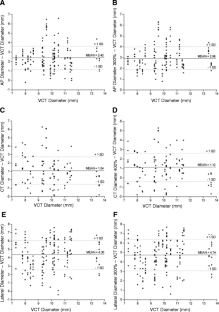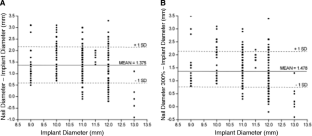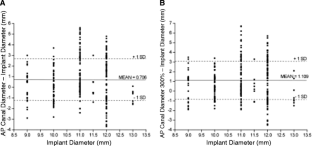 References
1.

Bong MR, Kummer FJ, Koval KJ, Egol KA. Intramedullary nailing of the lower extremity: biomechanics and biology. J Am Acad Orthop Surg. 2007;15(2):97-106.

2.

Conover WJ, Iman RL. Rank transformations as a bridge between parametric and nonparametric statistics. Am Statistician. 1981;35(3):124-129.

3.

King RJ, Craig PR, Boreham BG, Majeed MA, Moran CG. The magnification of digital radiographs in the trauma patient: Implications for templating. Injury. 2009;40(2):173-176.

4.

Krouwer JS. Why Bland–Altman plots should use X, not (Y + X)/2 when X is a reference method. Statistics in Medicine. 2008;27:778-780.

5.

Noble PC, Alexander JW, Lindahl LJ, Yew DT, Granberry WM, Tullos HS. The anatomic basis of femoral component design. Clin Orthop Relat Res. 1988;235:148-165.

6.

Rubin PJ, Leyvraz PF, Aubaniac JM, Argenson JN, Esteve P, de Roguin B. The morphology of the proximal femur: a three-dimensional radiographic analysis. J Bone Joint Surg (British Volume). 1992;74(1):28-32.

7.

Sen RK, Tripathy SK, Kumar R, et al. Proximal femoral medullary canal diameters in Indians: correlation between anatomic, radiographic, and computed tomographic measurements. J Orthop Surg. 2010;18(2):189-194.

8.

Shrout PE, Fleiss JL. Intraclass correlations: uses in assessing rater reliability. Psychol Bull. 1979;2:420-428.

9.

Uzel AP, Deloumeaux J, Rouvillain JL, Laflamme GY, Durandeau A, Caix P. Comparative study of femoral diaphysealmorphometry in two male populations, in France and a French west indies island: an example of clinical relevance of comparative anatomy for orthopedic practice. Surg Radio Anat. 2011;33(3):235-240.
Disclosures
Conflict of Interest:
Sayed Ali, MD, Mahin Rehman, BS, Kenneth P Walsh, BA, John R Fowler, MD, Oliver Chen, MD and John P Gaughan, PhD have declared that they have no conflict of interest. Saqib Rehman, MD is a paid consultant for Lilly and Lippincott and receives payment for lectures including service on speakers' bureaus from Synthes, outside the work.
Human/Animal Rights:
All procedures followed were in accordance with the ethical standards of the responsible committee on human experimentation (institutional and national) and with the Helsinki Declaration of 1975, as revised in 2008 (5).
Informed Consent:
Informed consent was waived from all patients for being included in the study.
Required Author Forms
Disclosure forms provided by the authors are available with the online version of this article.
Additional information
Level of Evidence: Diagnostic Testing Level 4. See levels of evidence for a complete description.
Work was performed at Temple University Hospital, Philadelphia, PA, USA.
Electronic supplementary material
Below is the link to the electronic supplementary material.
About this article
Cite this article
Walsh, K.P., Fowler, J.R., Chen, O. et al. The Validity and Reliability of Preoperative Radiographic Canal Diameter Measurements of the Femur. HSS Jrnl 9, 150–156 (2013). https://doi.org/10.1007/s11420-013-9334-z
Received:

Accepted:

Published:

Issue Date:
Keywords
femur

canal

measurements

radiographic

preoperative