Abstract
Background
Although the results of hip arthrodesis compare favorably with those of total hip arthroplasty (THA) in younger patients, long-term consequences such as osteoarthritis of the neighboring joints may necessitate conversion of the arthrodesis to THA.
Questions/Purposes
The purpose of the present study is to assess mid-term clinical outcome and self-perceived improvement in patients who underwent conversion at our department. Secondary aims were incidence of complications and association between patient characteristics and characteristics of the fusions with the outcome of the procedure.
Patients and Methods
The study sample comprised 21 cases in 20 patients. Minimum follow-up was 3 years (mean, 8 ± 6.5 years) in 20 cases. Thirteen patients had surgical hip fusions and 7 (8 hips) had nonsurgical fusions. Mean age at the time of conversion was 58.5 years.
Results
Nineteen out of 21 cases had functioning implants at the latest follow-up visit. According to the Merle d'Aubigné scale, outcome was considered excellent, very good, or good in 15 cases. Lower back pain was reduced in all patients. All but two patients were satisfied after the conversion. The main complications observed included incomplete removal of bone block, intra-operative fractures, dislocation and damage to the femoral artery. Time to conversion and type of fusion had no significant correlation with the clinical outcome.
Conclusions
Conversion THA is a challenging but successful procedure according to the mid-term clinical outcome observed. Our study suggests that, prognostic factors should be used with caution when establishing indications and post-surgical expectations.
This is a preview of subscription content, log in to check access.
Access options
Buy single article
Instant access to the full article PDF.
US$ 39.95
Price includes VAT for USA
Subscribe to journal
Immediate online access to all issues from 2019. Subscription will auto renew annually.
US$ 99
This is the net price. Taxes to be calculated in checkout.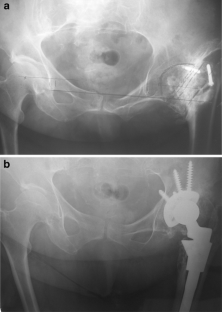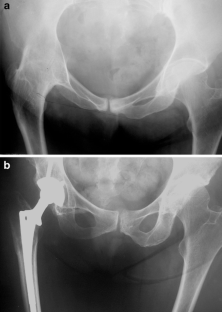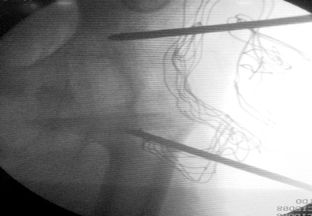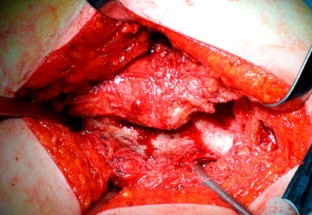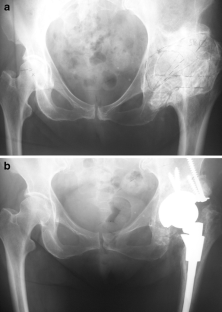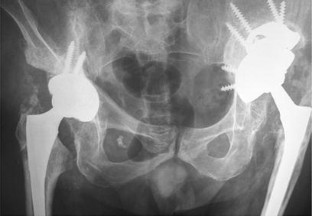 References
1.

Amstutz HC, Sakai DN. Total joint replacement for ankylosed hips. Indications, technique, and preliminary results. J Bone Joint Surg Am. 1975;57:619-25.

2.

Barrack RL. Neurovascular injury. Avoiding catastrophe. J Arthroplasty. 2004;19(S1):104-107.

3.

Callaghan JJ, Brand RA, Pedersen DR. Hip Arthrodesis. A long-term follow-up. J Bone Joint Surg Am. 1985;1328–35

4.

Fernandez-Fairen M, Murcia-Mazón A, Torres A, Querales V, Murcia A Jr. Is total hip arthroplasty after hip arthrodesis as good as primary arthroplasty? Clin Orthop Relat Res. 2011;469(7):1971-83.

5.

Hamadouche M, Kerboull L, Meunier A, Courpied JP, Kerboull M. Total hip arthroplasty for the treatment of ankylosed hips: a five to twenty-one year follow-up study. J Bone Joint Surg Am. 2001;83:992-998.

6.

Idulhaq M, Park KS, Diwanji SR, Yoon TR, Wie JS. Total hip arthroplasty for treatment of fused hip with 90° flexion deformity. J Arthroplasty. 2010;25:498-502.

7.

Joshi AB, Markovic L, Hardinge K, Murphy JC. Conversion of a fused hip to total hip arthroplasty. J Bone Joint Surg Am. 2002;84:1335-1341.

8.

Kilgus DJ, Amstutz HC, Wolgin MA, Dorey FJ. Joint replacement for ankylosed hips. J Bone Joint Surg Am. 1990;72:45-54.

9.

Kim YH, Oh SH, Kim JS, Lee SH. Total hip arthroplasty for the treatment of osseous ankylosed hips. Clin Orthop Relat Res. 2003;414:136-48.

10.

Merle D'AR. Functional results of arthroplasty of the hip. Acta Orthop Belg. 1953;19(3):81-103.

11.

Peterson ED, Altenburg A, Nemanich JP, Cabanela ME. Hip arthroplasty after previous arthrodesis. Clin Orthop Relat Res. 2009;467(11):2880-5.

12.

Richards CJ, Duncan CP. Conversion of hip arthrodesis to total hip arthroplasty: survivorship and clinical outcome. J Arthroplasty. 2010 Mar 24. [Epub ahead of print]

13.

Roberts CS, Fetto JF. Functional outcome of hip fusion in the young patient. Follow-up study of 10 patients. J Arthroplasty. 1990;5:89-96.

14.

Strathy GM, Fitzgerald RH. Total hip arthroplasty in the ankylosed hip. A ten year follow-up. J Bone Joint Surg Am. 1988;70:963-6.

15.

Williams AA, Witten DM. The benefits of implant removal from the foot and ankle. J Bone Joint Surg Am. 2012;94:1316-20.
Acknowledgments
We thank Professor Jiménez-García (University Rey Juan Carlos, Madrid) for the statistical analysis and Mr. Thomas O'Boyle for editorial assistance. A video illustrating the surgical technique and these clinical series has been included in the E-Library of the AAOS (San Francisco 2012) and is available upon request.
Disclosures
Conflict of Interest: Manuel Villanueva, MD, PhD; Francisco Borja Sobrón, MD; Javier Parra, MD; Jose Manuel Rojo Manaute MD, PhD; Francisco Chana, MD PhD; Javier Vaquero Martín, MD, PhD have declared that they have no conflict of interest.
Human/Animal Rights:
All procedures followed were in accordance with the ethical standards of the responsible committee on human experimentation (institutional and national) and with the Helsinki Declaration of 1975, as revised in 2008 (5).
Informed Consent:
Informed consent was obtained from all patients for being included in the study.
Required Author Forms
Disclosure forms provided by the authors are available with the online version of this article.
Additional information
Level of Evidence: Therapeutic, Level IV.
Electronic supplementary material
Below is the link to the electronic supplementary material.
About this article
Cite this article
Villanueva, M., Sobrón, F.B., Parra, J. et al. Conversion of Arthrodesis to Total Hip Arthroplasty: Clinical Outcome, Complications, and Prognostic Factors of 21 Consecutive Cases. HSS Jrnl 9, 138–144 (2013). https://doi.org/10.1007/s11420-013-9330-3
Received:

Accepted:

Published:

Issue Date:
Keywords
hip arthrodesis

total hip arthroplasty

conversion