Abstract
Background
Maltracking or subluxation is one of the complications of patellofemoral arthroplasty.
Questions/Purposes
We questioned whether the computed navigation system can improve patellar tracking in patients with patellofemoral arthroplasty (PFA).
Methods
Between 2007 and 2010 we performed 15 patellofemoral arthroplasties using the Ceraver PFA and navigation assistance. Fifteen other patients underwent surgery without navigation during the same period and acted as a control group. The rotation of the native trochlea as measured using the epicondylar line as a reference before surgery and the rotation of the trochlear component and the trochlear twist angle were assessed with computed tomography (CT) scan after surgery.
Results
The mean follow-up was 3 years (range, 2–5 years). The group with navigation had no patellofemoral complications and better clinical scores. The group without navigation had abnormal patellofemoral tracking in 5 of the 15 patients. CT scan demonstrated excessive internal component rotation, as compared with patients without complications. This excessive internal rotation was proportional to the severity of the patellofemoral maltracking.
Conclusions
The short-term results suggest that navigation can lead to better trochlear rotation which, in our hands, is associated with fewer cases of patellar maltracking and better overall clinical scores.
This is a preview of subscription content, log in to check access.
Access options
Buy single article
Instant access to the full article PDF.
US$ 39.95
Price includes VAT for USA
Subscribe to journal
Immediate online access to all issues from 2019. Subscription will auto renew annually.
US$ 99
This is the net price. Taxes to be calculated in checkout.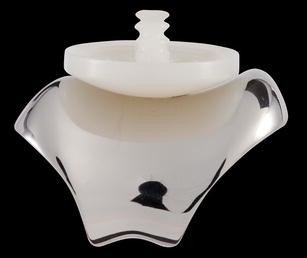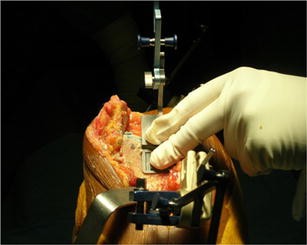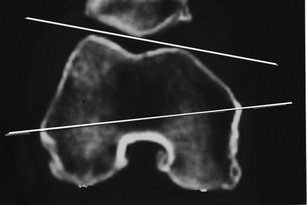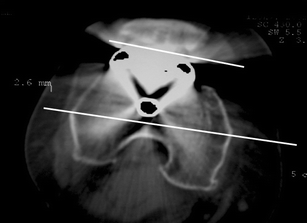 References
1.

Ackroyd CE. Development and early results of a new patellofemoral arthroplasty. Clin Orthop. 2005;436:7-13.

2.

Ackroyd CE, Newman JH, Evans R, Eldridge JDJ, Joslin CC. The Avon patellofemoral arthroplasty. Five-year survivorship and functional results. J Bone Joint Surg. 2007;89B:310-315.

3.

Cossey AJ, Spriggins AJ. Computer-Assisted Patellofemoral Arthroplasty A Mechanism for Optimizing Rotation. J Arthroplast. 2006;21(3):420-427.

4.

Crosby EB, Insall J. Recurrent dislocation of the patella. J Bone Joint Surg Am. 1976;58A:9-13.

5.

Digiulio M, Donaldson WR. Complications of Patello-Femoral Joint Surgery. Sports Med Arthrosc Rev. 2004;12(3):172-184.

6.

Grelsamer RP. Patellar malalignment. J Bone Joint Surg Am. 2000;82-A(11):1639-1650.

7.

Grelsamer RP. Stein Da: Patellofemoral arthritis. J Bone Joint Surg Am. 2006;88(8):1849-1860.

8.

Jenny J-Y, Borei C. Navigation implantation of total knee prosthesis. A comparative study with conventional techniques. Rev Chir Orthop Reparatrice Appar Mot. 2001;87:645.

9.

Lonner JH. Patellofemoral arthroplasty. In: Lotke PA, Lonner JH, eds. Master Techniques in Orthopaedic Surgery: Knee Arthroplasty. 3rd ed. Philadelphia: Lippincott Williams and Wilkins; 2009.

10.

McKeever DC. Patellar prosthesis. J Bone Joint Surg. 1955;37A:1074-1084.

11.

Schutzer SF, Ramsby GR, Fulkerson JP. Computed tomographic classification of patellofemoral pain patients. Orthop Clin North Am. 1986;17:235-248.

12.

Schutzer SF, Ramsby GR, Fulkerson JP. The evaluation of patellotemoral pain using computerized tomography. Clin Orthop. 1986;204:286-288.

13.

Stulberg S, Loan P, Sarin V. Computer assisted navigation in total knee replacement. Results of an initial 35 patients. J Bone Joint Surg Am. 2002;84A(Suppl 2):90.

14.

Tauro B, Ackroyd CE, Newman JH, et al. The Lubinus patellofemoral arthroplasty. J Bone Joint Surg. 2001;83B:696-701.
Disclosures
Conflict of Interest:
Philippe Hernigou, MD, Charles Henri Flouzat-Lachaniette, MD, William Delblond, MD, Pascal Duffiet MD, Didier Julian declare that they have no conflict of interest.
Human/Animal Rights:
All procedures followed were in accordance with the ethical standards of the responsible commiee on human experimentation (institutional and national) and with the Helsinki Declaration of 1975, as revised in 2008 (5).
Informed Consent:
Informed consent was obtained from all patients for being included in the study.
Required Author Forms
Disclosure forms provided by the authors are available with the online version of this article.
Additional information
Level of Evidence:
Therapeutic Study Level III. Please see levels of evidence for a complete description.
Electronic Supplementary Material
Below is the link to the electronic supplementary material.
About this article
Cite this article
Hernigou, P., Flouzat-Lachaniette, C.H., Delblond, W. et al. Computer-Assisted Navigation in Patellofemoral Arthroplasty: a New Technique to Improve Rotational Position of the Trochlea. HSS Jrnl 9, 118–122 (2013). https://doi.org/10.1007/s11420-013-9328-x
Received:

Accepted:

Published:

Issue Date:
Keywords
patellofemoral arthroplasty

computer-assisted navigation

knee

patella